OHLINS Roadster NATS Lights-to-Flag in Round 3 SUGO Round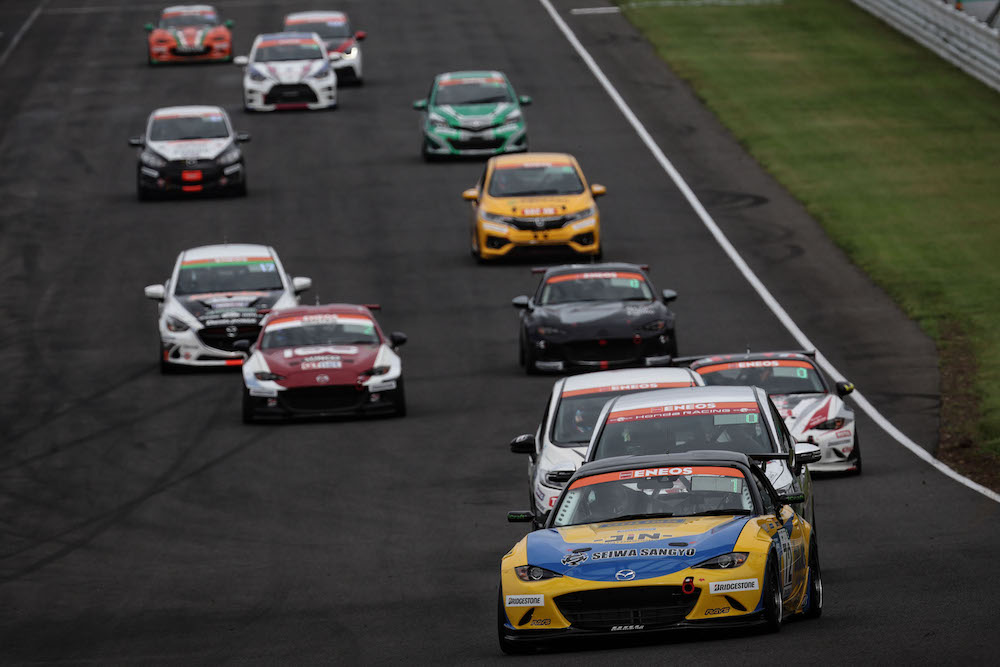 This 3-hour race format consisted of two races, Group 1 (ST-X, ST-Z, etc.) and Group 2 (ST-4, ST-5, and two cars in ST-Q class), held in the morning and afternoon on race day. Sportsland SUGO is a racing course (3.586km per lap) built in the mountains with an elevation difference of approximately 70m, and features ups and downs and tight corners, especially the 10% uphill gradient from the last corner to the home straight.
Friday's practice session was held in dry condition, but Saturday morning was unfortunately rained from the morning, and the conditions were difficult with intermittent on and off showers. Especially in the morning's Free Practice session, there were some accidents due to the heavy rain that fell during the session. The afternoon's Official Qualifying session was held in dry conditions with occasional raindrops falling. In the B driver qualifying session, which directly affects the qualifying results, No. 88 Murakami Motors Roadster (Hiroyuki Murakami/Ayahei Arioka/Soichiro Yoshida/Daichi Okamoto) went off course, bringing out the red flag. However, Minowa of No. 120 Club MAZDA SPIRIT RACING ROADSTER (Haruhiko Sugino/Takuya Minowa/Junji Ueda/Noriyuki Higuchi), who continued running, received a penalty for ignoring the red flag. Nevertheless, he set the team's best time after the session resumed, and Car 120 qualified at 6th position in class, the highest ever. Pole position in the class went to No. 72 with Kanai and Yamano, followed by No. 65 odula TONE Bremsstrahlung Roadster (Akiichiro Sotozono/Hirohito Ito/Tatsuya Ota/Hironuma Seina) in 4th position and No. 50 LOVE DRIVE Roadster (Isao Ihashi/Takayuki Oi/Junko Fujii/Mitsuhiro Kunisawa) in 5th position.
Contrary to the weather forecast, the final race day was held under humid and hot conditions with strong sunlight shining on the track surface from the morning. The race got underway at 8:00 a.m., and Mazda's CEO Katsuhiro Kegago, who just became President and CEO of Mazda in June, appeared on the grid walk to encourage the Mazda teams. The formation lap started at 8:45 a.m. After one lap, the green light was turned on and the race got underway. After such confusion, car No. 65 took the lead, and car No. 17 NOPRO Demio Diesel (Tsugutetsu Nishizawa, Tobio Otani, Misaki Konishi, Toshihiko Nogami), which started 7th in class, moved up to 2nd. Car 17 surprised everyone with his brilliant driving, which was hard to believe that it was his first time in SUGO. For a while after that, the three Roadsters, No. 72, No. 50, and No. 120, fought for the lead, followed by No. 65 and No. 17 in the Mazda car chain. One hour after the start, the changeover to the second driver began for each of them. After the third driver took the baton, No. 72, No. 17, No. 65, No. 88, and No. 50 formed the top group in ST-5. No. 72, No. 17, No. 65, No. 88, and No. 50 formed the ST-5 top group. Car 37, NOPRO DEMIO (Johnny Ogura/Kenichi Obara/Yoshihiro Kato/Tatsuya Nogami) finished the race in 10th place and earned points, while car 66, ODRA TONE MOTUL ROADSTER RF (Kosei Nukido/Kyosuke Inomata/Takahisa Ohno/Seiyu Shimono) in ST-4 class finished in 5th place. The team was able to win the ST-5 class championship!
Kanai of car #72, which took the ST-5 class win, commented, "I started from pole, so I wanted to lead the race without giving up the lead, but the fast pace of the cars behind me swallowed me up. So, I switched to a strategy of conserving tires and fuel and drove in the early stages of the race to keep up with the leaders. This worked out well, as Nojima and Yamano drove well, and we were able to achieve a pole-to-win finish. The next round in Autopolis is also a course that I am very good at, so I hope to win again in a row. Konishi of No. 17, who set the best lap time in his class, said, "I drove SUGO for the first time on Friday, and I felt that it was a course with which I had a good affinity, and my seniors had made a good car, so I was able to set up the car with confidence without any hesitation. I was impressed by his relaxed attitude, not unlike that of a rookie.
The next round, Round 4, will be held at Autopolis in Hita City, Oita Prefecture, for three days from July 28 (Fri.) to 30 (Sun.).
Text and Photos by MZRacing