2017/10/02
Mad Mike Overwhelms the Competition to Take Victory at FD Okuibuki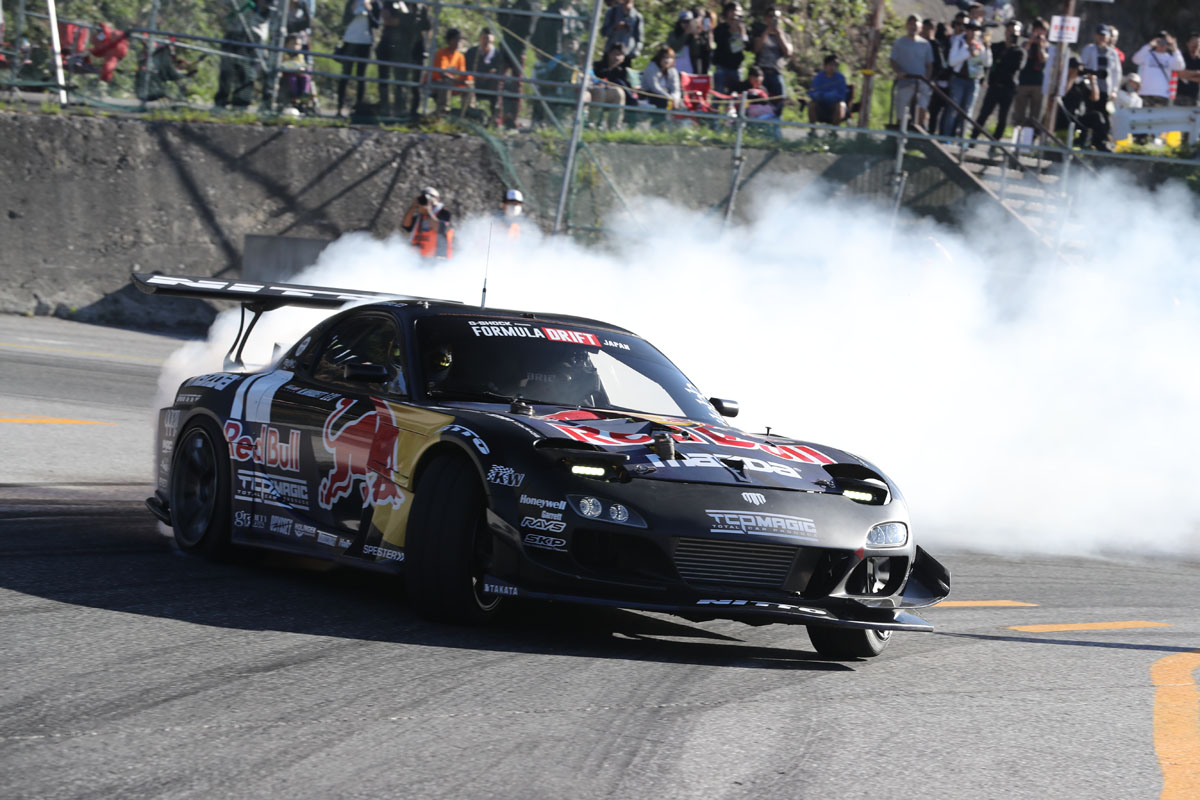 Mad Mike competed with Team Magic with Red Bull in round 4 of the Formula D Japan, held at Okuibuki Motor Park, Shiga Prefecture, over 23rd to 24th September. Undertaking full competition in this year's Formula D Japan, Mad Mike was sitting at 8th in the rankings at the end of round 3. Although there were 92 points separating him and ranking leader, Andrew Gray, he was still in a position to aim for the series championship and so everyone was excited to see what kind of performance he would put on for the crowd.
In qualifying held on the 23rd, he grabbed 81 points in his first run and then 83 points in his 2nd, to pass through in 6th place. A fairly reasonable starting position for the final tournament. In the final tournament held on the 24th, he went up against the "SECRET" S15 of Hisano Taichi, the "TEAM ORVIS RACING" JZX100 of Takashi Hinome and then the "Team Kazama with Powervehicles" JZA80 of Yoshichika Tamagawa. With repeated, dominant drift performances he advanced to the final battle.
In the final he went up against the "Helios Racing" S13 of Koujiro Mekuwa. In his chasing run on the second duel you could barely slide a sheet of paper between the panels of Mike and his opponent and this aggressive drift enlivened the audience in the stand. He ultimately took victory in the final as well, making it look easy. This victory with intense drifting truly lived up to the name of "Mad" Mike.
Total Car Produce Magic's Team Principal, Taisuke Kawato, related, "The car performed perfect today. I was also able to act as Mike's spotter. I like to think the fact that I could give accurate info on the fly helped him take today's victory. We had some minor troubles in qualifying, and weren't able to get the scores that we were hoping for. However, by the final tournament we had solved those issues and I think we were able to demonstrate our total potential. Mike is also very familiar with the performance of our machine and was able to run exactly on the target line. He was like a well oiled machine. If there are even minor problems with the machine you will see some unbalance occur during the runs. But if you can properly pull out all the potential you will get results like we did today."
As for Mike, he went on to say after the win, "To come away with the win here at Formula Drift Okuibuki just feels so good. We knew we had to be on point from the get go, with obviously not being here last year. The rest of the field were able to have that data when they showed up. But from our first lap at practice we knew this was going to be our track. It's just really exciting as a driver. The crowd here in Japan are all just so into drifting. They were all on their feet. That helps as a driver, to have the support. [There are also] heaps of fellow Kiwis here supporting us in the championship. It's just really cool. It helps me do my job that much better when I've got the support."
This victory lifts Mike up to 4th in the Formula D Japan series rankings with a 27 point difference with the leader. The final round will be held over October 28th to 29th at Okayama International Circuit. The team expressed their confidence heading into the last event at this track. Let's hope they can repeat the type of performance they showed us in this round.
Text by S. Takahashi, Photos by N. Kaneko