2016/08/10
ND Roadster Takes Second All Japan Gymkhana Championship Victory!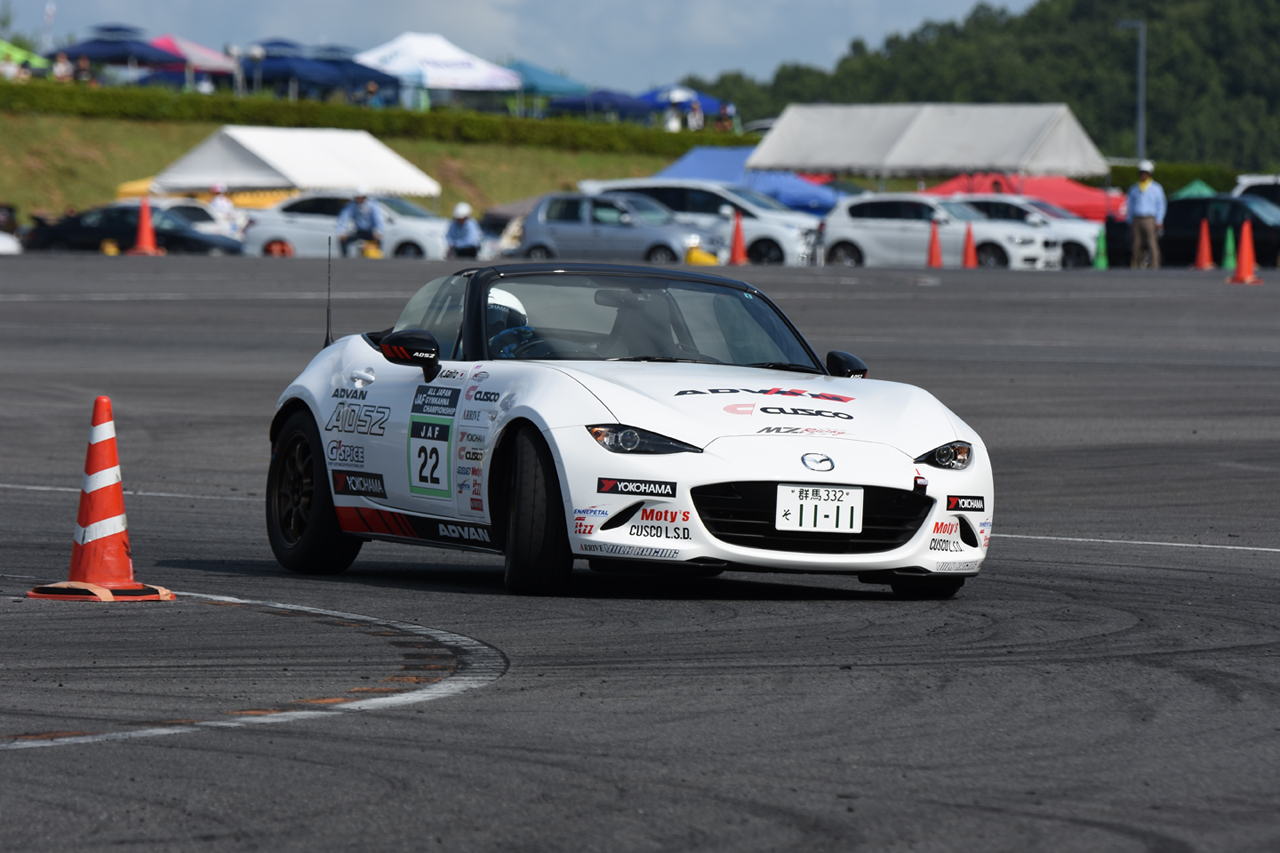 Mazda machines competed in a number of categories. The ND Roadster runs the most ever same make in the PN-1 class (PN vehicles of less than 1.6 liters, 2-wheel drive). Four FD3S RX-7s compete in the N-2 class (rear wheel drive N vehicles), five in the SA2 class (2-wheel drive SA vehicles of 1.6 liters or more) and one in the SC class (SC vehicles) that run with unnumbered cars.
We've already covered the ND Roadster's performance at the circuit in the past, but it demonstrated some undeniable potential in the gymkhana world in its debut year. This year's JGC consists of a total of 8 rounds and at round 2 held in April at Ebisu, Fukushima Prefecture, Toru Inagi achieved a superb first victory for the ND. Then, in round 4 at Sunagawa (Hokkaido), local driver, Takumi Yonezawa grabbed 2nd to see the ND already regularly securing a place on the podium.
Within these Roadster competitors it could be said that the leader is Kunio Saito. Having achieved four consecutive titles in the SA-1 class from 2011 to 2014 behind the wheel of a civic, in total he has 8 All Japan championships to his name. He has yet to take a win this season, but has finished 3rd twice already and is maintaining a 2nd place position in the point rankings.
Round 6 at Motegi was held on a vast, airfield like pylon course that was at once exciting but also complex. With a total length of 1520m, the technical layout would put the character of Gymkhana on full display.
In Heat 1 that began from 8:00am, the one to mark down the best time of 1 minute 27.775 seconds in the PN-1 class was none other than #22 Kunio Saito. This was the debut run sporting the newly created Yokohama Rubber Advan A052s that just went on sale on August 1st. 2nd fastest was #23 Hideki (ZC32S Swift), about 1.3 seconds behind, a relatively large gap for gymkhana.
In the afternoon's Heat 2 Saito would slightly lose pace, recording a 1 minute, 29.058 seconds but his Heat 1 time of around 27 seconds was taken to see him secure an awesome season first win.
As for the other ND Roadsters, #16 Toru Inagi placed 7th, #6 Kyuten Kobayashi 10th, #2 Atsushi Kubo 16th, and #5 Shinichi Kameyama 21st. #12 Takumi Yonezawa unfortunately hit the pylons in both heats and ultimately placed 23rd.
Having already taken podium finishes, Inagi, Yonezawa and Kyuten Kobayashi are already household names in the gymkhana world. They are sure to be back in the battle for class victory in the near future.
As for the N-2 class where FD3S RX-7s battled it out between themselves, point leader #84 Yohei Omata recorded a 1 minute, 23.267 second time to take victory. Although he has expanded his lead over rival #83 Masahiko Uemoto, the championship won't be decided until after round 7.
All Japan Gymkhana (JGC)
www.jaf.or.jp/msports/national/gymkhana/
Photo and Text by T. Ishida +1