2016/05/19
Murakami Motors ND Roadster Achieves Superb Lights-to-Flag Victory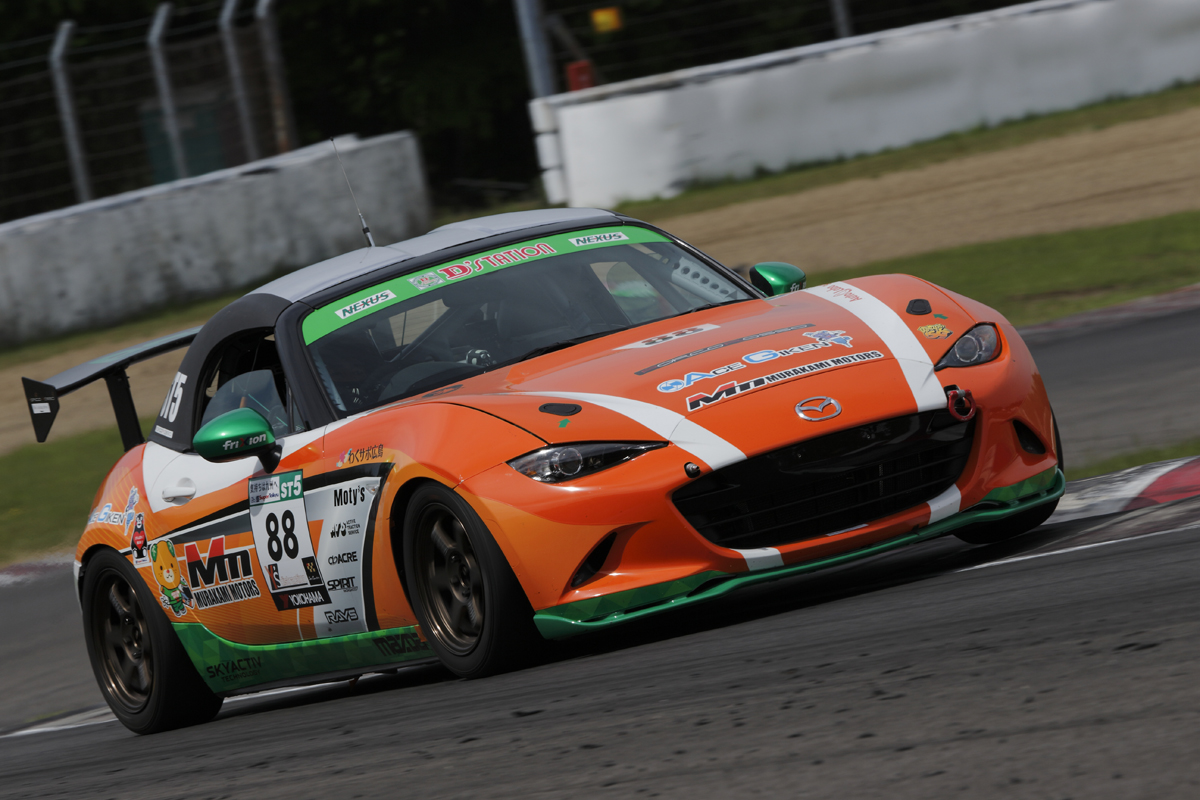 Two races were created for this round, one for the upper categories that were bracketed into Group 1 and one for the ST-4 and ST-5 classes, in which the Mazda machines were competing, that were sorted into Group 2. Both the qualifying session and race for Group 2 were held on the same day. Along with this, the most basic class, the ST-5, saw a most ever 15 entries competing and this made for some exciting racing. Immediately after the A drivers went out onto the course for official qualifying, the red flag was raised, making it a very short session and leaving very little time for the competitors to carry out their attack. Despite this, Murakami Motors owner, Murakami put in a valiant effort to mark down the top time. Following on from his, B driver, Tsutsui also managed to record the fastest lap and secure them pole position.
Within the 3-hour endurance race, Team NOPRO's #17 Demio SKYACTIV-D (Tatsuya Tanigawa/Kaoru Ijiri/Tatsuya Nogami) took an interesting strategy with starting driver, Nogami pitting in the opening lap to hand the car over to Tanigawa. In the ND Roadster, Murakami was overtaken at the first corner by the Fit running in 2nd, but he was immediately able to regain his position in the following lap. From that point on he displayed a steady race that took full advantage of the machine's unique strong points and built up a significant margin. After approximately 1 hour he pitted in to change over to Tsutsui who went on to continue running alone in the lead. With 50 minutes remaining Tsutsui returned the wheel over to Murakami who continued to run in the top spot while paying careful attention to tire wear and fuel consumption. Then finally he passed the checkered flag in a definitive 1st place. With this they are now ranked 3rd in the points. Hiroyuki Murakami went on to comment, "With the red flag during qualifying leaving only 5 minutes left for my attack, I was a little lucky to have been able to take the top time. Then, being able to build up a definitive lead early on in the race, I didn't have to spend fuel battling with our rivals and could concentrate solely on my driving. The decision to compete in the ST-5 class in an ND Roadster was clearly the right move. I want to send a big thank you out to all those who cheered us on, the cooperation from all our partners, and everyone in the team. Thank you so much!"
Team NOPRO's #17 DJ Demio (diesel) met with tire trouble early in the race, which resulted in a loss of pace and a 5th place finish. That being said, having successfully attained some points they were able to maintain their 2nd place ranking. The #37 DE DEMIO (gasoline) (Yutaka Seki/Kenichi Ohara/Toshihiko Nogami), despite being a previous generation Demio, was able to maintain a solid pace right from qualification to achieve a 4th place finish in the race. They are now ranked 6th. OVERDRIVE's #66 Demio 15MB (Takechi/Baba/Umeda) started from a qualified 9th but unfortunately met with trouble in the closing stages and it fell behind to finish in 12th. In the ST-4 lass the TCR Roadster (Kato/Kondo/Tsutsumi) crashed early in the race and was forced to pit in for repairs. They managed to complete finish in 15th.
The next round will be held over June 11th (Sat) to 12th (Sun) at Suzuka Circuit. The 4-hour race will begin at 3pm local time on the 12th and the checkered flag will be raised after sunset, at 7:00pm.
[Related links]
>>>
S-TAI Rd.1 NOPRO Demio SKY-D Takes Class 2nd in S-Tai Opener
>>>
S-TAI Rd.2 Murakami Motors ND Roadster Achieves Superb Lights-to-Flag Victory
>>>
S-TAI Rd.3 NOPRO Demio SKY-D Grabs First Victory at S-Tai Suzuka
[Related video clips]
>>>
Super Taikyu 2016 Opening Round at Motegi
Photo by MZRacing