2015/07/01
Rina Ito Grabs First Podium at JRC Wakasa Rally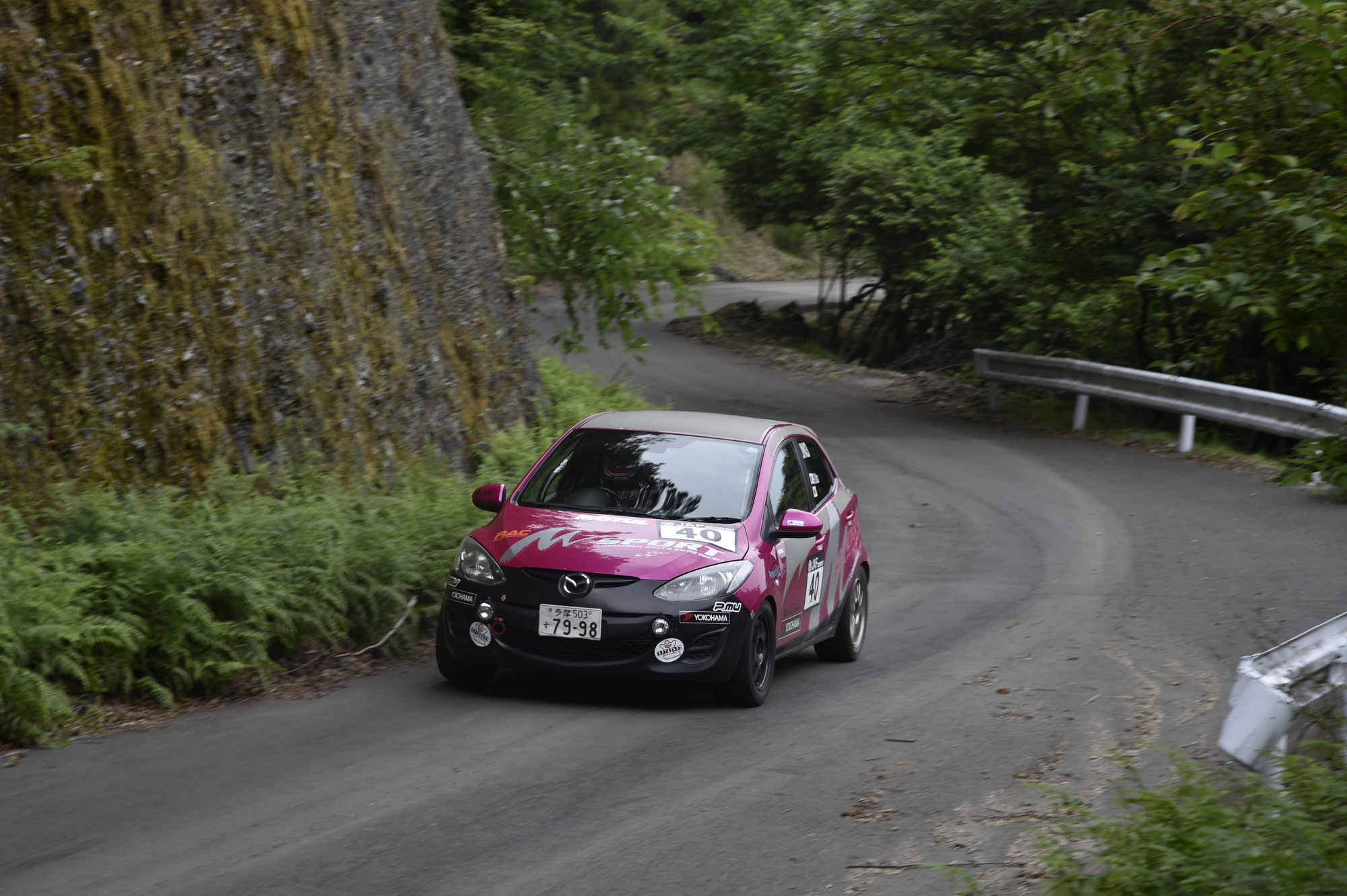 With rain falling continuously from dusk the previous day, Day 1, held on the 6th, saw all stages held under wet conditions. Under these difficult conditions Rina Ito / Hiroshi Arai managed to finish Day 1 sitting at 2nd in the JN-3 class. Day 2 saw dry conditions, and, despite struggling on the mountain passes, which are a weak point for the pair, they managed to protect their position and achieve a 3rd place podium.

Rina Ito herself reported, "This rally garnered a lot of attention for being the first to include a toll road (Rainbow Line). In the morning on Day 1 the road surface was wet. Although I'm a little weak in the winding mountain paths, due to the slippery road surface I was able to run at the same pace as everyone else and achieve some competitive times. The afternoon's Rainbow Line is a high-speed course, the kind I'm good at, and seeing as I was able to mark the best time, I think it was really suited to my driving. Due to that I was able to finish Day 1 in 2nd place.

On Day 2 the weather cleared up and the road surface became dry. Two runs were scheduled for the Rainbow Line, but unfortunately one of them was cancelled and we were unable to shave off much time. Although I was sitting at class top for a while, the mountain passes in the second half are hard for me and the conditions dried up so I was unfortunately overtaken by one machine. Still, I managed to finish the rally in 3rd. Those around me were hoping that I could come out on top, but I'm still really pleased with a 3rd place. From here on out I'm going to focus on being faster in my weak areas and aim for victory. I'd like to say a big thank you to all those who cheer for me and support me."

Although they achieved 2 consecutive victories following the opening round, the Demio of Koichi Okada / Kunihiko Tsuruta ended up retiring in Day 1. Okada related, "We were unfortunately forced to retire out of this rally with machine trouble. I was maintaining the lead until the middle of special stage 6, but with 2 km left in the 8.14 SS I suddenly had engine trouble. Somehow I managed to finesse the car downhill to the finish. Although I had managed to achieve the best time by a slight margin, from then on out the engine wouldn't start. That's rally for you." Clearly already setting his mind on the future, he continued, "For the next round I'm going to thoroughly investigate the cause and think of countermeasures. Next July in Toya is the first gravel rally for this year and I want to go at it with everything I've got! Thanks for all the support guys."

In the JN-3 class the #41 Demio of Akira Shimada and Yusuke Ishiguro grabbed an admirable 2nd place. With the #38 of Kentaro Takano and Shoichi Amago coming home in 4th, the presence of the Demio in this class is alive and well. In the JN-1 class there were two Mazda RX-8 entries. Taking class 1st was the #44 RX-8 of Akinori Nakamura/Satoshi Furukawa and in 2nd was the #43 RX-8 of Yasuo Matsuda and Yoshihiko Sugihara making it a 1-2 finish for Mazda.

Photo by T. Yamaguchi, K. Okada Round 4, this season's first gravel rally, will be the 2015 ARK rally Toya (Hokkaido).