2016/06/28
Iwai Takes First Tanso Victory in RE Roadster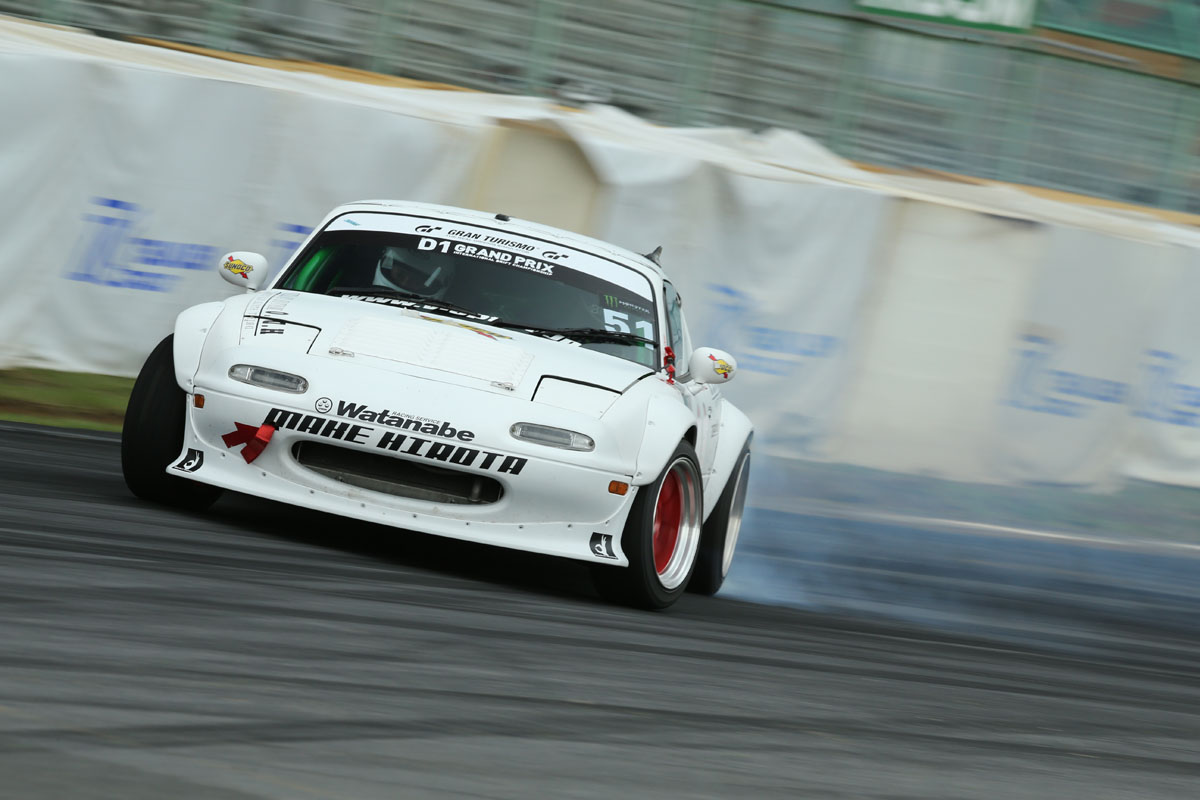 #7 Matsui was unfortunately eliminated in qualifying for round 3. On the other hand, #77 Miki and #51 Iwai both made it through qualifying and the "tanso" (single run) finals to advance into the "tsuiso" (chasing race) tournament. Unfortunately, however, the two Mazda's would immediately go up against each other. In the end, #77 Miki stalled while taking the lead run and allowed #51 Iwai to win and move into the next battle. However, due to contact that was made during the previous run, Iwai incurred damage to his undercarriage that resulted in him being eliminated from the best 8. Miki commented, "I stalled when I was angling into the hairpin. My reaction to the sudden drop in rotation was just too slow." #77 Miki finished overall 15th and #51 Iwai placed overall 5th.
Disappointingly, both #7 Matsui's "RE Amemiya RX-7" and #77 Miki's "R-Magic RX-7" were eliminated in the tanso qualifying of round 4. Matsui lamented, "In the first run my line was too narrow, so I tried to address that in the second but I wasn't really in control of my drift." After the rain let up, the road surface began to dry slightly, making it very difficult conditions.
The #51 Iwai's RE Roadster, on the other hand, pulled out ferocious speed and displayed full throttle, deep angled drifts to take victory in the round 4 tanso final. This was the first ever D1GP victory for the Roadster. An ecstatic Iwai stated, "I was desperate to take a tanso victory but I never imagined I'd be able to accomplish it this quickly." In the tsuiso runs Iwai unfortunately made a gear shifting error and was eliminated from the best 16. He finished with an overall ranking of 9th.
MZRacing would like to congratulate Iwai on his first tanso victory. We can't wait to see him have further success in his rotary engine powered NA Roadster.
[Related links]
D1GP TOKYO DRIFT
>>>
RE Roadster Tears Through First Qualification
D1GP FUJI DRIFT
>>>
RE Amemiya's Matsui Advances to First D1 Tsuiso Since Move
D1GP TSUKUBA DRIFT
>>>
Iwai Takes First D1 Tanso Victory in RE Roadster
D1GP EBISU DRIFT
>>>
RE Amemiya's Matsui Battles it Out in Tsuiso & Tanso in D1GP Ebisu Round
Photo by N. Kaneko