2018/06/05
Murakami Motors Roadster takes ST-5 class victory in S-Tai 24-Hours of Fuji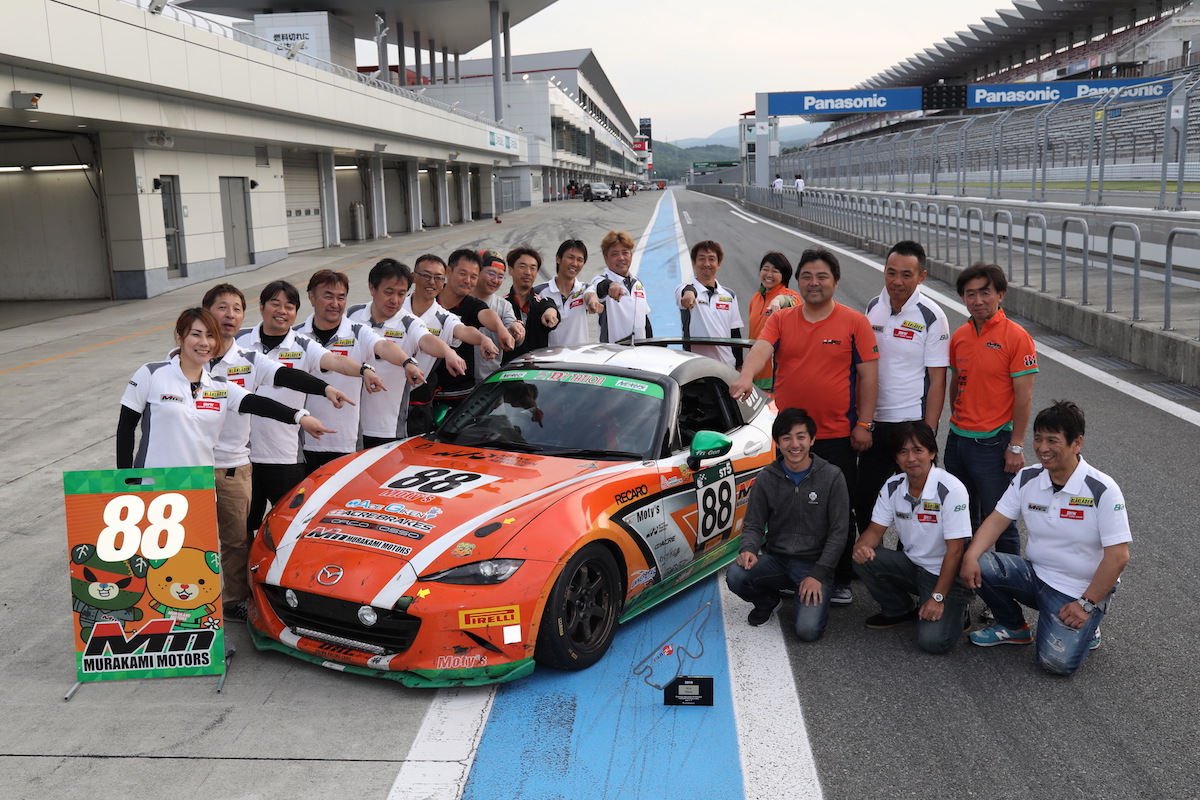 Round 3 of the Super Taikyu Series, the SUPER TEC Fuji 24-hour, was held over June 2nd (Sat) to 3rd (Sun) at Fuji Speedway where the #88 Murakami Motors Roadster (Hiroyuki Murakami/ Keiji Amemiya / Soichiro Yoshida / Takeshi Wakitani / Kuninori Nakane / Osahiko Sugino) began from 3rd place on the grid and, after racing for 24 hours, 608 laps and approximately 2,774km, passed the checkered flag at 1st in class. Along with this, Team NOPRO's Axela SKY-D and Demio SKY-D placed 2nd in the ST-2 and ST-3 class respectively, securing a double podium result for the team.
This event was the first 24-hour race in 10 years for the Super Taikyu Series, the last being the 24 Hours of Tokachi, held 10 years prior. As for Fuji Speedway, although it held a 24-hour race in its inaugural year of 1967, as well as in the following year, this would be the first time a 24-hour race had been held at this track for 50 years. 2017 ST-5 class champion, Murakami Motors, has had a tough start to the season due to the unified tire brand introduced from this season. Struggling to display the pace they displayed last year they finished the opening round at Suzuka in 3rd place, then placed 4th in the next round at SUGO. This event marked the first time for an S-Tai 24-hour race to be held at Fuji, making it a momentous occasion and so the team headed into this tournament with indomitable resolution. That being said, in official qualifying held on the 1st (Fri), they only just managed to secure 3rd in the fiercely contested ST-5 class. Heading into the race team representative, Murakami told each driver, "I'm not going to ask the impossible. I know we have a fast car so just observe team discipline, take care not to make contact with other machines or receive any penalties and I'm sure we will be able to finish in a good position." I'm sure there will be a lot of things happening in the early stages, but first of all I would like to leave it to the drivers who aren't as familiar with the car and then, once the temperature has dropped, making it easier to mark down good times, I want to hand the car to the more experienced drivers. In other words our strategy will be to push hard during the night. I don't know what type of strategy our rivals, NOPRO and TEAM 221, will take but we intend to take the lead until the end of the race. Taking center role of that strategy was Murakami's friendly rival from the GLOBAL MX-5 CUP, Soichiro Yoshida. Murakami handed him the wheel for a total of four 90-minute stints, amounting to six hours of running, a heavy responsibility. 21-year old Yoshida stated, "You might think I ran for an incredible amount of time, but the car is really fun to drive so it wasn't a problem at all. It was so much fun the 24-hours passed by just like that." In line with their strategy, they maintained their 3rd place position during the opening phases, then, when night fell, they put Yoshida behind the wheel and pulled in front from beginning from day break. After passing the checkered flag in the top spot, Murakami related, "The wasn't one iota of trouble with the car and we barely had any contact with other vehicles. Although we miscalculated the time for one pit stop (minimum two minutes if refueling), which resulted in a drive-through penalty, that was our only infraction. The most important thing in a 24-hour race is to get to the finish line so it is essential to skillfully avoid making contact with faster class vehicles. Also, being a marathon race, it is incredibly important to drive while taking care of components such as the gear box and engine. Anyway, weren't able to do anything out of this world, so it was the hard work of everyone in the team that produced this result."
TEAM NOPRO's ST-2 class entry, the NOPRO Axela SKY-D (Tatsuya Tanigawa / Tatsuya Nogami / Toshihiko Nogami / Hiroki Yamada / Tadashishige Fujiwara), and its ST-5 class entry, the NOPRO Demio SKY-D (Yutaka Seki / Kaoru Ijiri / Tobio Otani / Yoshihiro Kato), started from 3rd and 7th on the grid respectively and at the end of the 24-hours they passed the checkered at 2nd in each class. With this, all nine NOPRO drivers were able to stand on the provisional podium. Team representative, Toshihiko Nogami, stated, "The #17 Axela's left front hub became a bit loose in the second half and so we replaced the hub bearing, but other than that we didn't have any problems. The Demio's immobilizer would engage at times when it wasn't necessary and this caused the engine not to start a couple of times, but we were able to nurse it through the race and not lose a huge amount of time. There were quite a few accidents involving other cars but the Axela managed to make it through with just a few cuts and bruises and no damage caused by any large crashes. Although we weren't able to achieve a double class victory I think a double class 2nd place finish is a pretty good result. This being an S-Tai 24-hour race, there were a lot of fans who turned out and I think that the efforts and ingenuity from everyone at Fuji Speedway, the series organizers and everyone else really resulted in a fantastic event."
Three other Mazda vehicles participated in the ST-5 class, with the TEAM 221 Roadster (Katsuhiko Tsutsui / Kouji Yamanishi / Takahiro Tanaka / Yuta Kamimura / Junichiro Yamashita / Katsuteru Tanaka) finishing in 5th and the Odula Demio 15MB (Riku Hashimoto / Shigetomo Shimono / Takayuki Takechi / Takashi Nishiyama / Seiji Ide / Chikara Tanioka), which started from pole position, coming home in 7th. The LOVE DRIVE RACING Roadster (Marie Iwaoka / Anna Inotsume / Hiroko Komatsu / Sayaka Kato / Megumi Tsujita / Yumiko Sekizaki) was running in class lead with a strong performance before technical trouble forced it to fall back and it completed the race in 8th.
At this race also, MZRacing carried out a pit tour for the Mazda supporters. Over 20 Mazda fans took part. We'd like to send out a big thank you to all those who turned out. We will next be carrying out a pit tour at S-Tai Autopolis so don't miss out on this opportunity to mingle with the Mazda team staff and drivers. We'll be waiting to see you there.
Photos and Text by MZRacing