2015/09/08
Okada Demio Takes Third Class Victory in JRC Rd 6, "Montre in Tsumagoi"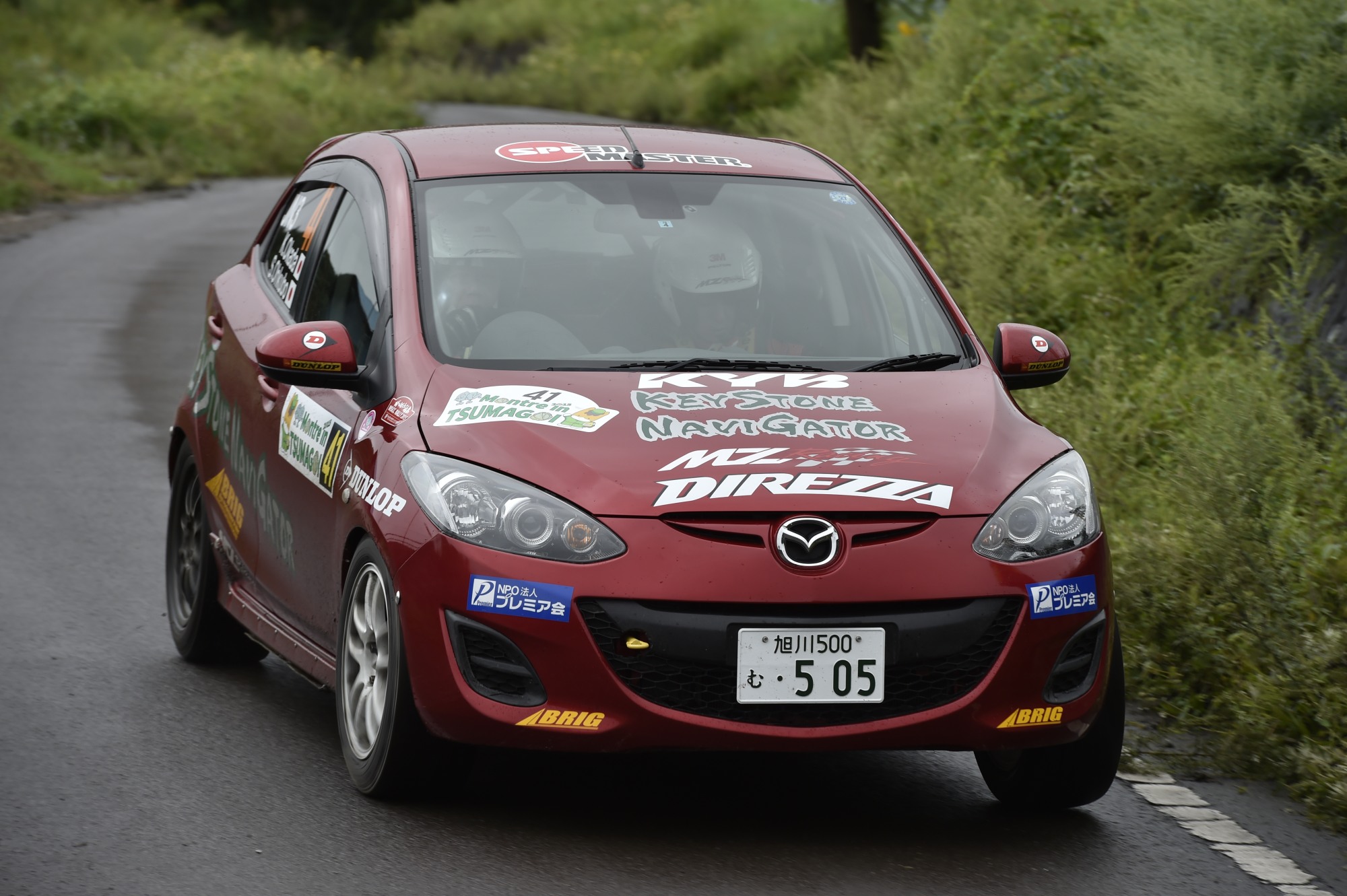 This year's Montre was again held with the "Palcall Tsumagoi Resort Hotel" as a base. This rally would be battled out at an altitude of 800m-1400m in the Tsumagoi Highlands, which are famous for the cabbage grown there. Furthermore, said base hotel is also actively involved in snow race meets in the winter, making it a hotel that is fully committed in its support of motorsports. Four Demios competed in the JN3 class and one in the JN2 class. With concentrated heavy rain causing consecutive retirements within last year's rally, this year the organizers banned the use of S-tires. Due to this every class would be competing with rally tires or commercial radial tires.

Due to rain falling from early morning on Day 1, JN3 class point leader, Koichi Okada / Akira Okubo chose to head out with radial tires. With the rainfall falling quite hard in some stages on day 1, they finished the first day in the lead. For day 2 Okada chose to change to rally tires. As a result, he went on to mark the best time in SS12, 16 and 17, and despite Kentaro Takano /Shoichi Amako, who finished Day 1 in 3rd, achieving the best times in SS11 and 15, he managed to maintain his lead to achieve his third victory this year and first since round 2 in Kumakogen. Takano also took his second consecutive 2nd place finish, following on from round 5, Fukushima MSCC. Also in the JN3 class, #47 Manabu Naito / Keiichi Kofuji placed 4th, #46 Kenji Kimura / Haruyo Numata finished 6th. In the JN2 class #55 Yusuke Kato / Wataru Fujiue placed 4th.

JN3 Class leader Okada gave us the following summary of the race. "S-tires were regulated in this event, which meant that we had to compete with regular radial tires. Unfortunately Day 1 met with rain and, on top of that, SS1 was a very high-speed panorama run. Running on radial tires for the first time, I struggled a bit and would start from 4th. After that though, I focused on erasing any fear of slipping from my mind, reset my driving, and in the remaining SSs marked 6 top times to build a 9.7 second margin over the competition and finish Day 1 in 1st. Day 2 saw even heavier rain than the day before and the road surface wasn't merely wet, it became like a river. Along with that, almost half the course was gravel, leaving rally tires the only logical option for me. This tire choice turned out to be the right decision. Under the heavy downpour, on paved or dirt road, I was able to drive to my heart's content and maintain my overall lead in the first loop. However, I ultimately finished it in 2nd and with 23-year old (younger than my kid) "Kodora" saying, "I want to finish Day 3 with full day points and take victory", I regrouped and really attacked loop 2. After all was said and done I finished the rally with a 47 second lead over the rest of the pack. I want to send a big thanks out to all our supporters."

The next round, RALLY HOKKAIDO, will be held on September 18th to 20th and we will be following the performance of the Demio here as well.