2018/07/31
Mad Mike Ends in Retirement at Formula Drift Japan Rd. 3 Fuji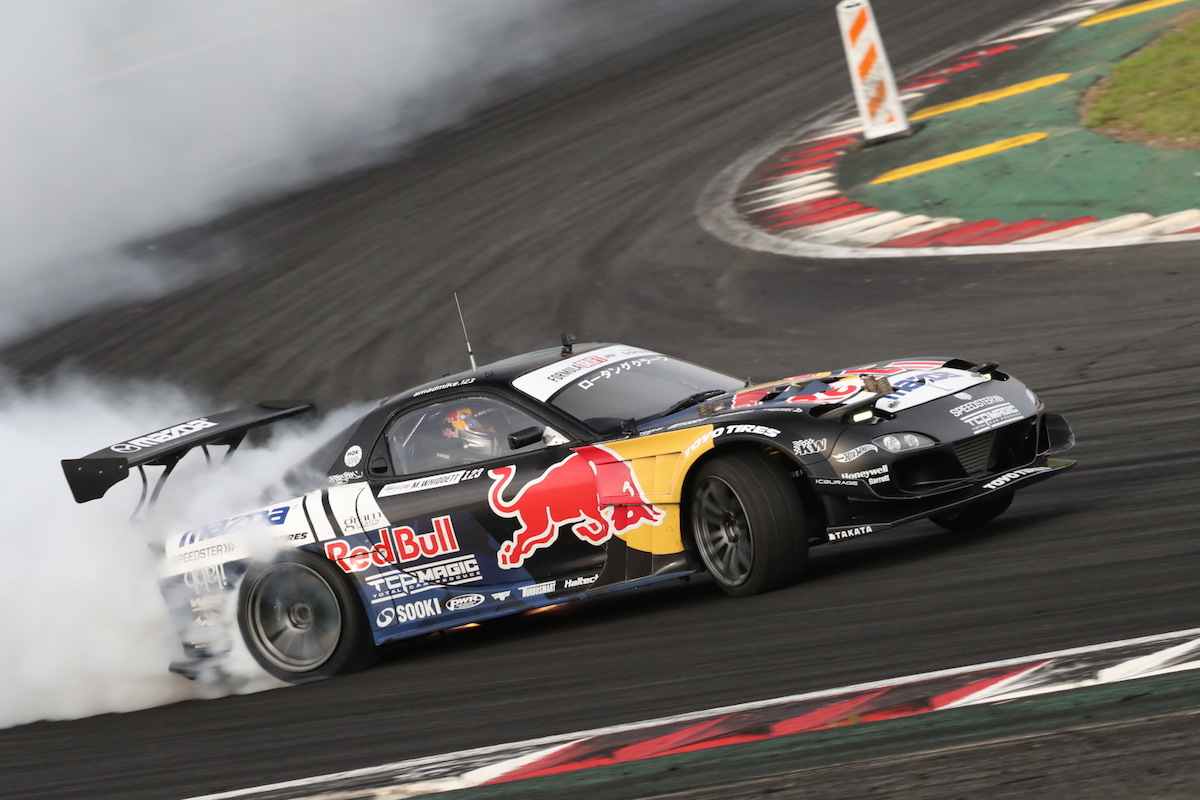 Round 3 of the Formula Drift Japan was held at Fuji Speedway over July 27th to 28th where after taking victory in the opening round and round 2, Mad Mike Whiddett was expected to make another big step towards taking the season championship. With difficult conditions brought about by an approaching typhoon, Mike was displaying good performances during practice, he struggled a little in the qualifying session and wasn't able to make it into the top group. From there he was headed into the top 32 on the following day but there he encountered some misfortune.
The "Team MAGIC with Redbull RX-7" maintained by Hyogo Prefecture's Garage TCP-MAGIC (Representative: Taisuke Kawato) is a dedicated drift machine that mounts a 4-rotor twin turbo engine into its FD RX-7 base. This handmade twin-turbo, bridge-ported 4RE can produce a mammoth maximum 1200hp and regularly puts out between 800-1,000hp. The team has been competing full seasons in the Formula Drift Japan since last year, making this their second year in the series. Mad Mike (NZ), who performed a demo run at the 2015 Goodwood Festival of Speed, garnering the attention of Lord March and earning an invite back every year since, serves as the team's driver. This year also Mike brought out his New Zealand use 4RE FD RX-7 to Goodwood to enrapture the audience and garner a huge number of views on YouTube. Mike, who says his father was a huge Mazda fan, has built a name for himself through building a 3-rotor turbo NC MX-5, and then mounting a 4-rotor engine into an RX-8 and then an FD RX-7 to put on some incredible shows. This led him to becoming a contract driver for Red Bull.
This year's Formula Drift Japan (FDJ) kicked off with its opening round in Suzuka, followed by round 2 at Ebisu and, following this Fuji round, will head to Okuibuki, with the final round to be held in Okayama. Having already taken victory at Suzuka and then Ebisu, Mike headed to Fuji currently in the best position to take the championship and so a large number of fans and supporters had high expectations for this event. Regarding the FDJ Fuji course that began at Coca-Cola corner and then went through 100R up until the hairpin, Mike stated after practice, "This is a good course for me. However, this year we're using new drift tires (TOYO) and there is a little too much grip, which caused a lot of understeer in the first and second run. But, we changed the settings of the shock absorbers, etc. and adjusted the boost and it felt much better." However, with Typhoon No.12 approaching, the conditions frequently changed between sessions. This was particularly the case with qualifying, which was held at the end of the day where Mike's final run was held at around 6:30pm. At this stage the air and road temperature drastically dropped and a despondent Kawato stated, "The conditions are completely different to that of practice and that caused us to experience a lot of understeer again." Still, he ended with a smile saying, "Don't worry. We'll be aiming to make a comeback in tomorrow's top 32 tournament."
However, sometimes fate can be a cruel mistress. With rain falling from the morning on the 28th, the day's practice session was held from early in the morning under wet conditions. Mike was set to take his 4RE RX-7 through warm up and then head towards the start of the top 32. The rain had fortunately let up and the road surface was drying. However, Mike's RX-7, which was set to be in the second pair to make a run experienced some technical problems and when it was sitting on the grid waiting for the start, the team couldn't get the engine to start. Kawato went on to say, "The huge amount of rain might have caused some water to seep into the electrical system and cause some damage somewhere. The fuel pump won't engage. It's really unlucky but this is racing so you have to take the good with the bad." After a 5 minute extension Mad Mike's retirement was announced. All the fans who had come out to see his performance struggled to hold back their disappointment.
Mike went on to say, "No championship is easy but Okuibuki is the next round and we won there last year. So, I've got a lot of confidence heading out there. Thanks to all for the support." Round 4 of the Formula Drift Japan will be held at Okuibuki Motor Park Street, Shiga Prefecture over September 8th to 9th. If you're an RE fan and in the area come down to watch.
Mad Mike in Formula Drift Japan (YouTube 3'01")
Text by MZRacing, Photos by N. Kaneko, K. Masuda, MZRacing