2016/03/28
RE Roadster Tears Through First Qualification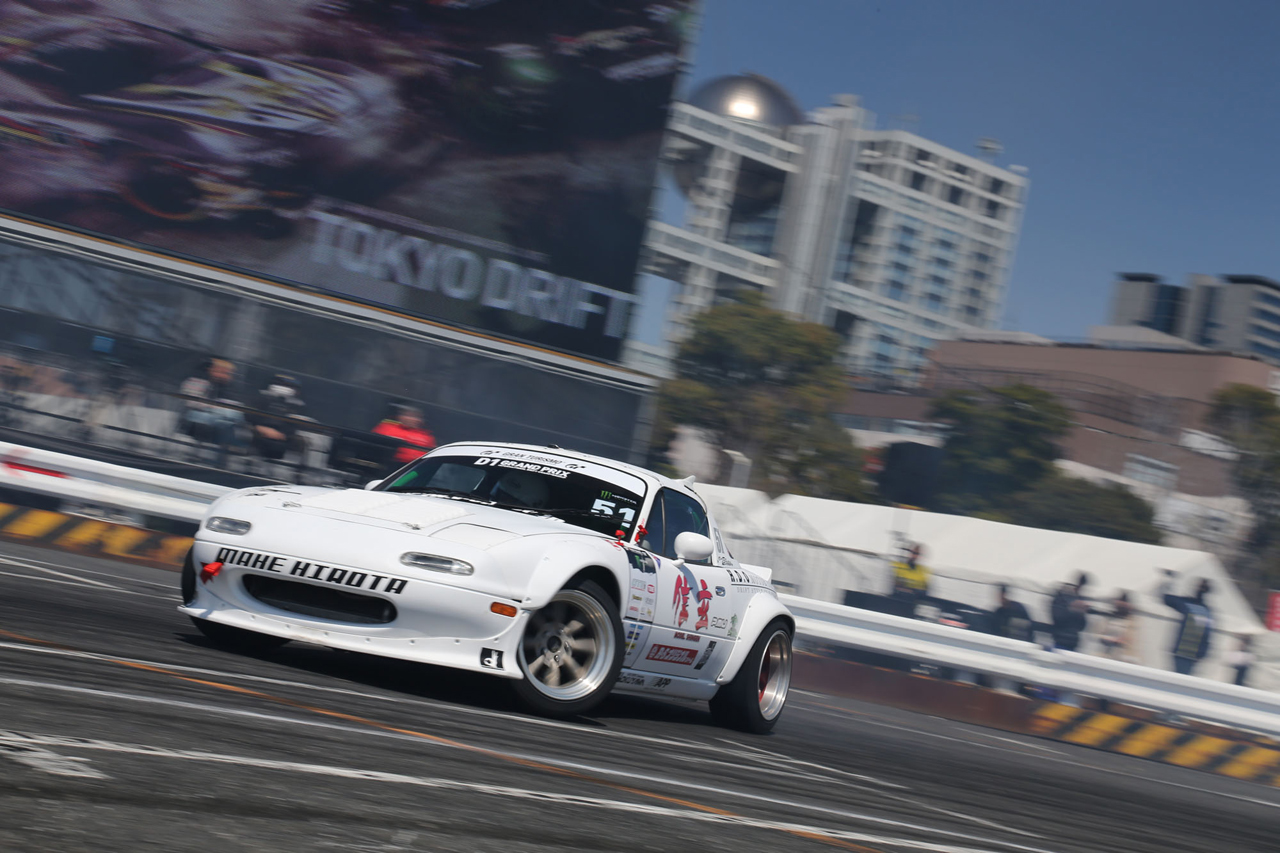 All three vehicles competed in the qualifying session held on Friday. #77 Miki, having only just changed into his new vehicle, still seemed a little unaccustomed to his ride and, unable to fully take the angles to their extreme, finished in 29th. It appeared that #7 Matsui found himself in the same situation and his conservative run saw him fall short at 25th and both were unable to pass through qualifying. Miki went on to say, "I wasn't yet able to go all out like I wanted because I hadn't practiced enough and felt a little tense." Matsui similarly commented, "I didn't feel totally comfortable with the car so my run was a little too cautious."
On the other hand, #51 Iwai, who pulled out a Roadster for last year's final round, displayed a compact, yet crisp, smooth ride to pass through qualifying and be the first Roadster to pass through to the next day's tanso (single run) final.
In the tanso finals #51 Iwai pulled out some high speed cornering, but was lacking in a little dynamism and was unable to get a high enough score to pull him higher that 17th. With this he was unfortunately unable to advance into the tsuiso (chasing runs), as only the top 16 pass through. Iwai, who was using a reciprocating engine until halfway through last season, stated, "I'm still not able to fully pull out the potential of a rotary engine. I still have room to improve both the car and my own driving, so I think there is a lot of winning potential." From this it is clear he has high hopes for the rest of the season.
On the following day there was an exhibition match where #7 "Team RE Amemiya GruppeM" Matsui and #77 "EXEDY R Magic D1 Racing" Miki faced off. #7 Matsui took victory, but both drivers felt they weren't able to push their machines to their limits and expressed a desire for a rematch once they had both mastered their cars.
[Related links]
D1GP TOKYO DRIFT
>>>
RE Roadster Tears Through First Qualification
D1GP FUJI DRIFT
>>>
RE Amemiya's Matsui Advances to First D1 Tsuiso Since Move
D1GP TSUKUBA DRIFT
>>>
Iwai Takes First D1 Tanso Victory in RE Roadster
D1GP EBISU DRIFT
>>>
RE Amemiya's Matsui Battles it Out in Tsuiso & Tanso in D1GP Ebisu Round
Photo by N. Kaneko