2019/12/05
RE Amemiya RX-7 Matsui Grabs 4th at FIA Drift Tsukuba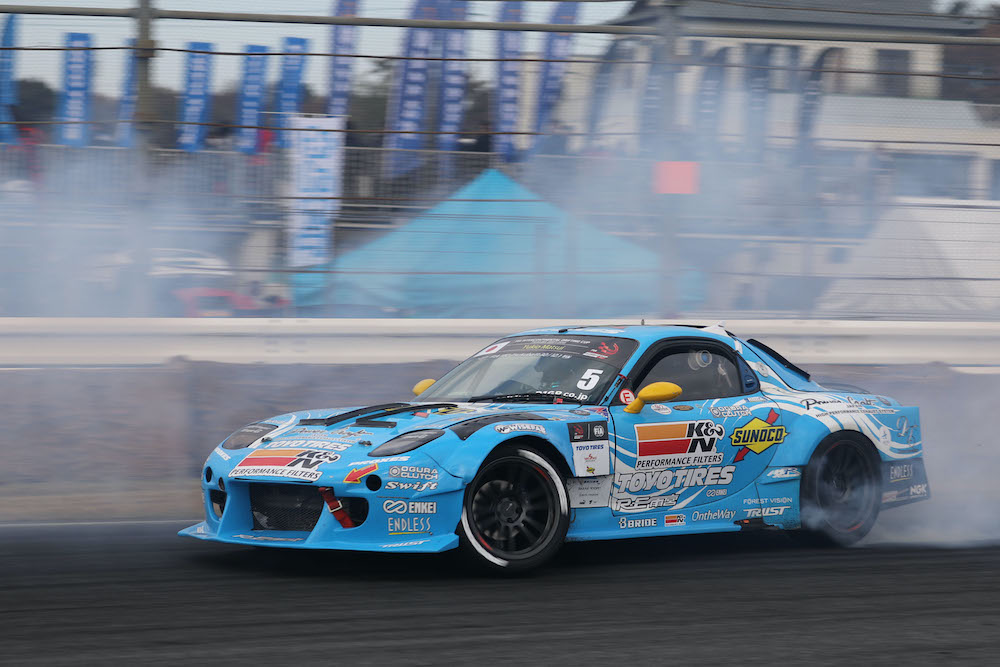 The FIA Intercontinental Drifting Cup was held on November 30 to December 1, at Tsukuba Circuit, where 27 drift machines from 17 countries competed. Here the RE Amemiya RX-7 (FD3S) mounted with a 3-rotor turbo engine, driven by Yukio Matsui, finished 4th overall. Matsui, went up against last year's Russian champion, Georgy Chivchyan, but unfortunately lost due in the sudden death match.
Tsukuba was blessed with fine weather and the tournament was held in dry conditions. Although it would be cold in the morning and evening, the weather was quite warm during the day. Competing alongside the RE-Amemiya RX-7 in this competition was the 2018 Formula Drift Japan Champion Michael Whiddett, driving his Mazda's FD3S RX-7 equipped with a 4-rotor turbo engine generating up to 1,200 horsepower. The single-run qualifying session held on Saturday was used to select vehicles that would run in the top 16 tournament. In drift competition, speed, beauty of running style, drive technique, etc. are judged. In single run, they are scored by the judges and ranked in the order of their scores. In FIA drift, in order to achieve more fairness and transparency, each vehicle has equipment that measure the drift angle of the vehicle body and the vehicle speed during the swing.
When asked about the condition before the qualifying run, Whidett (commonly known as Mad Mike) said, "The car is in the best condition because the team has tuned it up to perfection. However, at the S-curve where the pace slows down, tire smoke runs into the cabin and I can't see in front of me." In regards to this problem, it was decided that it would be possible to start if the side window was opened and a catch net attached. The special course for drifting at the Tsukuba Circuit starts in the middle of the last corner, clears the two urethane pad chicanes on the straight, passes through the S-curce, and hairpins before passing the finish line. In practice, Mad Mike's FD RX-7 recorded the fastest speed of about 190km/h in a straight line. In qualifying, Matsui's RE Amemiya RX-7 was second fastest following the Hong Kong representative Charles Ka Ki Ng. Mad Mike showed a performance that captivated the audience in the first run and got 80 points, but the second run ended in a zero score due to a lack of swing angle, and placed 6th.
In the final tournament on Sunday, Matsui's RE Amemiya RX-7 went up against Kuwait's Ali Makhseed. Matsui, put in a spirited effort agains't the Formula Drift Champion and advanced to the Best 8 without difficulty. Mad Mike's FD RX-7, which started in the final tournament frame, had a tough run on the lead lap and made contact with Daychapon Toyingcharoen (Thailand) on the chase run. The control arm was broken after the front wheel was smashed. This loss of control resulted in an unexpected best 16 loss. "I had a good lead lap, but I might have been too close to his machine on the chase lap. I didn't realize at that time that his machine hit my wheel and broke the control arm. But later, I understood the situation because when I spun out. The judges were not able to confirm the accident in the video, and unfortunately, I had to accept defeat. But it was still a great experience. It's too bad I couldn't get a better result."
On the other hand, Matsui advanced to the Best 8 against Formula Drift champion Andrew Gray from Scotland. Matsui achieved an unquestionable victory against this strong enemy, and finally faced the best 4 matches. His opponent was the Russian national team's Chivchyan, the 2019 champion. Both in the first lead and the second chase he displayed equally skilled driving and the Judgment was even. According to the rules, they were required to continue engaging in a sudden death battle until the winner was decided. Although it looked almost like a good fight, the judges didn't miss the moment that Matsui made a small mistake and he lost the match. Yumi Amemiya, the team's representative who was watching the match in front of the monitor, said, "The first round was a perfect run. The second round was well done by Matsui. " Matsui is now 4th in the tournament because he lost his concentration here and couldn't grab 3rd place in the match against Gray." Matsui stated, "Chivchyan is fast and clever, so I attacked with caution. However, in the Sudden Death, I finally made a mistake and was defeated. Thank you to evenyone who supported us."
Text and Photos by MZRacing