2015/10/27
RE Amemiya GruppeM-RX7 Enthralls Crowd in Tsuiso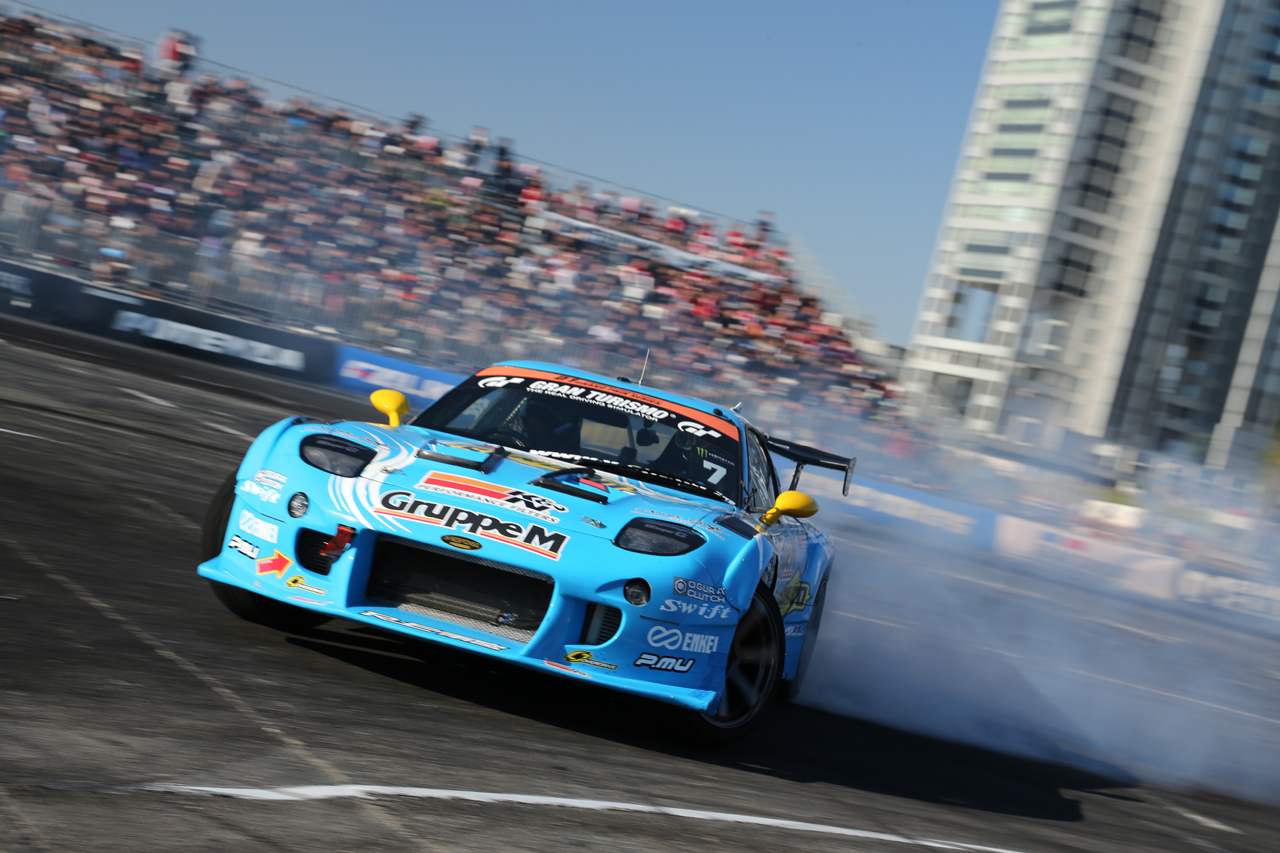 However, during Saturday morning's check runs, the #77 R MagicRX-7 slipped on oil left behind by a preceding vehicle and crashed. With extensive damage being done to the undercarriage, they pulled out of the tanso finals and attempted to make repairs. Although they manage to run in the "tsuiso" (chasing race) qualifying sessions, he was outdone by #75 Hirajima. Clearly disappointed, Matsui commented, "It was not really possible to repair the damage properly [at Odaiba's paddock] and we just made do with what adjustments we could, but it was no use. If only the officials had noticed the oil and stopped the session…"

When they were fervently trying to make repairs with limited parts, one could see Team RE Amemiya's (who are competing with the same FD3S RX-7) Ama-san kindly grabbing parts from their ORC booth to help out the #77. However, with the crash being severe enough to bend the machine's cross-member, on the spot repairs were almost impossible.

On the other hand, the #7 RE Amemiya RX-7's Masao Suenaga finished the tanso finals in 14th. Although he was on the defensive is the tsuiso qualifying sessions, going up against last year's champion, #1 Takahashi, he managed to pull out a stunningly close drift to take victory. Moving into the Best 16, he waged a high-speed battle with #53 Hibino that was so close it moved into a rematch. He would start that rematch from the pursuit leg and was right on his opponent the entire run to secure a large advantage. However, when it was his turn to take the lead he hit his tail on the outside concrete wall and was defeated. Having shown such good form Suenaga was clearly dissatisfied when he stated, "While I was trying to shake him off I misjudged the swing width and hit the wall."

#7 Suenaga also competed in the following day's exhibition match and won his way into the Best 8. Although he lost in a showdown with his brother, #9 Naoto Suenaga, the climax of this battle greatly excited the crowd.