2018/07/24
Unstoppable! Mad Mike Grabs Second Consecutive Victory!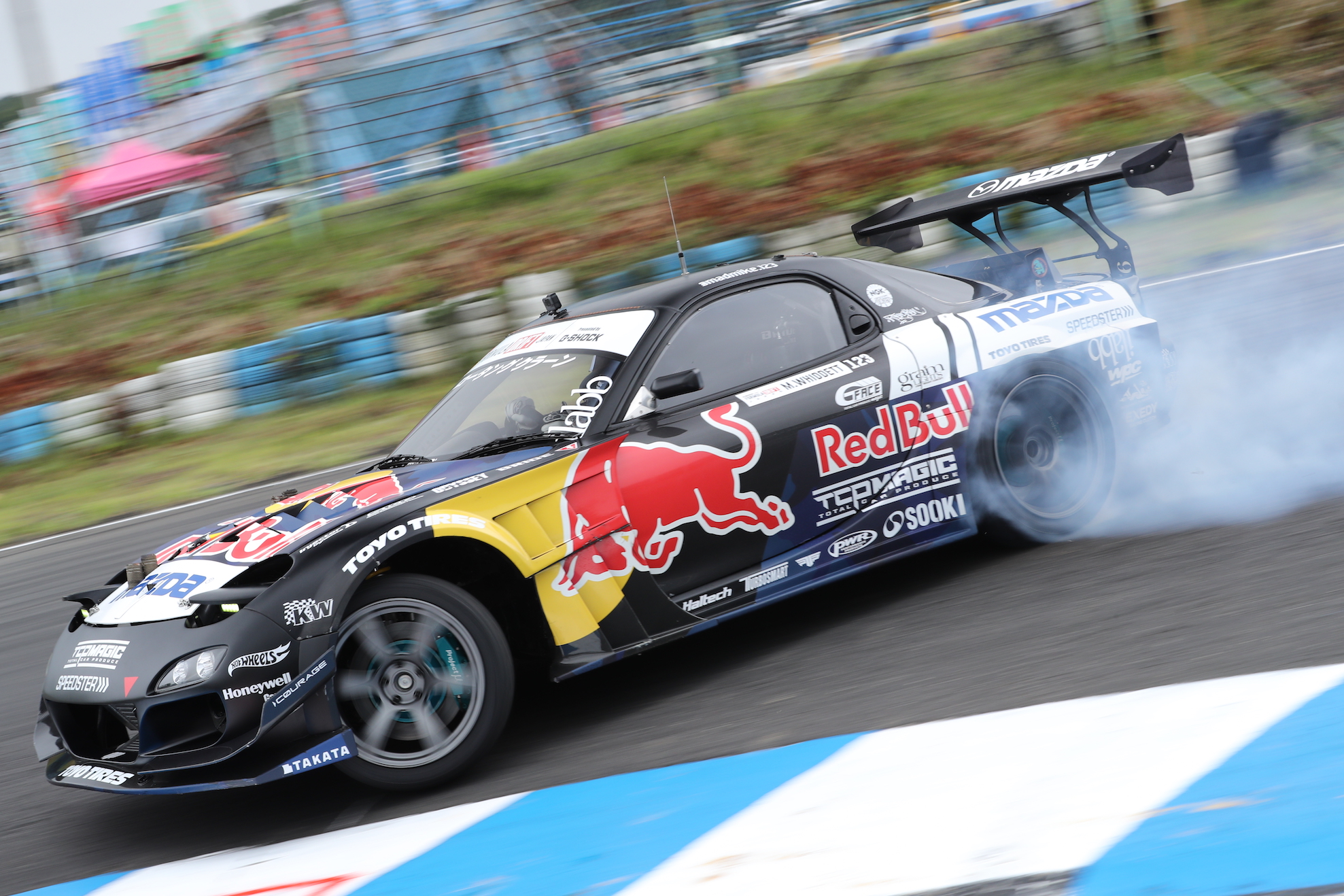 The second round of the Formula D Japan was held over July 7th to 8th at Ebisu Circuit's West Course in Nipponmatsu, Fukushima, where Team Magic with Redbul's Mad Mike achieved his second consecutive victory following on from the opening round.
Although the weather was unstable from the previous day's practice and the road surface changed from dry to wet, Mad Mike displayed consistent performances to be sitting as the favorite to take victory. If he could achieve it, it would become the first time anyone achieved a consecutive victory in the series.
Rain fell right from the morning of qualifying day (Sat 7th) and so the practice session was held on a completely wet road surface. However, by the time the qualifying sessions were set to begin the rain had led up and the road surface had dried. Mad Mike would run the last session among the 37 competitors (2 retired). Attaining the provisional highest score of 90 points in their first run was Hayato Miyoshi's ER354 and Wataru Masuyama's S15. Takatoshi Imamaeda grabbed 89 points in his S14, making it a fiercely fought contest. Within this battle Mike ploughed down a powerful line in his first run to attain 95 points. With that he immediately jumped up to the top spot. While the majority of competitors struggled to record a better score in their second run, Hayato Miyoshi grabbed 84 points to close in on Mike. At that point Miyoshi was sitting at the top of the tanso solo run standings. However, although Mike also wasn't able to beat his first score, he attained 89 points, which allowed him to take a solid tanso victory.
The tsuiso battling tournament was held on the 8th. Unlike yesterday's solo runs, the tsuiso sees two cars competing against each other. Things kicked off with the top 32. After passing through qualifying in the top spot, Mad Mike competed in the first pair. He went up against Diasuke Hara, who finished qualifying in 32nd in his S15. Mike showed precision driving that saw his rear tire right up to his chosen line during his lead run and then in his chasing run he overwhelmed Daisuke to achieve a solid victory.
In the top 16 he went up against Kazuya Iizuka in his S15. Although Iizuka attacked the course with confident drifts, Mike, in both his lead and chase runs was able to secure victory with flawless performances. It seemed like the condition of the machine and tires were in perfect synchronization as he continued on in the battling tournament.
Advancing to the top 8, Mike went up against Koichi Yamashita, who finished last year's season in third and has also been performing well this year in his JZX100. Yamashita had qualified at a respectable 8th place and had been showing better and better form with each victory. Going up against Mike, he attacked hard with an aggressive drift and both drivers displayed some of the best driving of the tournament in both sessions enlivening the crowd. In the end Mike emerged the victor and moved into the top 4 to do battle with Takatoshi Imamaeda and his S14. Matching his rival drift-for-drift, Make took the win and advanced to the final round.
The final would be between two non-Japanese drivers, a first for the Formula D Japan. The other driver who survived up until this point was Australian driver, Nick Wilson in his JZX100. The team had been looking forward to this battle as both drivers have an aggressive style and they did not disappoint. Despite the tough competition Mike was able to come out on top with a perfectly executed drive to take a superb overall victory. This was his second consecutive victory from the opening round and puts him a mammoth 90 points in front of the next highest person in the series rankings.
Team Magic with Redbul team principal, Kawato went on to say, "The team really came together and vowed that we would definitely win this year. We diligently worked doing the garage maintenance and during the race we divided the work between us and each one of us took on their responsibility and worked as one solid unit. I'm ecstatic that we've been able to take two consecutive victories from the opening round. Such a great result. Mike is such a dependable driver and the team has been able to build up an almost perfect machine. We handed the car over to him and basically said, "We'll leave the rest to you," and he really came through. I'm so glad that we could put on such a fantastic performance with a machine that exemplifies the rotary magic." He continued on to state that the team's goal is to win the remaining three rounds and make it a perfect season.
The next round will be held at Fuji Speedway, Shizuoka over July 27th to 28th. Keep a look out for Mike and let's hope for another great performance.
Photos by N. Kaneko Text by S. Takahashi