2019/11/26
Jinba Ittai Academy Ends Season at 2nd place in IPS rankings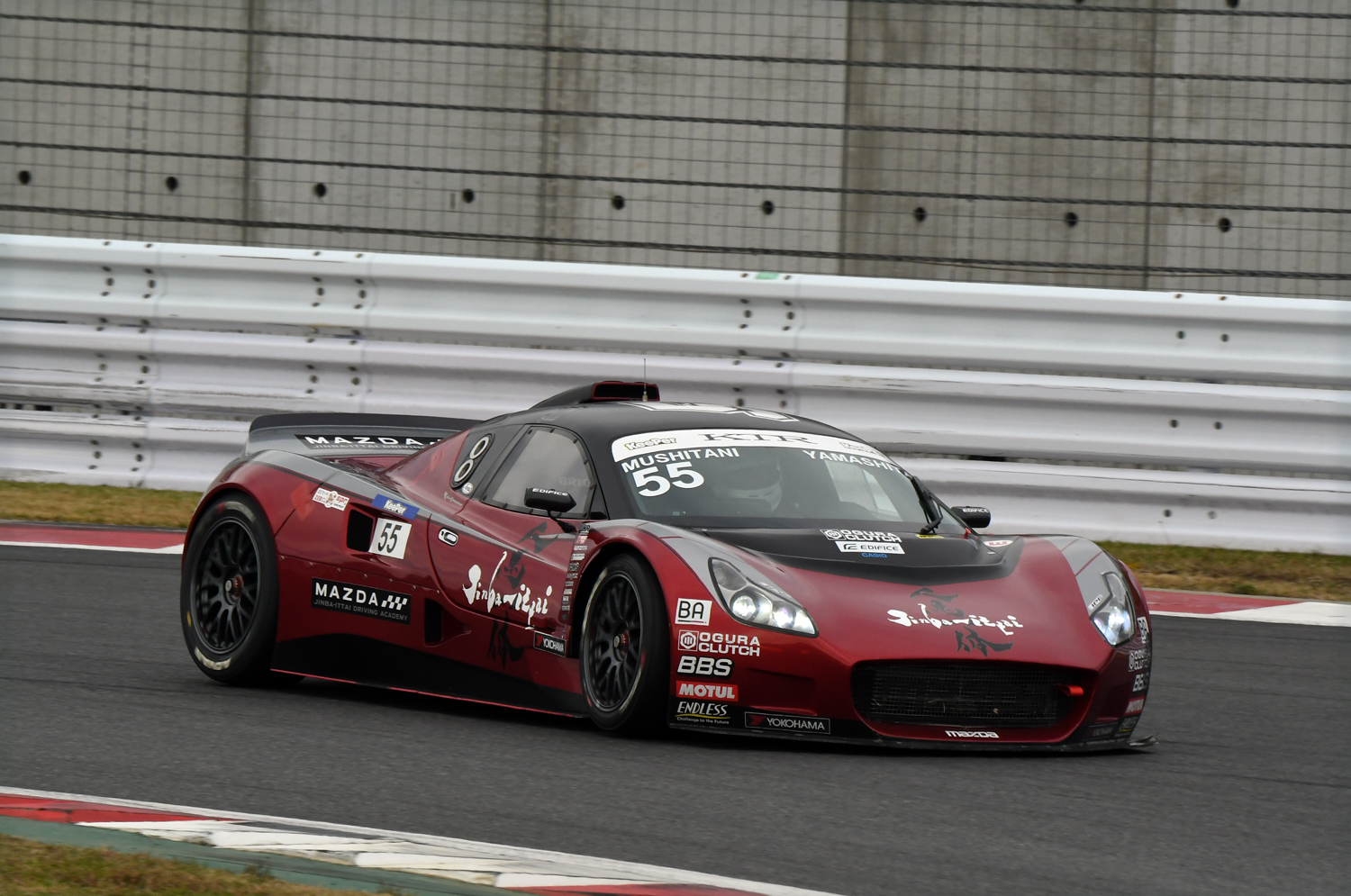 The final round of the Inter-Proto series (IPS) was held at Fuji Speedway on November 16-17. Mazda development driver Yasunori Mushitani, who competed in the Gentleman Class driving the #55 "Jinba Ittai Driving Academy," finished 5th in class in both Round 7 and Round 8 held on the 16th. Unfortunately, he wasn't able to grab the title, but he secured 2nd place in the series rankings. This concludes his two-year challenge. In addition, Mushitani's partner, Professional Class driver Kenta Yamashita, finished 7th in Round 7 and 6th in Round 8.
The IPS races see a combination of professional and amateur drivers share the same machine. It is a tough fought series consisting of four races held four times a year. This final tournament acted as rounds 7 and 8. Round 7 qualifying was be held on the morning of the 16th, and Round 8's grid was decided by Round 7's results. #55 Mushitani qualified 4th in the Gentleman's Class at 1 minute 49.849 seconds, and Yamashita was 8th in the Professional Class with a 1 minute 44. 657 seconds. Both headed into their races aiming to climb back up the order.
The Gentleman Class Round 7 race began at 14:48 on the 16th and comprised of 12 laps. Mushitani effortlessly moved up to 3rd position when a car in front spun out in lap 4. At the last corner of lap 5, he locked onto another rival pulled in front on the straight in the approach to the first corner of lap 6, but he unfortunately crossed paths with a different class machine. He was forced to slam on the brakes and this caused him to spin out off the course. This dropped him to 5th in class. After that, Mushitani refused to call it quits and recorded a qualifying worthy 1 minute 49.923 seconds on the 7th lap, but was unable to regain more positions.
On the 17th, the Gentleman's Class Round 8 race started at 9:58. In lap 4, while running in 5th, Kamitani again rose up to 4th place as a rival spun out. However, when avoiding the spinning vehicle, the tires picked up some marbles this caused him to lose pace, and other rivals began to close in from the rear. Mushitani defended fervently until lap 8, but decided to relinquish the course in lap 9. As a result, after finishing 12 laps, he finished in 5th, the same as the previous day.
Kamitani went on to state. "Since last year's accident in August, we were unable to run in cold temperatures, and so we still had issues when running with cold tires. That being said I feel like I was able to reconfirm all the lessons I've learned in the past two years and understand the areas I need to work on." Smiling he continued, "I want to make use of this experience in the future."
The final of the professional class was held in the afternoon of 17th in two consecutive races. Both were short battles of 9 laps. In Round 7, which started at 15:19, Yamashita began from 8th on the grid and passed one car in the opening lap. Furthermore, in the fourth lap, he was able to pass two cars and move up to 5th, but dropped back to 7th in the final lap. In the 8th round that followed, the pulled out a solid start and move up to 5th. However, he gradually fell behind the top four cars, dropping one rank in the final lap and ended up in 6th place.
Yamashita said, "This race week we struggled with pace. I knew what the cause was but I couldn't fix it. I'm really happy that I have grown with Mazda's development drivers over the last three years and I was able to enjoy a victory. The GT500 champion went on to lament being unable to end with a win, "I wish I could have been just a little more successful though".
This concludes MZRacing Mazda's Masahiro Sato, who is the highest ranked development driver for Mazda and has been competing in the IPS for two years, and Yasunori Mushiitani, an active top gun development driver who has competed in the series since 2018. Mazda Representative Director Kiyoshi Fujiwara, who has promoted this project, has already expressed his intention to continue participating in the series next year.
Text & Photo by T. Ishida+1