2019/05/24
Okada Demio 15MB wins 2nd place in JRC Round 4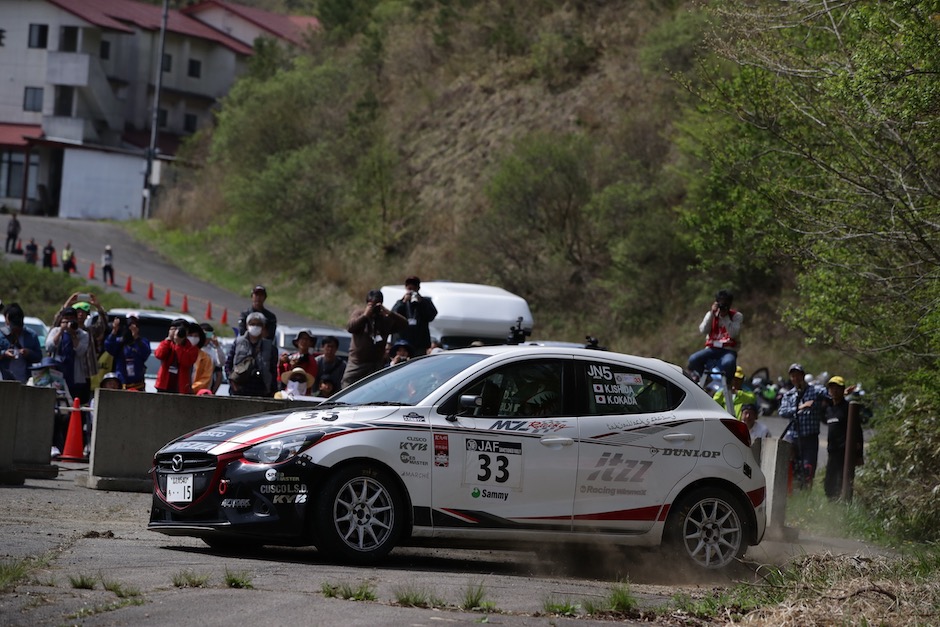 Round 4 of the All Japan Rally, the Kumakogen Rally was held over May 3rd to 5thwhere Koichi Okada competed in the JN5 class.
Round 4 of this year's All-Japan Rally Championship, the Kumakogen rally, was a gravel rally until last year, but has been transformed into a tarmac rally from this season. Along with that, the SS distances have been extended, and the eight SS in two days covered a total distance of 110 km.
The long-awaited close-ratio transmission mounted Demio 15 MB has been competing since the previous Karatsu rally and attacked LEG1 SS1 (13.57km) with high, albeit nervous expectations (after having had some minor troubles in the previous round). The rally had mostly very good weather for the two days, but SS1 met with rain on the previous day and the road surface was very slippery. For this slippery road, Okada utilized high gears making full use of the close ratios. In the next SS2 (13.88km) he was able to make full use of the characteristics of the close ratio and marked a 2nd place time, closing in on the leading Vitz to within 0.7 seconds.
SS3 and 4 in the second half of LEG1 were set to rerun the course of SS1 and SS2. In the completely dry SS3 Okada pushed hard and was able to improve his time by 13.5 seconds compared to SS1 and moved gained 0.76 seconds per km on the rally leader. In the following SS4 was he was 3.1 seconds faster than SS3 but the top Vitz also pulled out a thrilling attack that to gain 4.6 seconds. 
Okada finished Leg 1 in 2nd, with a gap with the top of 49.5 seconds. The total distance of Leg 1 was 54.9km, so Okada needed to devise a way to gain 0.9 seconds per kilometer on the leader. Okada's difference from third place was 58.1 seconds, so he changed the running method slightly in Leg 2 to see if he could gain some time.
The next day's Leg 2 reversed all runs, from SS1 to SS4. The weather was fine and the road was completely dry. Okada was able to run up close to the top runner in SS5 (14.03km), but his time did not increase on SS6, and he ultimately lost 1.3 seconds per km, which increased to 1.8 seconds by SS8. In the end, the Okada finished in 2nd place, 2 minutes and 17 seconds behind the class winner. It was one battle that felt the necessity of an overall review including suspension and specification changes. 
Other Mazda Car Results
JN-3 Class 6th Shinichi Hatta / Tetsuro Yamazaki Roadster JN-5 Class 2nd Koichi Okada / Kazuki Ishida group Demio 15MB JN-5 Class 4th Shuya Honna / Hiromi Takumi Demio JN-5 Class 5th Shunichi Sugao / Kusanagi Inoue Demio JN-6 Class 3rd Masato Nakanishi / Rinken Fukui RX-8
text by k.okada photo by CiNQ&k.okada