2017/02/07
Karakama Demio Takes JN-3 Class 2nd at JRC Tsumagoi Opening Round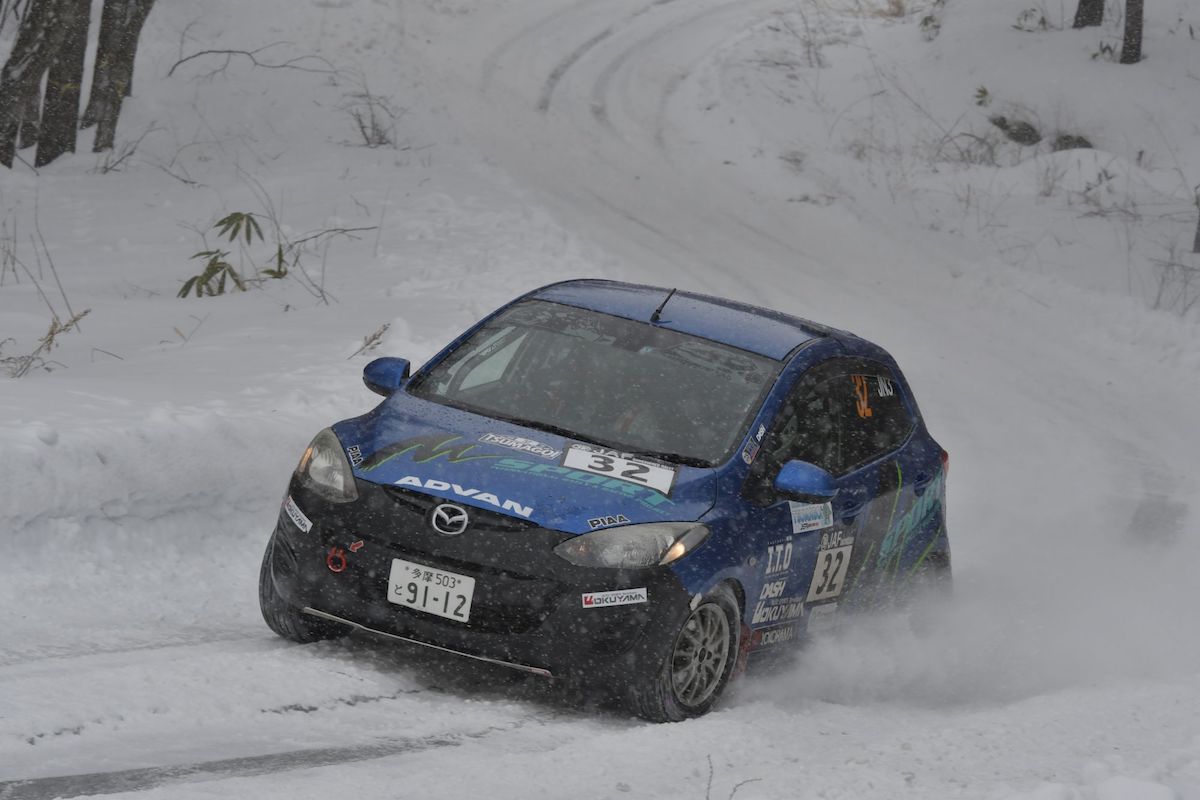 The opening round of the All Japan Rally Championship (JRC) has long been the Tour de Kyushu held in April at Karatsu, Saga prefecture. However, this year, for the first time in 14 years, the opening round was held as a snow rally in the "International Rally of Tsumagoi." This rally was an internationally FIA certified event organized in conjunction with the JRC and was held over February 3rd to 5th. The locations for the rally were around the village of Tsumagoi, Gunma Prefecture and this was the 11th snow rally held there since 2007. This opening round saw four Mazda Demios compete in the JN-3 class.
The rally began at 6:00pm on the 3rd from Hotel Green Plaza Karuizawa. It was held as a night stage, a rarity for the JRC in recent years. With snow and ice on the road surface added to the below freezing temperatures, the racing began under very difficult conditions. Driving the new model DJ Demio 15MB was Tamotsu Minamino / Paul Santo who struggled a little with tire choice and fell slightly behind, while DE Demio drivers Shinichiro Karakama / Yuichi Arai marked the best time in SS2 to cut a positive start in the early stages. However, in SS4 they would go on to make a significant error that saw them fall more than 30 seconds behind the leading Vitz of Tomoyuki Amano / Hiroko Inoue and end the day out in 2nd.
The second day of the rally, the 4th, was held under clear, sunny conditions but the Karakama Demio struggled to get the right suspension settings and couldn't drive as well as they would have liked. In spite of this, they somehow ended the day still in 2nd place. Day 3, held on the 5th, was met with snowfall and, although the conditions became quite difficult, the Karakama Demio put in a tenacious run to bring their car home in 2nd place. On the other hand, the Minamino Demio would briefly relinquish 3rd place to the DE Demio of Tetsunari Watanabe / Toshiro Matsuura but in the final stage Watanabe would get stuck in the snow and Minamino would retake his position. Watanabe would go on to take 4th. 5th place went to the DJ Demio of Shunichi Washio / Sonomi Uchida, who until last year competed in the JRC in an RX-8. Washio practiced on tire chains in the lead up to the rally and seemed to struggle in the SSs where chains were not permitted.
There were also DE Demio entries into the international categories and here Tetsuya Gonda / Jackie Fujita took home class victory. Gonda said with a smile, "I was able to enjoy driving in my first snow rally in a car that I had only completed building last Thursday."
Round 2 of the JRC, the Tour de Kyushu, will be held over April 7th to 9th (Karatsu, Saga Prefecture)
Photo and Text by T. Yamaguchi