2016/04/14
Champion Okada Demio Finishes 2nd at JRC Karatsu Rally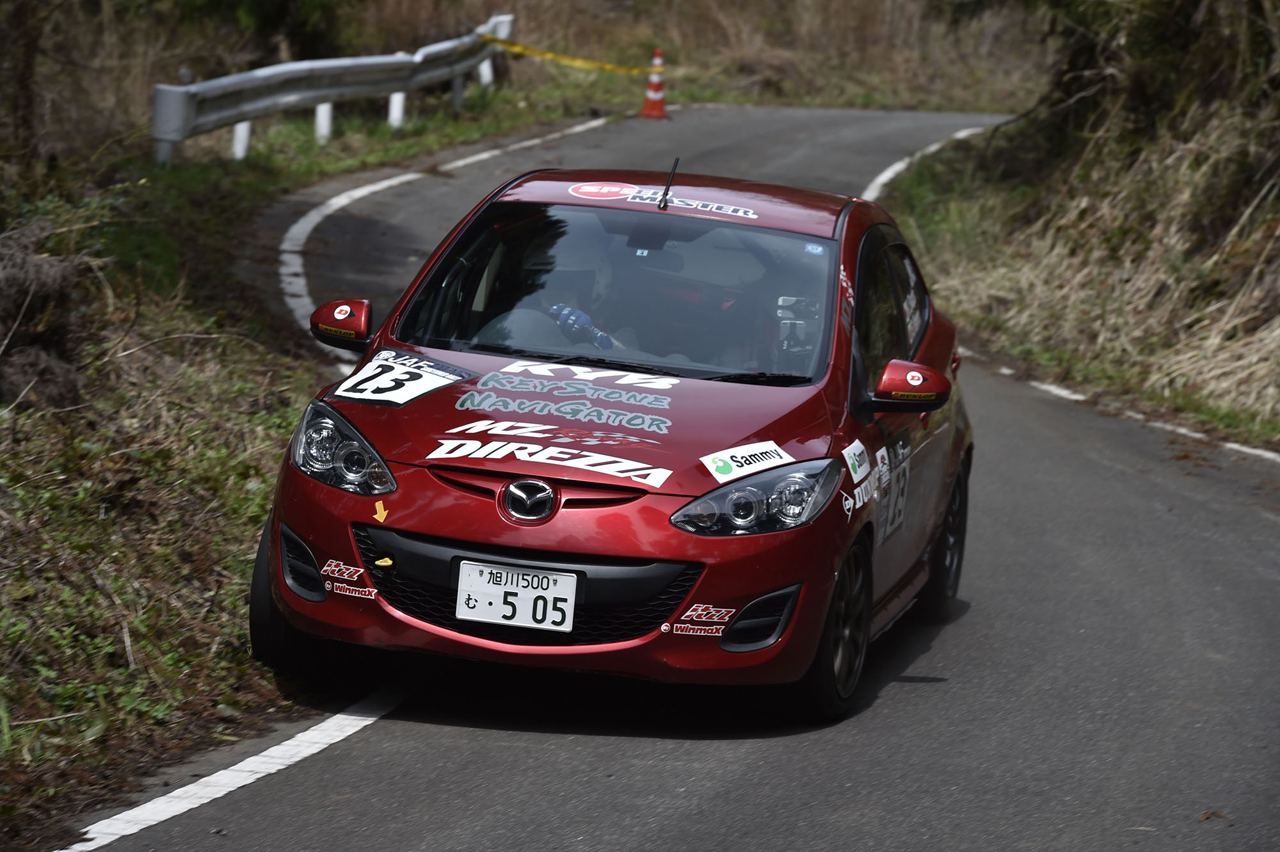 The class distinctions and tire provisions for the All Japan Rally have been greatly revised this for this season. The lower limit of displacement for the JN3 class, in which the Mazda Demio competes, has been lifted and now the category simply sets a restriction to 1500cc 2WD vehicles. For this reason, the Mazda RX-8, which until last year competed in the JN1, will compete in the same class as the Demio. There are great expectations for the FR RX-8 to perform well on the tarmac rally. Furthermore, the use of the so-called, "S tires" has been prohibited and the use of "radial tires" made compulsory, while the number permitted to be used has been reduced from 10 to 8, making intelligent tire management essential. Under these conditions, the races are almost certainly set to become more punishing and more exciting this season.
This year's Karatsu rally is fairly low on long straights and consists of tough climbs with numerous successive tight corners, followed by an intense downhill section. In addition, the road surface is paved with a unique asphalt that is expected to result in particularly relentless tire wear, making it one of Japan's toughest courses. Regarding this, Okada stated before the rally, "the Demio is small and lightweight, making it particularly good in the corners. This intense up-down course is actually suited to the Demio. I think its cornering speed will be even faster than higher class vehicles in the downhill sections."
Following (preliminary) reconnaissance on the 8th, the season opening Day 1 (total SS distance 41.99km) began on a sunny Saturday 9th, with the longest stage of the rally, the infamous SS1 "Mikata" (10.0km). Here, the 2014 JN3 class champion, Tomoyuki Amano (Toyota Vitz RS) jumped into the class lead building up an 8.1 second margin over Okada's Demio. Okada then went on to adjust his suspension settings before heading into the SS2 (Hayashi no Ue 4.30km) and SS3 (Kurokitaira 3.03km). However, the margin of the rally leader continued to gradually increase by 0.6 seconds in SS2 and 2.6 seconds in SS3. After the first three SSs had been completed Okada was a total of 11.3 seconds behind. After once again resetting his suspension and adjusting the vehicle height during the 40-minute service period, he moved into section 2.
The SSs of section 2 are of a greater distance than section one and in SS7 he was finally able to return a blow, taking a class best time, 1 second faster than the Amano Vitz. However, in all the other SSs he found himself trailing Amano and at the end of Day 1 he was sitting in 2nd, with a 26.9 second difference. That being said, he had built up a mammoth 1 minute, 31 second lead over his rival in 3rd, making Day 2 an expected battle between Amano and Okada. Okada confidently stated, "I'm only about 1-second per kilometre behind Amano so I don't think it's that big a difference. I'm going to adjust my driving and settings. There is a bit of a gap but you never know what can happen in a rally. If I can keep applying pressure on Amano it's anybody's game so I'll keep pushing hard."
A little drama occurred on the first SS of day 2, the SS9 (Jin no Yama 9.36). Rally leader, Amano struck his tires on a large rock about 7.75km from the start. With the tires coming loose from the rims, he had to drive the remaining 1.6km at a slow pace. This enabled Okada to reduce the gap by 17.7 seconds to just 9.2 seconds. However, an unfazed Amano continued a composed performance to take the class top times in the next 4 SSs. Okada showed no signs of giving up and in the final SS14 managed to beat Amano's Vitz by 0.3 seconds, but it wasn't enough. After the rally had finished the top two machines were over 2 minutes and 30 seconds in front of the rest of the pack. Okada related, "I carried out a full charge attack right up until the end. I couldn't let my concentration slip even for a second. I finished 2nd but the season has only just begun. There's still a lot of room for improvement in the Demio's setup. Next up will be the Kumakogen Rally and I will put everything I have into tests and the settings to ensure I can take victory."
In the JN1 class, for compact cars of restricted modifications, the new model Demio 15MB (Hisashi Matsubara / Yoshiaki Wada) competed and took home class 2nd. We received this quote from team representative, Nakaoka, "Up until now Matsubara has mostly competed on gravel and this was the team's first tarmac rally in a while. On top of that we had only just completed building up the vehicle right before the rally, meaning we went into the event without having had any chance to practice with it. We weren't really sure what kind of a performance we were capable of, after day 1 we felt we had a pretty good shot. We finished day 2 in 2nd due to a lack of experience but I think for our debut rally it's a fantastic result. As modifications are restricted, we'll be mainly focusing on the suspension setup, but the car handles really well and is very competitive. So we'll be aiming for victory from the next round. We won't be competing in every round this year, but we'll be at every gravel and tarmac rally." The next round of the All Japan Rally, the "Kumakogen Rally", will be held from April 29th to May 1st at Kumakogen, Ehime.
[Related links]
>>>
JRC Rd.1 Champion Okada Demio Finishes 2nd at JRC Karatsu Rally
>>>
JRC Rd.2 Nakanishi RX-8 Takes 2nd in JRC Rd. 2 Kumakogen Rally, Okada Demio Retires
>>>
JRC Rd.3 Okada Demio Takes JN3 Class 2nd in All Japan Wakasa Rally
>>>
JRC Rd.4 Karakama and Okada Demios Take 2nd and 3rd at All Japan JRC Fukushima Rally
>>>
JRC Rd.5 Terakawa Demio Grabs JN3 Class 2nd at JRC Rally Toya
Photo by T. Yamaguchi, T. Narita, T. Haratake