2022/02/19
Mazda Announces 2022 Super Taikyu Series Entry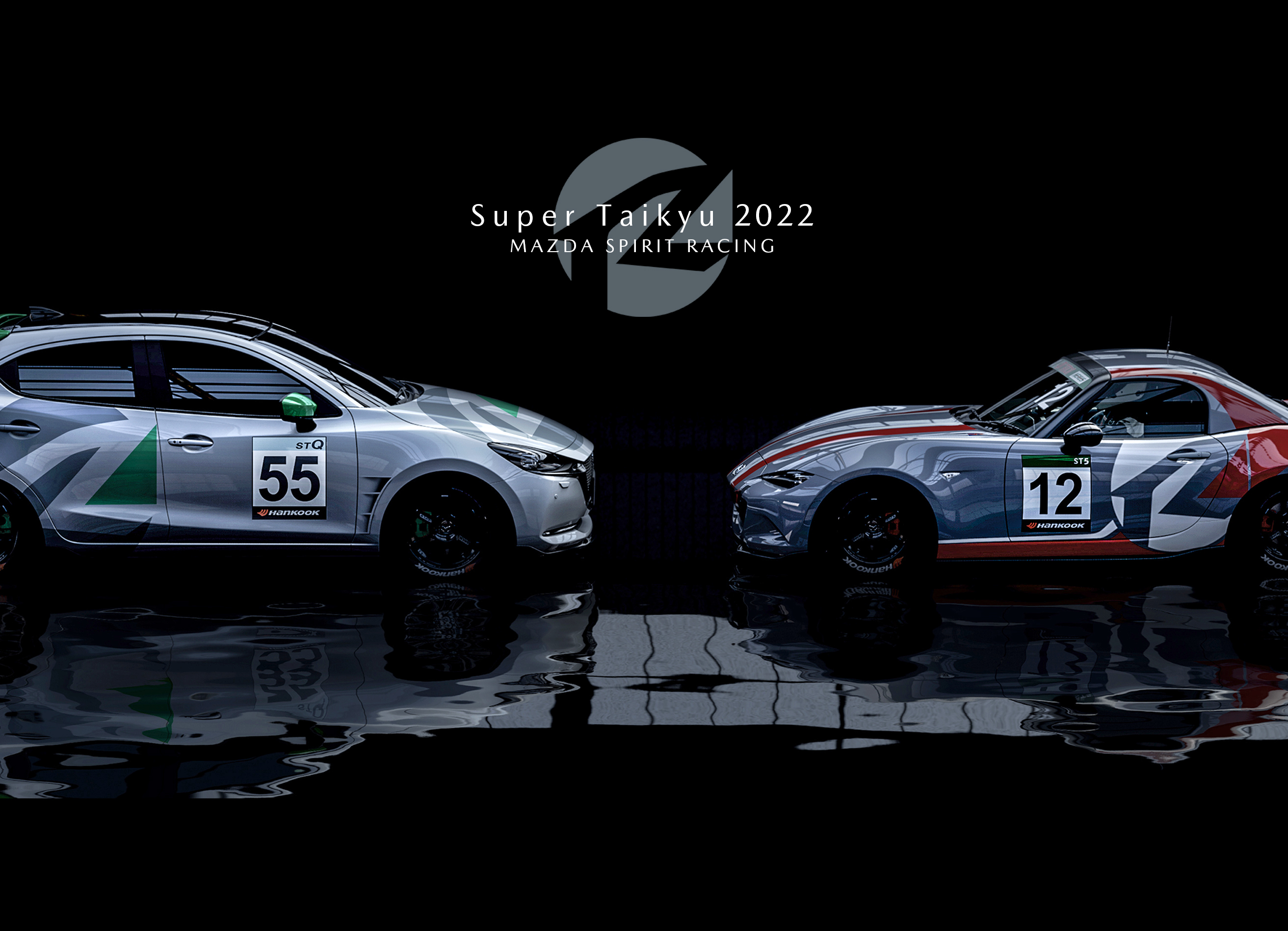 On February 16, Mazda announced that it will enter the 2022 Super Taikyu Series with two MAZDA SPIRIT RACING vehicles: the MAZDA2 Bio concept and the Mazda Roadster. The MAZDA SPIRIT RACING MAZDA2 Bio concept will be car number 55 and the MAZDA SPIRIT RACING ROADSTER will be car number 12.
The "MAZDA2 Bio concept" will be powered by the SKYACTIV-D diesel engine and use Susteo, a 100% bio-based next-generation biodiesel fuel provided by Euglena Co. It will compete in the ST-Q class, a category in which vehicles using next-generation biodiesel fuel will compete in races as a demonstration experiment. With the aim of expanding the use of next-generation biodiesel fuel as one of the options for achieving carbon neutrality, vehicles developed by automobile manufacturers are scheduled to participate. Professional drivers Yutaka Seki and Kaoru Ijiri, Mazda's Managing Executive Officer Ikuo Maeda, and development driver Kazuhiro Terakawa will be at the wheel. The team will be supported by racing teams with a proven track record in the Super Taikyu, including TEAM NOPRO (Nogami Project Co., Ltd., Toshihiko Nogami, Representative Director) and HM RACERS, the new racing division of Hiroshima Mazda Motor Corporation (Tetsuya Matsuda, Chairman of the Board and CEO).
The Mazda Roadster, which is equipped with a SKYACTIV-1.5G gasoline engine, will offer drivers from Mazda-supported participatory motorsports a chance to step up their game. Mazda engineers and mechanics from both inside and outside the company will form a team to compete in the fiercely competitive ST-5 class, starting with Round 3 at SUGO.
In the release, Mazda said, "In line with our corporate vision, we will continue to enrich our customers' lives through the "Zoom-Zoom" ethos and become a brand that retains a special bond with its customers while taking on the challenge of becoming carbon neutral by 2050."
The 2022 season of the Super Taikyu Series will consist of 7 rounds, with the opening round scheduled for March 19th at Suzuka Circuit. The official test will be held at Fuji Speedway next week on February 23, and we are anxious to see how the MAZDA2 diesel has evolved from the Demio that competed in the final round of the 2021 season and what the future development plans are. MZRacing will be reporting on the official test on the 23rd from the site.
Team name:
MAZDA SPIRIT RACING
Team representative:
Ikuo Maeda (Managing Executive Officer, Mazda Motor Corporation)
Race management support:
NOPRO, Hiroshima Mazda (HM RACERS)
Car:
No. 55 MAZDA SPIRIT RACING MAZDA2 Bio concept
Drivers:
Kaoru Ijiri, Yutaka Seki (professional racing drivers), Kazuhiro Terakawa, Ikuo Maeda (in-house drivers)
Car:
No. 12 MAZDA SPIRIT RACING ROADSTER
Driver:
To be confirmed
Text by MAZDA & MZRacing Photo by MAZDA