2016/11/25
Umeda in ND, Tsuji in NC Take Perfect 4 Race Victories. Okazawa Grabs V2 in NB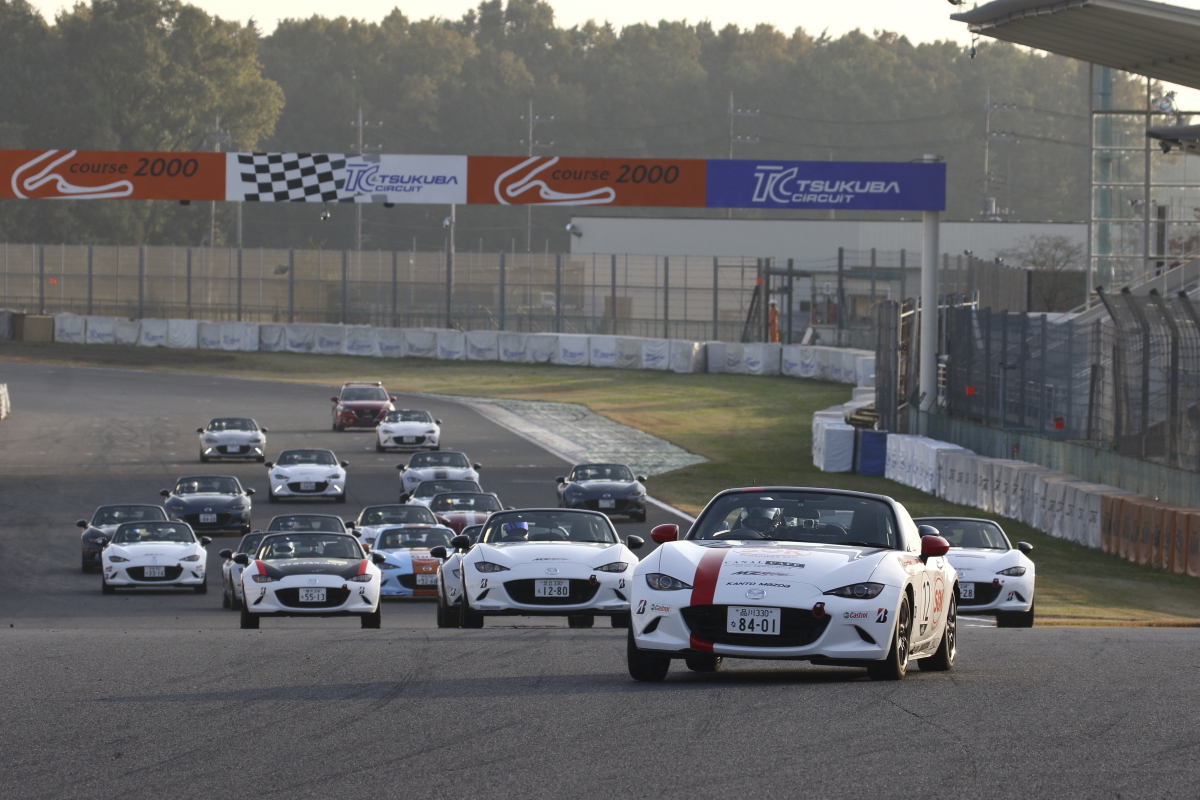 The final round of the Roadster Party Race III East Japan Series was held at Tsukuba Circuit, Ibaraki Prefecture on November 13th.
Blessed with fine weather, the day began with the 15-minute official qualifying of the NC/NB series. Having taken victory in every round of the NC series thus far #74 Kazundo Tsuji secured pole position with a 1 minute, 7.858 seconds. 2nd place on the gird went to female driver, #15 Akiyo Kameyama who marked a 1 minute 8.486 seconds. Following behind them at around 1 minute, 8 seconds was #71 Koichi Ishii, #195 Hayato Kato, and #54 Hiroko Komatsu. Going into this weekend ranked 2nd with a 10 point difference between Tsuji at the top, Komatsu unfortunately went off track and was penalizing, losing 2nd place on the grid. Looking disappointed she stated, "Next season I will be competing in the ND, so this will be my last NC race. I changed the clutch for today but it didn't seem to click well and I couldn't really drive as well as I expected." In the mixed NB series, opening round winner #96 Haruo Komori took class top with a 1 minute, 11.744 second time. Following behind with a narrow margin was #165 Kiyohito Okazawa, who is on a 2-round winning streak and #11 Akira Hirai.
Following on from this was the 15-minute official qualifying session for the ND series and Clubman series.  In the opening 10 minutes #27 Kazuya Ishikawa and #128 Tsutomu Ogawa exchanged the top with times hovering around 1 minute 10 seconds. Later on #5 Katsumi Suzuki burst through with a 9 second time. With only a few minutes remaining in the session, #12 Takeshi Umeda, who has already secured the championship, headed out onto the track. Immediately recording a 1 minute, 9.486 second time he shot up into the top. After 3 attack laps he ultimately smashed the course record of 9.247 seconds, that he himself set in May, with a 9.238 second time. From 2nd onwards was Suzuki, Ishikawa, Ogawa, #65 Hirofumi Toshimitsu, #4 Manabe Iwaoka. However, Ishikawa and Iwaoka were penalized for going off track and were dropped down the grid. The ND Clubman's top qualifier was #53 Nobuyoshi Somura with a 1 minute 11.039 seconds, followed by #57 Masato Takamatsu and #115 Yukihisa Sekigami
In the NC/NB race, pole sitter Tsuji shot out of the blocks and immediately began to pull away from the pack. Starting from 2nd on the grid, Kameyama got off to a slow start and dropped back. This saw 3rd starting Tosaka fiercely pursuing Tsuji. At the end of the opening lap, running in 5th was #75 Naoru Irie, who jumped up from 7th and in 6th was Kameyama. Tsuji began to lose a little pace towards the end of the race, but was still able to record the fastest lap with the only recorded 8 seconds and manage to achieve a perfect season taking victory in all 4 races of the season. With this he brought him the coveted title. Tosaka followed in 2nd and Kato passed Ishii to finish in 3rd and make it to the podium. Behind them was Kato, Irie and Kameyama.
Tsuji related, "This is my 11th year riding in the NC and this has been my best season every with wins in every round. Next year I will be switching to the ND and will work really hard to take some wins there as well." Passing the finish line in 5th, Irie, who competed in the NB in 2003, then went off to other races before returning to the Party Race. In the previous round 3 he received the "Best of Family" award. He related, "Looking back on this season, it has been really fun to be able to come out to the circuit with my family. The main reason I returned to the party race is because I can compete alongside my family. The friendly atmosphere of the NB hasn't changed at all since I last competed. It really is a relief to be able to bring my kids along. Everyone races in a safe, sportsmanlike environment and I want to continue competing in this series for a long time."
On the other hand the NB series was a large scale mixed race. Class top Komori extended his lead while point leader Okasawa was overtaken at the second hairpin of lap 2 by Hirai, seeing him fall down to 3rd. However, last year's champion Okasawa engaged in a fierce fight back. In the last corner he took advantage of his superior acceleration and went on to pass two cars in corner 1 to take a crowning glory. Showing concern for the future of the NB series, Okasawa went on to say, "I'm glad that I was able to take two crowns here and in Northern Japan, but it's too bad that I wasn't able to re-write the Tsukuba course record that was set during the era of RE11A tires. I want to try and do that next year."
Then it was time for the ND series and Clubman race start. Pole sitter Umeda pulled out an immaculate start and was clear at the first corner. Suzuki started from 2nd and maintained his position but Toshimitsu, who started from 4th on the grid made it passed Ogawa in the opening lap to move into 3rd. Umeda went on to be the only competitor to make the fastest lap of a 1 minute, 9 seconds and extended his lead. On the other hand an intense 3-way battle unfolded for 2nd and from lap 5 onwards they were bumper-to-bumper.  Other machines also closed in behind them and it became a like a long chain of machines all speeding along in unison.
At lap 8 Toshimitsu passed Suzuki to move into 2nd, after which Ogawa jumped up into 3rd. Ogawa displayed some strong driving in the closing stages but Toshimitsu let his 2014 NC Series Champion spirit show and refused to present any opportunity to overtake. In the end, Umeda built up a mammoth 14 second margin to finish the 15 lap race in the lead and achieve a perfect 4 race wins in the 4-round East Japan Series. Toshimitsu passed the checkered flag in 2nd and Ogawa in 3rd to climb onto the podium. Following behind them was Suzuki ni 4th, Ishikawa in 5th and #28 Inatomi in 6th.
Umeda went on to say, "There is still one more battle of the best to be held in Okayama in December so I want to go into that fully prepared. This season I really focused on building up my fitness so I was able to maintain my concentration right until the end." 2nd finishing Toshimitsu ended the season in 4th and related, "I was forced to sit out of round 2 so to be able to finish the series in 4th is great. I'm not 100% used to the characteristics of the ND but I will try really hard to take the title next season."
In the clubman race, where all competitors were competing for the first time, the pack proceeded along in order of qualification and Somura took victory. Following behind in 2nd was Takamatsu and in 3rd was Sekigami. Somura came out on top of a battle with another class vehicle while Takamatsu and Sekigami were bumper to bumper right until the checkered flag. It was clear that they all truly enjoyed every second of the race.
On this day Kazuya Ishikawa was presented with the "Great Party Racer" award, which is bestowed on drivers who have participated in the party race for over 10 years or competed in over 30 official races. Speaking of the appeal of continuing in the party race, he said, "Everyone is a rival, but they are also friends and we have a really great time. Coming out to Tsukuba and talking to all these friends of different ages and professions is what makes it so special. New members are always increasing so I want to continue having fun in this series."
With this all regional races for the Roadster Party Race III were completed. The only remaining race will be the shootout to be held on December 3rd at Okayama International Circuit. The top ranked drivers from each regions ND Series will compete in the "All Japan Shootout", while NC/NB machines will compete in an exhibition match as part of the Mazda Fan Festa.
Photo & Text by B-sports & MZRacing