2015/05/17
Two New Stars Again Dominate Roadster Party Race Ⅱ Round 2 at Tsukuba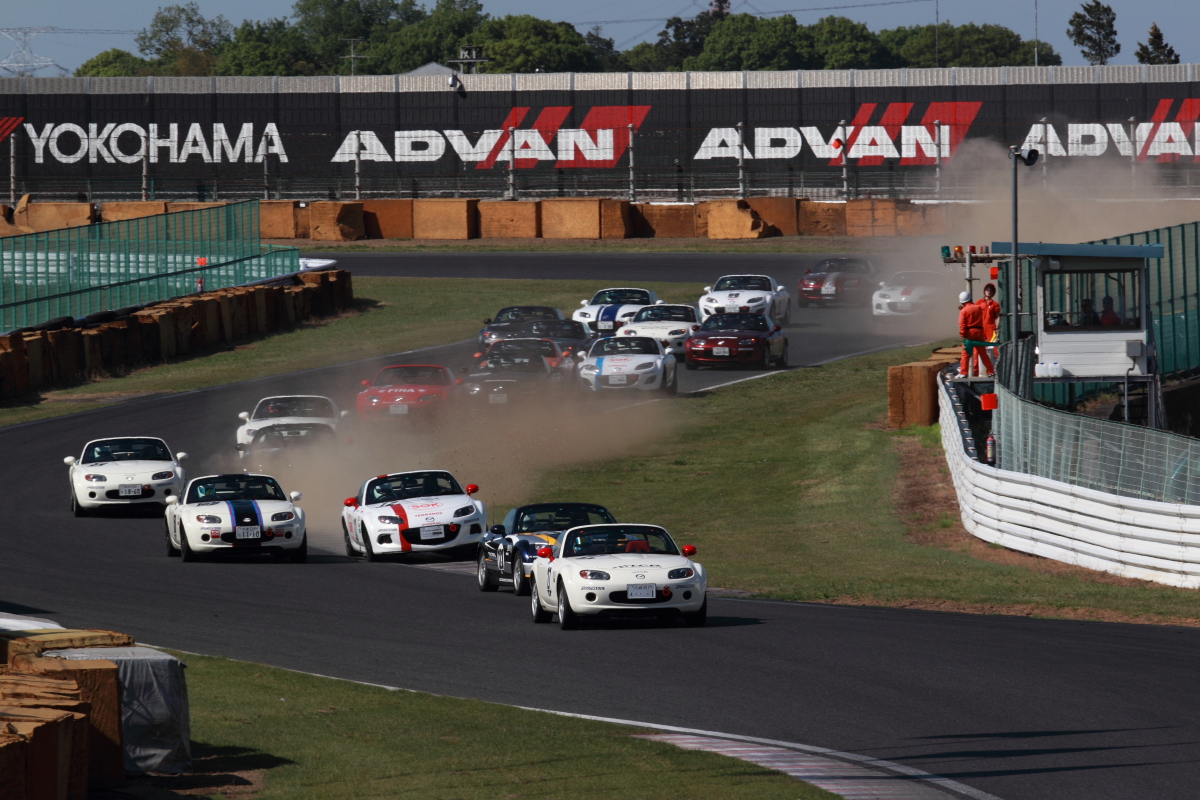 In the first combined race of the NC Clubman and NB Series, Norimasa Takayama, last year's NB series champion, competed in the NC as a spot participant and used his extensive experience to take victory. In the NB series, that Takayama would not be competing in, Yuichi Okamoto, who fell down the order in the opening round due to machine trouble, finished the qualifying round with the class top time and then followed this up by pulling away from his rivals by more than 5 seconds in the final race and taking his first victory of the season. In the fight for the NB series championship, Kiyohide Okazawa finished this round in 2nd to maintain his position at the top of the rankings with a mere 1 point difference.
Following on from this was the joint race for the NC1 Series and NC2 series classes. Participating from this season, the youngsters, Yui Tsutsumi (NC1 Series) and Tsuyoshi Umeda (NC2 Series) each took victory in their respective opening rounds. In this round also, Tsutsumi would secure overall top in qualifying, while Umeda would also take overall 4th, to make it superior starting positions for both drivers. In the final race, Umeda showed an aggressive attack right from the first lap and rose up to overall 3rd. At lap 3 he then overtook class leader, Tamihiro Izumi, to be overall 2nd and grab class top. Tsutsumi paid no heed to the battle for 2nd occurring to his rear and passed the checkered flag to achieve 2 consecutive victories. Umeda also took overall 2nd to also grab a winning streak in the NC1 Series class. With the NC series champion determined by the total overall points between both the NC1 and NC2 series, these two young guns are now going head to head for the top spot. In this second round, which turned into a melee, overall 3rd went to Kazundo Tsuji (NC1 series 2nd) and 4th to Hirofumi Toshimitsu (NC2 series 2nd).
In addition, a Great Party Racer Award was bestowed on two racers who had participated in over 10 seasons and competed in more than 30 official races. The two people presented with awards at this tournament were Hiroko Komatsu, who is an active, talented female racer, and Shoji Otani, who steadily achieves positive results in spot races every year.
The 3rd round of the Party Race II will be held at Okayama International Circuit on June 28th (Sun) as a support event for the "GT ASIA & SUPER F3 RACE in OKAYAMA." On the previous day, June 27th (Sat), the Mazda Fan Circuit Trial will also be held.
Roadster Party Race Ⅱ official site
http://www.party-race.com/
Mazda Fan Circuit Trial (MFCT) official site
http://circuittrial.mazda-fan.com/
Photo by B-Sports