2021/08/13
Sakata takes 2nd consecutive All Japan Dirt Trial Championship win with Mazdaspeed Axela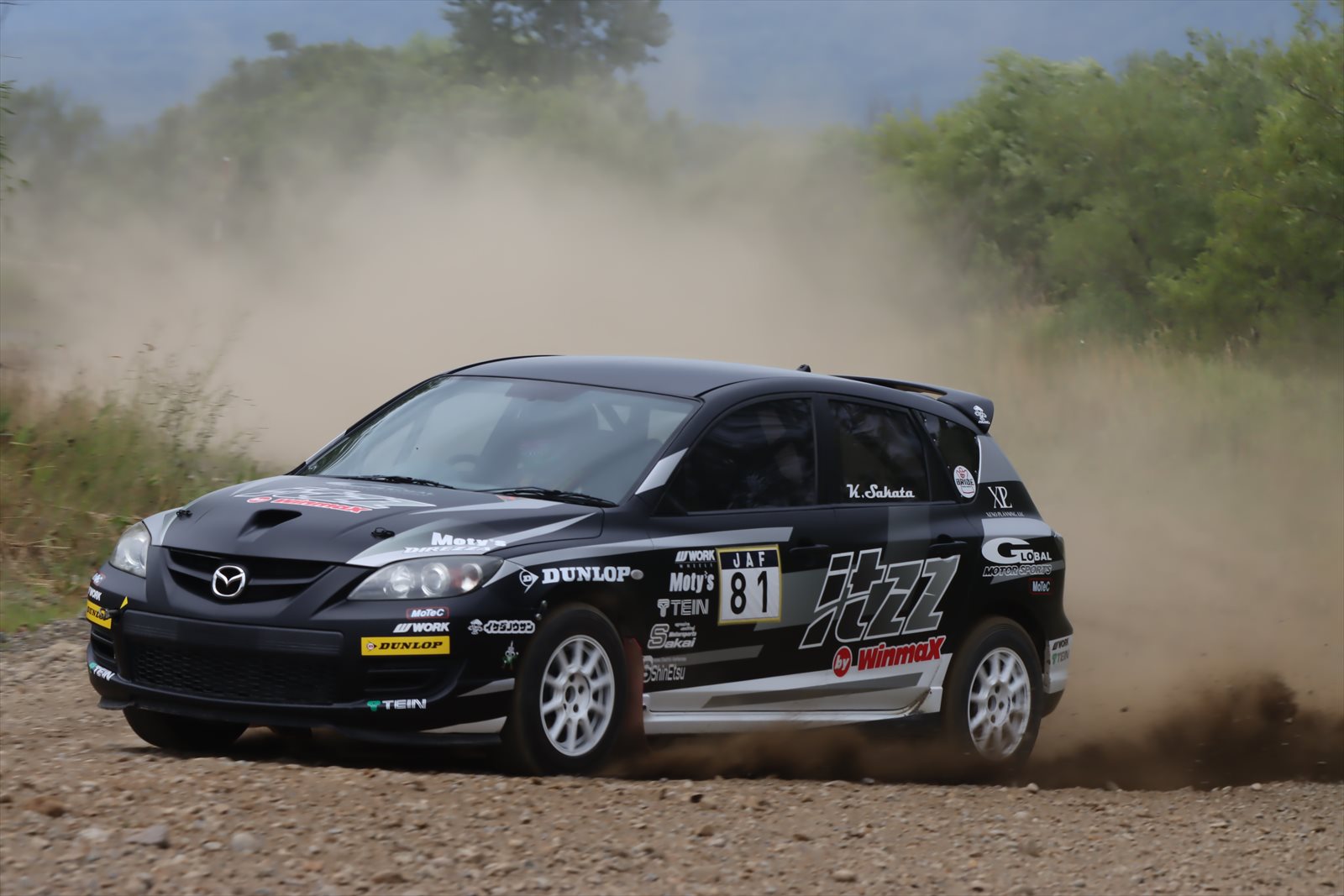 On August 1st, the 4th round of the All Japan Dirt Trial Championship was held at Auto Sportsland Sunagawa in Sunagawa, Hokkaido, and Kazuya Sakata (BK Axela) took his second win of the season in the JD3 class.
Of the 108 cars entered, Kazuya Sakata's Mazdaspeed Axela was the only Mazda car to participate. Round 4 was originally scheduled to be held on May 30, but was postponed to June 20, and then rescheduled to August 1 due to effects of COVID-19. Round 5 was scheduled to be held on June 20 at Motorland Nozawa in Nozawa Onsen Village, Nagano Prefecture, and Round 6 was scheduled to be held on July 11 at Circuit Park Kiriyanai in Gonohe Town, Aomori Prefecture, but these events were cancelled.
Auto Sportsland Sunagawa, the venue for this event, is located on the Ishikari Riverbed, about an hour from Sapporo, and is a competition facility with a dirt trial course and a gymkhana course. Both courses are major facilities where the All Japan Championships are held, and the dirt trial course in particular is one of the fastest courses in Japan, with a 500-meter straight.
Kazuya Sakata, who has been participating in the JD3 class (formerly SC1 class) in a Mazdaspeed Axela since 2018, won the class championship in 2019. He won the third round in 2021 and is a strong candidate for the championship this year. Moreover, Sunagawa is his favorite course where he won three consecutive races from 2017 to 2019. The weather on the day was fine. On the first run, Sakata set the top time with 1'36.999. On the second run, with the track surface becoming rougher, all the competitors in the JD3 class improved their own times, with four of them setting faster times than Sakata, but Sakata pushed hard and set a best time of 1'34.088, surpassing the provisional time of first place, to win the championship. He also extended his record of consecutive wins on this course to 4.
Sakata said, "I was able to run at full throttle and feel good again this year at Auto Sportland Sunagawa, the high-speed course I am most good at and love. I've won here three times in a row since 2017, so I put a lot of pressure on myself, but I'm glad to have won. I got off to a slow start in the beginning of the season, but now it looks like I'll be able to get involved in the championship battle, so I'll be determined to do my best in the next round!"
The next round, Round 7, will be held on September 4-5 at Auto Park Imajo in Fukui Prefecture.
Text by MZRacing  Photo by Kengo Komeya