2017/03/09
NOPRO To Take On Super Taikyu with Axela SKY-D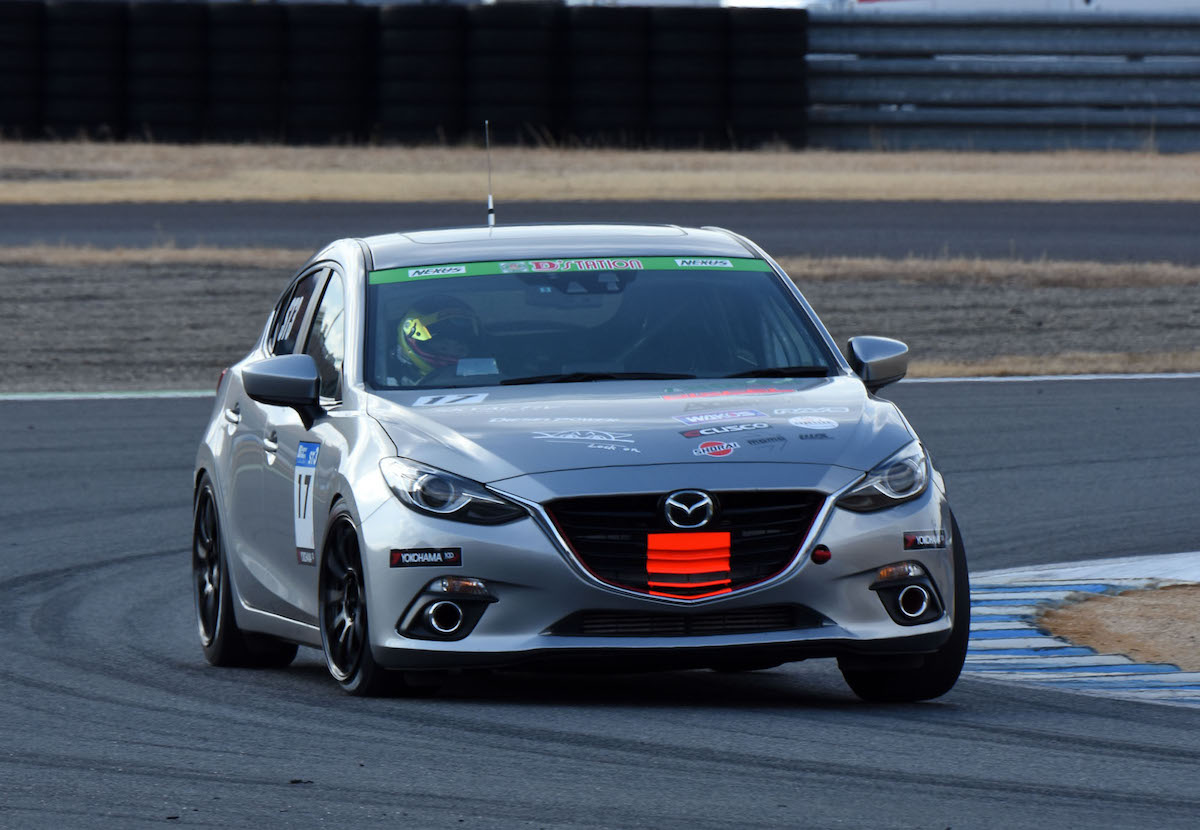 Official tests for the Super Taikyu (S-Tai) were held on the 26th of February, 2017 at Twin Ring Motegi, Tochigi Prefecture. In the lead up to the opening round to be held over April 1st to 2nd, 32 machines carried out 3-hour long runs starting from 1:00pm. Three Mazda machines participate in the tests and one in particular garnered a great deal of attention in its first appearance.
That car was none other than the #17 "DXL Aragosta NOPRO Axela SKY-D" of TEAM NOPRO, headed by Nogami Project representative, Toshihiko Nogami. As a 2.2 liter SKYACTIV-D diesel turbo engine mounted machine, it will be going up against cars like the Lexus RC, IS, Nissan Fairlady Z and Mark X in the ST-3 class.
It was announced later that the A-driver would be NOPRO ace veteran, Tatsuya Tanigawa, B-driver would be representative Nogami's eldest son, Tatsuya Nogami and taking the role of C-driver would be Toshihiko Nogami himself, who also serves as the team principal. Nogami related, "This year we will be taking on the challenge with a whole new car so I really wanted to check all of the settings myself."
Another NOPRO car, the #37 Demio diesal that finished 3rd in the ST-5 class last season, taking a solid win in the 3rd round at Suzuka, will also be competing this year as the "DXL Aragosta NOPRO Demio SKY-D." This car's A-driver will be Yutaka Seki, B-driver, Go Umeda and C-driver will be Kaoru Ijiri.
While Seki and Ijiri have a proven record after competing for NOPRO last year, Umeda was selected for his 2 years of racing history in other categories. Two years ago he debuted in the Roadster Party Race III in an NC and was in the fight for the championship right up until the final round. He then competed in an ND to completely dominate the East Japan series, winning every race in the competition. He went on to take overall victory in the all Japan shootout held in December, as reported by MZR last year.
The Axela only had its roll cage installed a few days ago and the fuel tank was still standard (for races in the S-Tai it is mandatory to have a robust safety tank). According to Nogami, "The transmission is currently standard and a number of restrictions have been introduced to the ECU." This saw it mark a best lap that was slower than the Demio at 2 minutes, 25.021 seconds.
Despite this he went on to say, "We will continue to polish up the settings and if we can reduce the body weight in to the 1200kg range we should be able to more than hold our own against out rivals."
On the other hand, the already proven Demio achieved a best lap of 2 minutes, 23.376 seconds. Seeking to achieve some serious straight off the bat pace from Umeda, who was experiencing his first time behind the wheel of this car on a circuit, the team granted him that majority of driving time with a total of 62 laps.
Umeda related, "I was a little nervous at first but everyone in the team gave me a really warm welcome so I'm really grateful."
The other Mazda that took part in the tests was the #88 " Murakami Motors Mazda Roadster ND." Although this NC spec has been competing since 2011, from last year it began running in the ST-5 class. In round 2 held at SUGO it achieved its first S-Tai victory for the Roadster.
However, team representative, Murakami Hiroyuki revealed, "To be honest, other than myself, the driver line up hasn't been decided yet." Despite this, the #88 steadily completed a number of pit stops and tuned up its settings. It recorded its best lap on its final run at lap 41 and marked down a 2 minute, 21.712 seconds.
The yearly entry list for the 2017 Super Taikyu series has yet to be announced but it seems that the number of competing Mazdas is likely to increase. The ST-4 class' #54 "TC CORSE iRacing ROADSTER" and ST-5 class' #66 "Odula MAZDA Demio 15 MB" are expected to continue competition. We've also received reports that as many as 3 ND Roadsters will be added to the ST-5 class roadster. We will keep readers posted on new information as it comes in so stay tuned!
● Super Taikyu Schedule for 2017
Round 1 = April 1 – 2 / Twin Ring Motegi (Tochigi / 200 min)
Round 2 = April 29 – 30 / Sportsland SUGO (Miyagi / 3h)
Round 3 = June 10 – 11 / Suzuka Circuit (Mie / 4 h)
Round 4 = July 15 – 16 / Autopolis (Oita / 3 h)
Round 5 = September 2 – 3 / Fuji Speedway (Shizuoka / 9 h)
Round 6 = October 14 – 15 / Okayama International Circuit (Okayama / 3h)
● Super Taikyu Series Official Site
http://www.supertaikyu.com
Photo and Text by T. Ishida +1