2018/07/28
Team RE Amemiya K & N's Matsui Grabs D1 Tsukuba Victory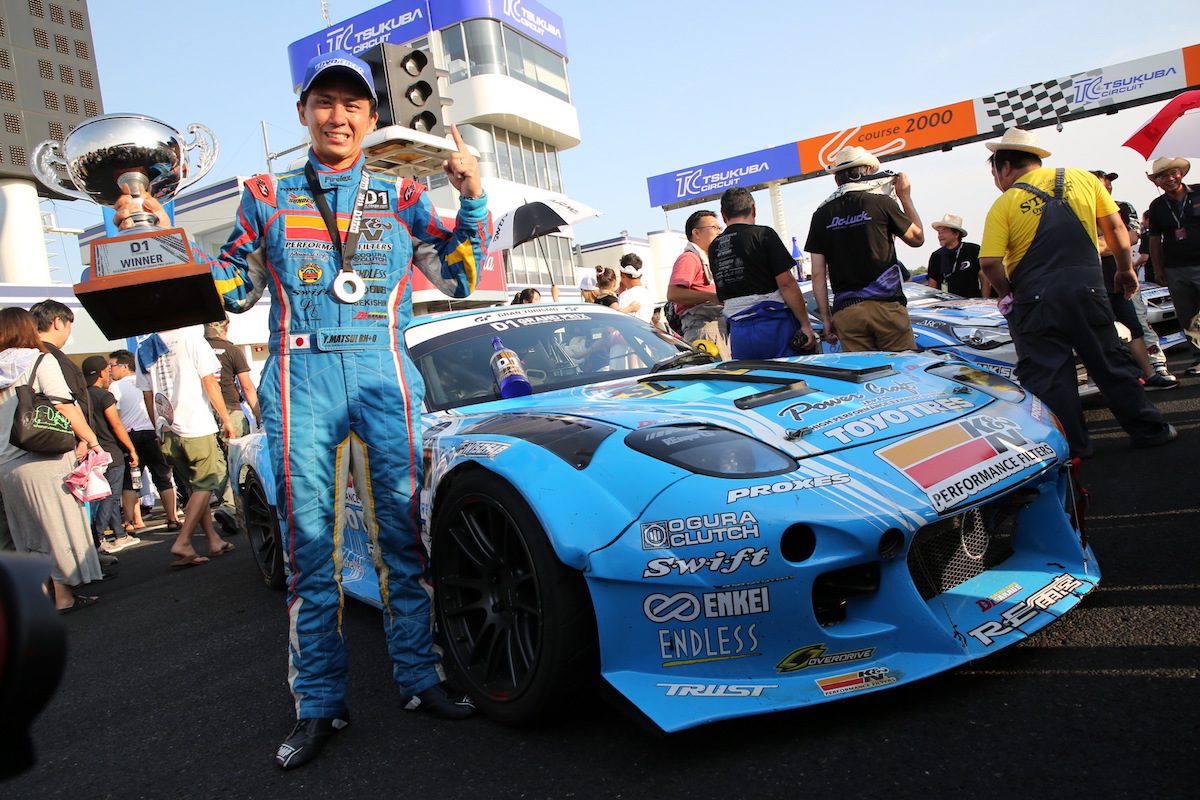 Round 5 of the D1GP was held over July 21st to 22nd at Tsukuba Circuit, Ibaraki Prefecture, where under sweltering conditions that exceeded 35°C Team RE Amemiya K&N Racing's Yukio Matsui grabbed his first victory since transferring to the team.
There were three Mazdas competing in this tournament, the #7 Team RE Amemiya K&N RX7 of Matsui, the Teruyoshi Iwai driven #77 R Magic H.D.O D1 Racing NA Roadster and the #21 SAMURAI KANTO TOYO TIRES RX-7 of Manabu Fujinaka.
#21 Imamura is still in the midst of building up his machine and thus retired on his second run in qualifying. He later revealed that he broke a water hose on the second run. #77 Iwai also dropped out of qualifying when he "felt a strange sensation dropping down into second gear and as [he] tried to push hard it slipped into first," which caused him end a drift prematurely.
On the other hand, #7 Matsui secured 6th in qualifying and finished 6th in the tanso (solo run) finals, to advance into the tsuiso (chase) tournament. In the following tournament he went up agains 2002 champion, Katsuhiro Ueo in the best 8 and 2017 champion, Hideyuki Fujino in the semi-finals. In both instances he utilized his machines high drift speed in the S-shaped section to secure victory in the close fought battles. With this he advanced into the final round for the first time in approximately 1 year.
His opponent in the final was the tournament's only foreign competitor, Thailand driver, Daychapon Toyingcharoen ("Pon"). Taking the chase for the first run, Matsui managed to capture his opponent at the first corner and implement a phenomenal close quarters drift. In the second run, Matsui took the lead and on his favorite S-shaped section, managed to open up a significant gap with Pon to take his first victory since moving to Team RE Amemiya K&N. Matsui looked really satisfied stating, "I was happy to hear team principal, "Ame" san, 'great job.'"
Text by S. Saito, Photos by N. Kaneko