2017/08/24
Matsui's RE Amemiya RX-7 Takes D1 Rd. 6 Tanso Victory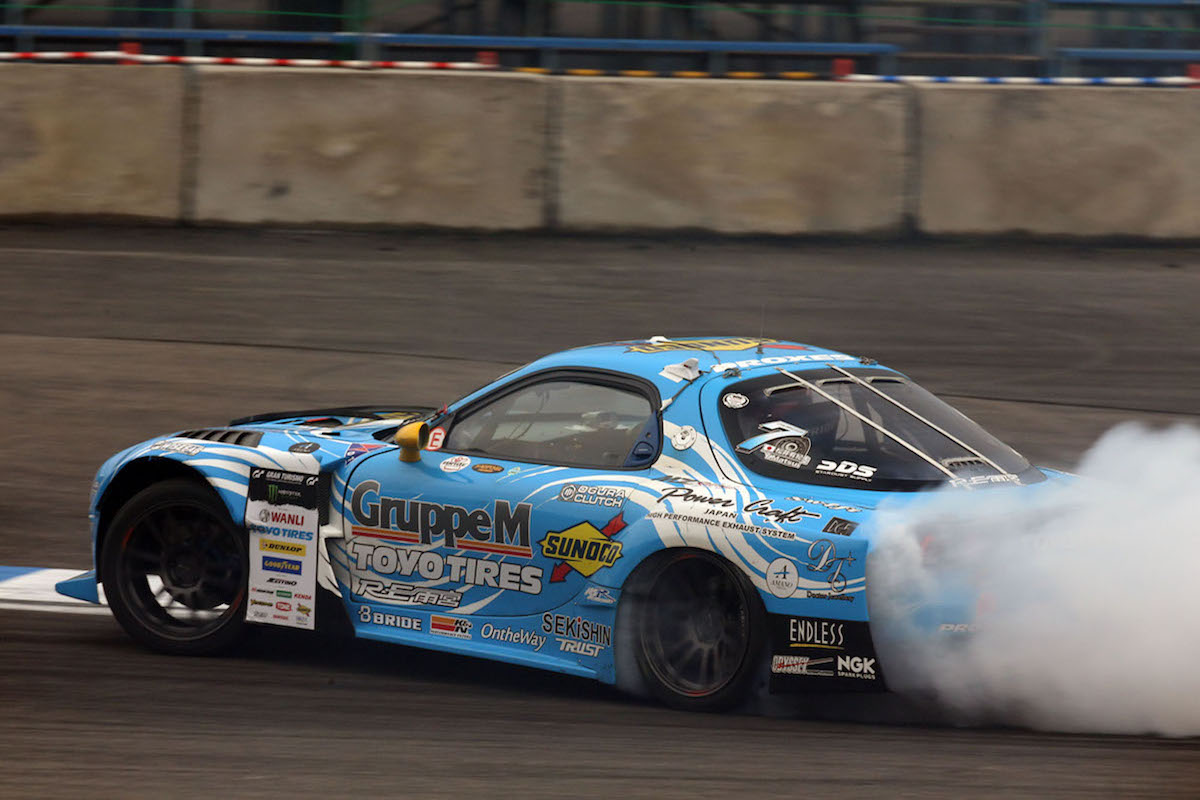 Rounds 5 and 6 of the D1GP were held over August 18th to 20th at Ebisu Circuit, Fukushima Prefecture where a total of four Mazda machines competed. Within these, Yukio Matsui's  RE Amemiya RX-7 grabbed victory in round 6's tanso (solo runs).
Unfortunately, the #88 TCP MAGIC RX-7 driven by Manabu Fujinaka and Takahiro Imamura's #21 SAMURAI KANTO TOYO TIRES RX-7 were eliminated in the tanso qualifying sessions of both rounds. Fujinaka later stated, "I made a few errors but I was I'm a little unsure as to what the judges were looking for…" Imamura related, "I made quite a lot of modifications since the last round in Osaka but it was a pretty tight schedule and then a few more issues arose so I was really driving in less than ideal conditions."
On the other hand, the #77 EXEDY R Magic D1 Racing RE Roadster driven by Teruyoshi Iwai grabbed a commendable 3rd place in both rounds 5 and 6's tanso tournament but was unfortunately eliminated in the top 16 of each round's tsuiso (chase runs). In round 5 he finished overall 10th, and in round 6, overall 9th. Iwai went on to say, "While 9th and 10th does get me some points, I really do need to practice more in preparations for the tsuiso rounds."
As for the #7 Team RE Amemiya GruppeM RX-7 of Yukio Matsui, it grabbed 5th in round 5's tanso and was eliminated in the top 16 to place overall 11th. Then in round 6 his high velocity speed and sharp swinging angles enabled him to take tanso victory. Although he was defeated in the Best 8 tsuiso rounds by the day's winner, Sato, he ultimately placed 5th overall. Regarding his defeat in the tsuiso, Matsui stated, [Saito] downward turns were incredibly fast. Keeping that in mind, I did my utmost but he came even harder than I thought and it was a real tough battle. "
RE Amemiya Racing's (who from this year are sporting MZRacing decals) representative, Yui Amemiya stated, "The decision has suddenly been made for us to compete at D1 Vladivostok (Russia). This means that as soon as D1 Ebisu, that will be held on September 16th-17th,  has finished, we will immediately send out car (the RE Amemiya GruppeM RX-7) over to Russia. This is going to be an exhibition match of Japan's D1GP and is dubbed the "D1 PRIMRING GP". We will be hoping for some good results there.
Photos by N. Kaneko, Text by S. Saito