2016/04/05
NOPRO Demio SKY-D Takes Class 2nd in S-Tai Opener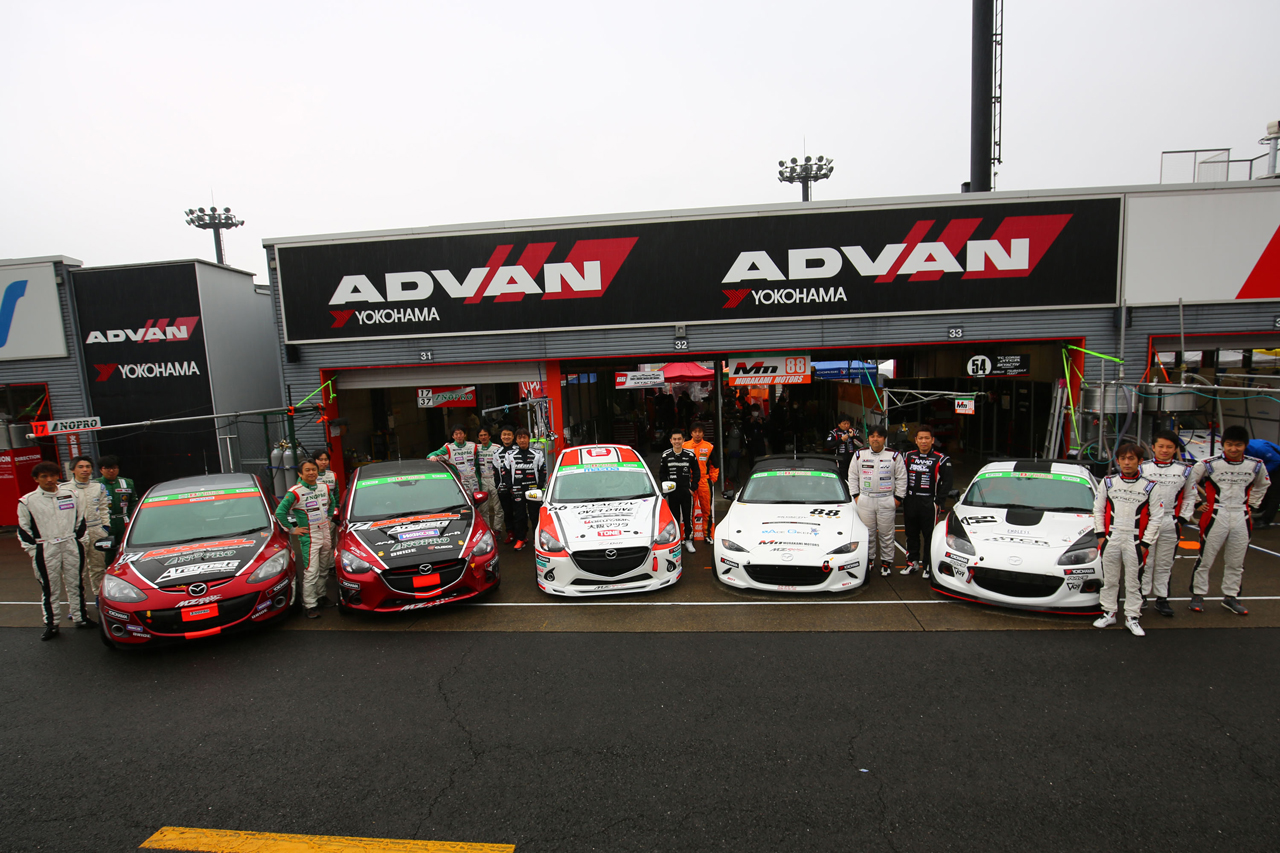 With the popularity of the S-Tai growing year after year, the number of competing teams has been rapidly increasing. Due to safety considerations, this year the ST-X and ST1 to ST5 classes have been divided into two classes and compete in relatively short races. Perhaps due to these changes, the number of teams competing with Mazda machines has increased. This was particularly prevalent in the ST-5 class where the Demio diesel NOPRO team, that steadily improved their machine's performance throughout last year, have also entered a gasoline DE Demio this season. Alongside them, Osaka OVERDRIVE have entered the class with one motorsports base car Demio 15MB. As for Murakami Motors, which until last year competed in the ST-4 class, they have tailored an ND Roadster to the ST-5 class specifications and are competing in that category this season. With four Mazdas competing against the formidable fits in the ST-5 class it looks like it will be a very exciting season this year.
The morning of race day was met with rain. The warm up session held from 8:00am occured under full wet conditions. However, directly after this the weather suddenly improved and by the time the race began at 11:45 am the track had completely dried up, allowing each team to begin the race with slick tires. With a total of 65 entries across each class, this opening round was a huge event and the ST-X class, which is competed amongst FIA GT3 class vehicles, saw 11 monster machines battle it out.
As this race would see a large range of vehicles with differing speeds all starting at the same time, it was predicted that the beginning of the race would be quite chaotic. However, all classes, from the ST-X, ST-1, ST-2, and ST-3's A-group and B-group all achieved a clean start without accident and the race progressed fairly smoothly. Team NOPRO's ace, Tanigawa, started from 8th on the grid. The good fuel economy and instant power available from the Demio diesel, along with the aggressive driving of Tanigawa, saw them rapidly rise through the ranks during the early stages of the race. Taking the wheel mid-race, No. 2 driver, Kaoru Ijiri, ticked off laps at a pace on par with Tanigawa's to eventually bring them up to class top, after which he sat in the lead for an extended length of time. It seemed that they might hold out in this position until the end of the race but late in the game they met with some unexpected suspension trouble. Despite falling back to 4th, Ijiri, Tatsuya Nogami, and then once again Tanigawa fervently fought to regain their position. Although they couldn't quite regain the lead, they managed to take a commendable 2nd place podium finish. Team rep, Toshihiko Nogami related, "The development of our Demio diesel is progressing and I think this year we've reached a level where we can compete for the championship. Although we let the top spot slip out of our grasp due to a little trouble, I think we will have many more chances throughout the season. Please keep supporting us for the rest of the year." The #66 OVERDRIVE Demio 15MB and #88 Murakami Motors Roadster, that had only just been modified to race spec, still seemed to be finding their feet during Friday's free practice and it appeared that they were yet to run at their full potential. Despite this, they managed to make it through qualifying to get their machines onto the final grid and, although not yet in perfect condition, they both managed to make it through the entire race without any major issue. Though there is still room for improvement, if each team is able to effectively capitalize on their machine's unique capabilities then there is more than enough potential for even better performances in the future. The #37 DE gasoline Demio was also able to pass the chequered flag unscathed.
In the ST-4 class, the TCR Roadster welcomed last year's Roadster Party Race II champion, Yui Tsutsumi (20 y/o) into the regular driver lineup and he went into his first round without losing a beat to the other veteran drivers. Despite managing to attain a 15th place qualification within the 22 car field, during the final race they met with drive system trouble that caused them to lose time and finish the race in 17th. Despite this, there are high hopes for the team to have greater success in the near future. Young gun, Tsutsumi stated, "I've been given this great opportunity so I want to contribute to the team's success as soon as I can."
The next round will be a 3-hour race held on May 14th (Sun) at SportsLand Sugo and will be a first time, semi-endurance race solely for the ST-4 and ST-5 class' B-group.
[Related video clips]
>>>
Super Taikyu 2016 Opening Round at Motegi
[Related links]
>>>
S-TAI Rd.1 NOPRO Demio SKY-D Takes Class 2nd in S-Tai Opener
>>>
S-TAI Rd.2 Murakami Motors ND Roadster Achieves Superb Lights-to-Flag Victory
>>>
S-TAI Rd.3 NOPRO Demio SKY-D Grabs First Victory at S-Tai Suzuka
Photo by MZRacing