Super Taikyu First Official Test of 2023 Held at Fuji Speedway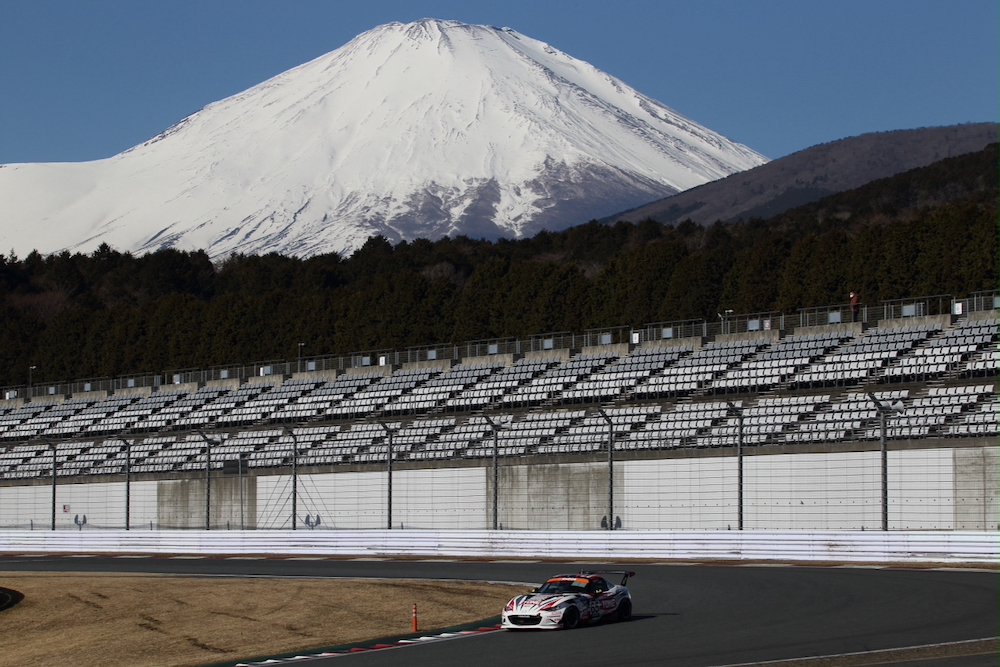 On February 23, the first official test of the ENEOS Super Taikyu Series 2023 Powered by Hankook was held at Fuji Speedway, with six Mazda cars competing. According to the recently announced annual entry list for the series, out of a total of 62 entries, a total of 10 Mazda cars are entered: one in the ST-4 class, seven in the ST-5 class, and two in the ST-Q class.
The Super Taikyu Series (S-Tai) is an endurance race series for production-based vehicles, with race formats of 3, 5, and 24 hours, with a new 4-hour race set for the final round this year, for a total of 7 rounds held at major circuits in Japan. With less than a month to go before the start of the season, this test day was the first official event of the season. The sky was clear with occasional cloud cover, but the wind was very cold and the circuit still had hints of winter. Even so, this test was held on a national holiday, so there were more spectators than usual.
TEAM NOPRO Demio Diesel car No. 17 (Tsugutetsu Nishizawa/Tobio Otani/Misaki Konishi/Toshihiko Nogami) and the same DE Demio car No. 37 in the ST-5 class, the highest ranked Mazda car last season, entered the test. Car 17 won last year's Fuji 24 Hours and was just one step away from the series title. As for the No. 37 DE Demio, team principal Nogami says, "We want to make this race enjoyable for fans of the DE Demio, as there are many different types of cars running in Super Taikyu. Isao Ihashi, Takayuki Oi, Junko Fujii, Mitsuhiro Kunisawa, and Futoshi Someya), in addition to Isao Ihashi, who participated in the race last year, Takayuki Oi, a racing driver and automotive journalist with experience in numerous races including the Nürburgring 24-hour race, and Mitsuhiro Kunisawa, an automotive critic, participated in the testing. They actively lapped the car even during night driving.
OVER DRIVE announced the introduction of the Roadster RF in the ST-4 class in addition to Car 65 in the ST-5 class. In the ST-4 class, where 7 out of a total of 8 cars are GR86s, there are high expectations for the success of the only Roadster RF. In this test, the No. 65 odula TONE Gudouya Roadster (Shuichiro Sotozono/Hirohito Ito/Tatsuya Ota/Eiji Niwa/Yasushi Matsubara/Daiga Mase/Kyohei Kawamura), which competes in the ST-5 class, was joined by the No. 120 Club MAZDA SPIRIT RACING, which is maintained by OVER DRIVE. ROADSTER (Higuchi Noriyuki, Haruhiko Sugino, Shohei Oda, Takuya Minowa, Junji Ueda, Yuta Nakajima, Yuto Kikuchi, Eiichi Honda, Yasutaka Hijii), maintained by OVER DRIVE, actively lapped until night driving time. This MAZDA SPIRIT RACING ROADSTER, Club No. 120, is a vehicle for drivers who have achieved top results in the grassroots category sponsored by Mazda to step up and challenge the S-Tai. Six drivers, including those who have competed in the Roadster Party Race, Fuji Champion Race, and e-motorsports, have been selected to challenge this season's S-Tai. They arrived at the circuit on the 22nd, the day before the race, and practiced hard in private tests.
Car 72, OHLINS Roadster NATS (Tetsuya Yamano/Ryotada Kanai/Toshiya Nojima/Tatsuya Okahara/Tatsuya Ishii), is a rapidly growing team in recent years with two championships in the 2022 season, led by experienced A driver Tetsuya Yamano. Also this year, third-year students from the Motorsports Division of the Japan Automobile College participated as mechanics as part of their class. It will be interesting to see how the students grow with each race. Also, although they did not participate in this year's official test, Murakami Motors, whose No. 88 car is distinguished by its orange liveries, has announced that it will be participating in this year's race as well. The team has been competing in Super Taikyu for many years, and last year won the ST-5 class championship for the first time in a long time at its home course, Okayama International Circuit.
Car 55, the "MAZDA SPIRIT RACING MAZDA3 Bio concept" (Kazuhiro Terakawa/Kaoru Ijiri/Yutaka Seki/Ikuo Maeda), which made its debut in the final round at Suzuka last year, ran a total of 51 laps in two sessions to familiarize the driver and collect driving data. Continuing from last season, the team will participate in the ST-Q class, which is a proving ground for automakers, using Susteo (HVO), a 100% next-generation biodiesel fuel produced using a new manufacturing process, to promote the use of carbon-neutral next-generation biodiesel fuel. In addition, it was recently announced that a roadster using carbon-neutral fuel as an alternative to gasoline will be introduced in the ST-Q class after the summer, and we are awaiting further news on that as well.
The opening round of this year's Super Taikyu Series will be held on Sunday, March 18 at Suzuka Circuit in Mie Prefecture as a 5-hour race.
Text & Photos by MZRacing