2016/11/11
Shimada Demio Takes JN-3 Class 2nd in JRC Shinshiro Rally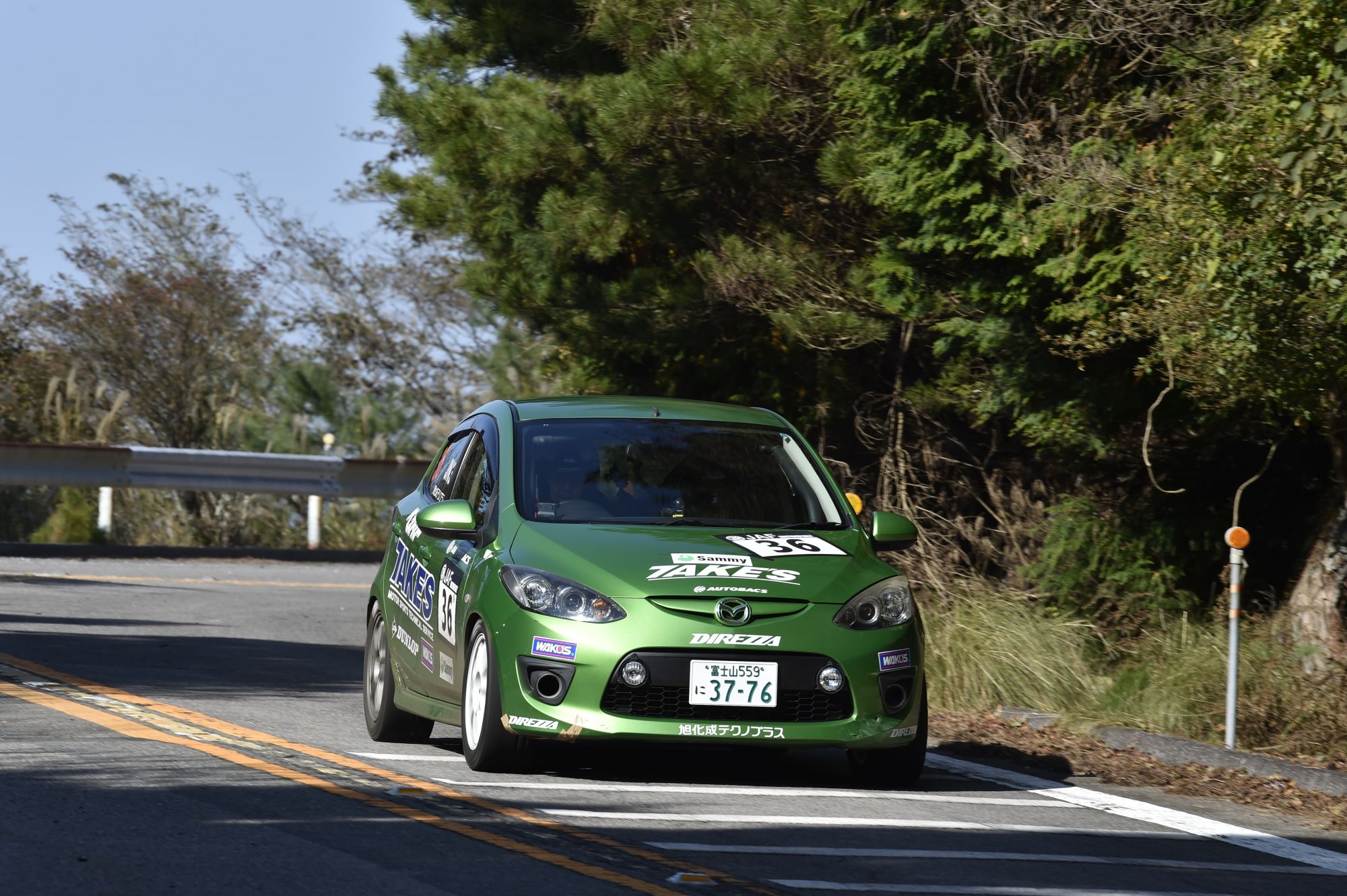 The final round of the All Japan Rally Championship, the Shinshiro Rally, was held over November 4th to 6th around Shinshiro City, Aichi Prefecture where the Demio of Akira Shimada / Yusuke Ishiguro took their second consecutive 2nd place finish following on from round 8.
The Shinshiro Rally was held over 2 days and over 53,000 spectators came out to watch making it one of the biggest events in the All Japan Rally Championship calendar. In this rally there were two RX-8s and four Demios competing in the JN-3 class, with another three Demios entered into the JN-1 class, to make a total of nine Mazda machines taking part. Within these many eyes were drawn to the first appearance of the Demio 15MB in the JN-3.
This machine was built up by M Sports, which is headquartered in Machida, Tokyo. Representative, Tamotsu Minamino spoke of the car's strong lineage saying, "We intended to compete at Rally Hokkaido with this car but unfortunately we weren't able to get it ready in time and went out with our older model. However, we were finally able to debut it at this rally. When driving it at the circuit it felt like it was better in the corners than our previous car. The handling is great."
The 15MB was driven by Tetsunari Watanabe / Misaki Hashimoto. As their first time driving the car was the day before the rally, Day 1 served as exploratory run and they weren't able to achieve the times that they were hoping for. However they managed to record the best stage during the first SS of Day 2, a gallery stage held at Shinshiro General Park, and demonstrate to the crowd the speed that the Demio was capable of. After that they were able to mark the best time in 2 more SSs and finish in class 6th.
Watanabe related, "Our first goal was just to ensure we completed the rally so I'm relieved. Compered to the old car, the torque is good and it is very maneuverable. The first day we were fumbling around a little but from day 2 we were enjoying driving the car. The Demio 15B has left me with a very good impression." Minamino animatedly stated, "We got a lot of data this time. We will adjust the settings with an eye towards next season and compete in a number of rallies."
Taking their second consecutive 3nd place in the same JN-3 class was Akira Shimada / Yusuke Ishiguro. As with the previous rally, the Highland Masters, they fell a little behind in Day 1 but began to make a comeback in Day 2 and with local pair Takamoto Katsuta / Sayaka Adachi dropping out in retirement, they jumped up one more spot. With one more SS left to go they were within 0.2 seconds of Kazuyuki Totsuka / Satoru Kimura who were running in 2nd. Then in the final SS they managed a spectacular reversal to grab 2nd place. A smiling Shimada stated, "I was probably a little lucky that Katsuta retired. I honestly felt that it might be a bit tough for us this time around but we were able to close in in the final stages." However, his face darkened slightly when the topic moved to next year. He stated that there were a few uncertain elements that meant they were unsure of whether they would be able to compete or not.
The 2017 All Japan Rally Championship will also consist of 9 events. The Shinshiro rally gave the impression that the new model Demios are set to kick up a storm next season.
Photo&Text by T.Yamaguchi