2020/07/07
Terakawa achieves amazing opening win streak in Interproto debut.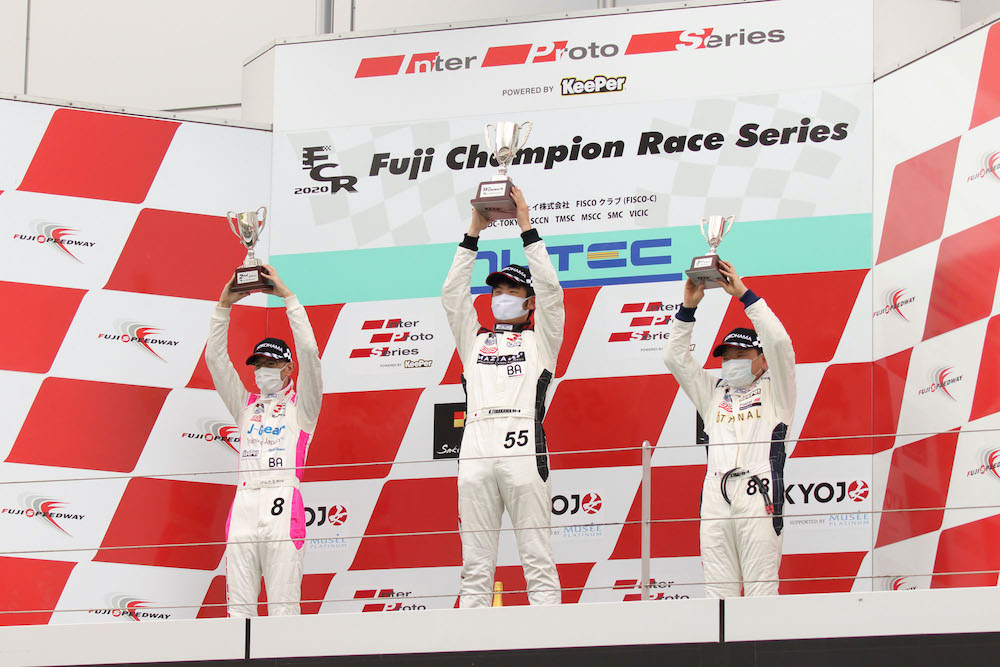 On Saturday, July 4, Mazda's Kazuhiro Terakawa in the No. 55 Mazda "Jinba Ittai Academy" won both races of the Gentleman Class in the opening round of this year's Interproto Series, held as a one-day event at Fuji Speedway.
The Interprotto Series was originally scheduled to start in the second week of May, but it was postponed due to the spread of the new corona virus. Two months later this one-day event was held on July 4, ahead of other domestic motor sports events. Following on from Masahiro Sato (First Gen) and Yasunori Mushitani (Second Gen), Kazuhiro Terakawa has been appointed as the third Mazda development driver to drive the Jinba Ittai car, and made his debut in this race. Terakawa is a development driver assigned to the Vehicle Development Division's Vehicle Test Center and has worked as an instructor at a driving school for employees, as well as competed in the All Japan Rally and other rallies as a hobby. Teaming up with Terakawa was Yuhi Sekiguchi, a professional driver who competes in SUPER GT and Super Formula.
On July 4th at Fuji Speedway was in the midst of the rainy season and a front lingered in the eastern part of Shizuoka Prefecture. In the morning, the rain started to fall heavily from time to time as the 10 competing cars qualified for the Gentleman/Expert Race in which Terakawa participated. Terakawa competed amongst a crowd of expert drivers and was joined by last year's series champion. He recorded a fastest time, just 0.5 seconds behind expert driver Hideki Nagai. With this he would start his debut race from the front row. Due to heavy rain, the first race had to be run with a reduced distance and began after a two-lap formation lap. As soon as the lights turned green, Terakawa showed his freshman-like fighting spirit as he made a mad dash for the first corner. Terakawa later said that he was hoping to jump to 1st in the start dash, but despite keeping an eye out for an opportunity to overtake race leader Nagai, it was not to be, and he ultimately finished the race in second place overall and first in the Gentleman class. In the second race, he got off to a slow start, but was soon catching up to the leader, Tatsuo Yamaguchi (Expert). However, on the second lap of the race, he got into a half-spin in some oil spilt at Dunlop Corner, and this caused him to lose time. Although he lost a lot of momentum, he continued to push for the top positions, but was passed by Nagai who started from the back of the grid and he finished 3rd overall, but still first in the Gentleman class. Despite being registered as a Gentleman driver, it was no mean feat for new driver to consecutively climb to the podium and win back-to-back class titles from his debut race. Terakawa looks to be the driver to watch out for in the series this year.
Terakawa said, "I was aiming for the top spot overall and I thought I could do it. If the rainfall had increased, I think we would have had a chance. In the second race, I went off track in sector 3 when I got caught in the oil. That's where I lost out, because it messed up my rhythm. I think that's because of my lack of experience. I realized that I didn't have enough in my drawer. I was happy but a little frustrated, and it was a very intense debut tournament. I will continue to race with everything I've got.
Sekiguchi, who competed in the Pro Class in the No. 55 car, was running 5th in the first race when he collided with another car and bent the suspension arm and had to make a pit stop. They feverishly worked to repair the car, but he was unable to race in the second race. 
Text by MZRacing Photos by IPS officeial and Terakawa