2018/04/10
Okada Demio 15MB Grabs JN3 Class 3rd in Debut Rally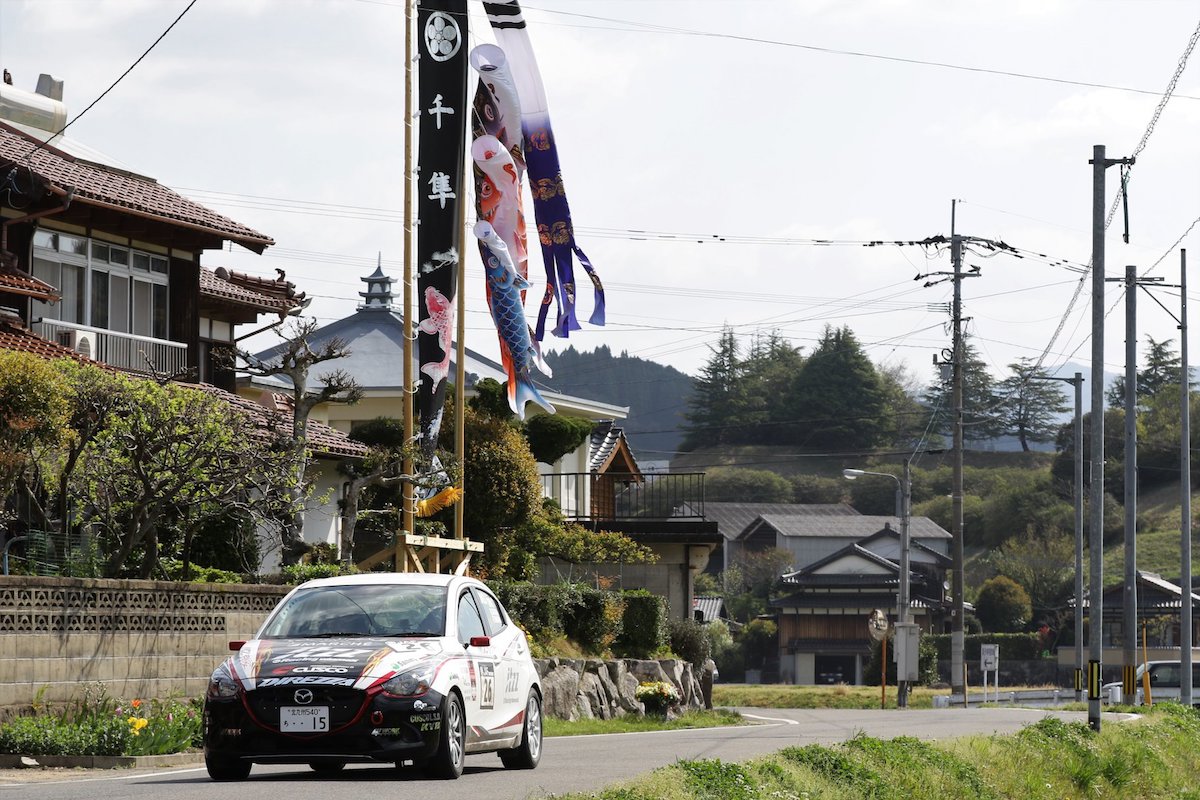 Round 2 of the 2018 All Japan Rally, the Tour de Kyushu in Karatsu, was held over April 6th to 8th under unseasonably cold weather where Koichi Okada / Fumio Tahira competed in the JN3 class (for FF cars of 1.5 litres or less) with a Demio 15MB.
The so-called Karatsu Rally is an all tarmac rally that travels around the outskirts of Karatsu City and centers around a service park set up at the Matsuura Riverside Park parking lot located in Karatsu City, Saga Prefecture. Consisting of low speed stages, it's twisty nature demands hard steering judgements. returning to the All Japan Rally after 21 month absence due to injury, 2015 JN3 class champion, Okada appeared at the service park driving his Demio 15MB. This time he would be the only Mazda vehicle competing amongst the 39 other participants. The following is a rally report from Okada himself.
– – – – – – – – – – – – – – – – – – – – – – – – – – – –
To all the Mazda fans around Japan, as well as all the rally fans, Kouchi Okada is back! In the crash I had at Hokkaido in July of 2016, I fractured nine bones, including my pelvis and thoracic vertebrae and I've caused a lot of fans a great deal of worry for going on a year and nine months. However, I have finally recovered. Although I'm still consulting doctors about bones that haven't completely healed, I will be participating in the 2018 All Japan Rally Championship from the second round at Karatsu.
Luckily the first round that I will be competing in is at my local Kyushu. This means I can combine my entry with my rehabilitation. Being held in Kyushu, I though that the warm air would be good for my pelvis but unexpectedly I was met with snow. The mountain saw a snowstorm with a temperature of 2°C. Since I had decided to go with dry tires from the start, I was a bit uncertain when I head about the weather information for Day 1 but I assembled my courage and headed into section 1 with dry tires. The 3.14km "Hayashi no Ue" SS1 was not overly affected by the snow and I managed to be 2nd fastest. In the succeeding 9.42km "Mt. Hagane" SS2, a stage where it felt like the tires would be shook loose of the car, we managed to finish 3rd. When speaking to a rival after that stage I learned that he was running with wet tires on the rear of his vehicle. In the next 1.47km "Mikaeri Waterfall," we were able to safely finish at second fastest. Returning to the service park, I considered using wet tires for the second loop, but when I thought about the prescribed number of tires, I decided that it would make Day 2 pretty tough. The afternoon in the Karatsu area became increasingly cold and the snowstorm intensified but I still went into section 2 sporting dry tires. As expected the road surface was incredibly cold and so I drove very tentatively in the "Mikaeri Waterfall" SS4 and unsurprisingly I pulled out a massive drift in front of the observing spectators. I'm glad I didn't hit anybody. For the following SS 5, 6 and 7 I tried out changing the suspensions settings, but this backfired on me. I was afflicted with intense understeer and wasn't able to push the accelerator at all, making it an incredibly stressful rehabilitation rally. For this sections two of my rivals were sporting wet tires on both their front and rear wheels.
The weather improved for Day 2 and the road surface was dry from SS9 to SS14, which meant I could attack the course with gusto. I was able to grab 2nd place day points. Although I wasn't able to catch my rival, Amano (Vitz), after a two year absence this DJ Demio really felt like an extension of myself and was very easy to handle. This is the first 15MB I've driven but it has more torque than the DE and it definitely felt fast. I think if the cross-ratio transmission had a lower final gear it would be even faster.
Before the third round at the Tango Peninsula, I will improve my own physical strength as well as the car settings and come out even faster. I hope everyone will cheer on the DJ Demio 15MB and myself in the following rallies.
Text by T.Okada and MZRacing  Photos by T. Narita、M. Nakajima、MZRacing