2015/09/25
Okada Demio Takes JN3 Class Victory at JRC Rd. 7 to Secure the Title!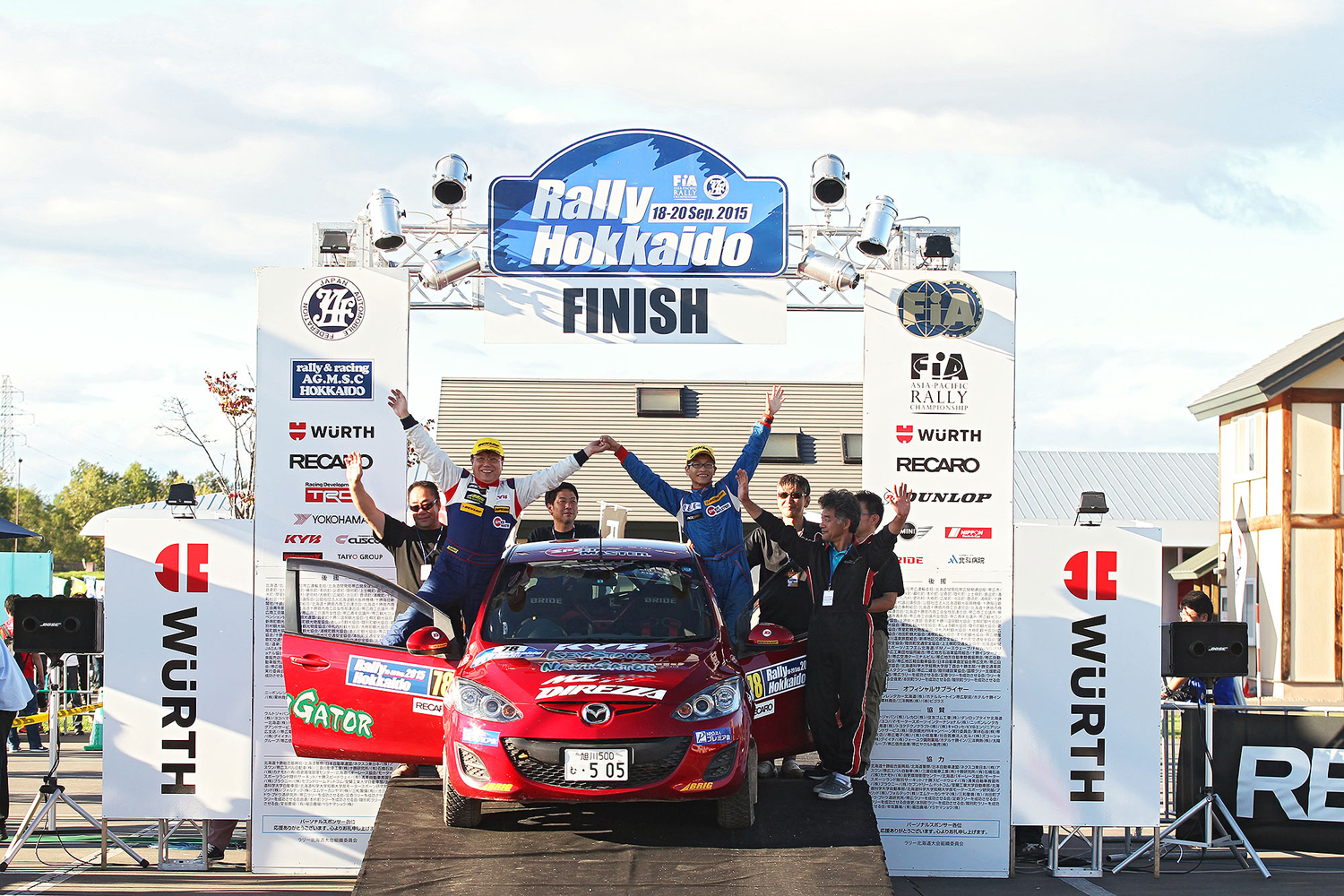 RALLY HOKKAIDO was held over September 18th to 20th in the Tokachi region of Hokkaido and consisted of a total distance of 726km, with 189km of Special Stages (SS). Until last year the overall SS distance had exceeded 200km, meaning that this year's is slightly shorter, but this did not alter the fact that this is Japan's longest high-speed rally.

There were 5 entries into the JN3 class, in which the DL Demio competed. Within them were three DE Demios. The Okada Demio marked the top time in the Super Special Stage, "Satsunai River 1", held on the 18th. From that point on there were high hopes for their performance in this rally. They went on to record the fastest time in the first 4.63km SS, "Rikubetsu Long" held on the 19th. When their teammate (and up till then, biggest rival), the DE Demio of Kentaro Takano / Shoichi Amago, retired in SS2, they basically ran unchallenged until SS17. Still, they drove solid runs right until the finish and secured the class championship.

Okada related, "A number of competitors retired in the first SSS, so we and our remaining teammates, Takano and Amago, decided to ease off a little in Day 2. That being said, there are still rallies remaining, so we couldn't exactly go at a snail's pace, we just tried not to push things too hard. Under the heavy rain, the tire tracks were getting deeper and water began to pool within them, so if the 1500cc Demio drove into them it would lose a lot of pace. So I had to drive while being careful to avoid the treads. Overall, this is a very high-speed rally, where you can suddenly damage the car going through the gaps, so I concentrated on avoiding those points and not trying to force any shortcuts. It's really unfortunate that my teammate, Takano, was forced to retire in the "Atama SS" on Day 2. I guess his youthful exuberance got the best of him."

Okada took two consecutive victories early in the 2015 season, in round 1 at Karatsu and round 2 at Kumakogen. He unfortunately broke his engine in the mid-season Wakasa round, after which he let victory slip out of his grasp and took 2nd at Toya. After being forced to retire at Fukushima due to a rupture in his fuel tank, he then went on to take another two consecutive finishes at Monterey and this round in Hokkaido. Looking back on the season he has achieved 4 victories in 7 rounds to earn 92.6 points. With this, he will not have to wait for the 9-round season to finish, and has secured the championship with a 46.8 point lead over the Takano Demio, currently in 2nd.

"I'm ecstatic to have finally grabbed that coveted title. I've been working hard for years to achieve this. Though I'm using the same DE Demio as last year, I've rebuilt the car from the ground up. When I first drove it there were still only a few people competing in motorsports with the Demio, but with more people recognizing its competitiveness, the number of entries has been increasing. It was always a car with a lot of potential, but the adjustments I've made have increased the stability of the car mid-corner as well as exiting the turns, making it possible to push even harder. From the days when I was competing in the JN2 class, I've taken 4th, 3rd, 2nd, and now the championship, which is really fantastic."

Okada began rallying 36 years ago when he was 22 years old. Although he has taken championships in rallies at his home ground of Kyushu, until now he has not taken a title in the JRC, despite taking numerous round victories in the 26 years he has been competing since he began entering in 1989. Mainly competing in Toyotas like the Levin and Celica, he has also driven Nissans, Mitsubishis and Suzukis. Then, from 2012, he moved onto the DE Demio and took 4th in the JN2 class. In the following year he took 3rd, after carrying out improvements to his machine, and ran in the same car last year. Despite achieving his first top-order consecutive championship finishes since 1999, he just missed the top spot and came in 2nd. With that in mind, taking this year's title must be an incredibly emotional achievement for Okada.

He continued on, "In the end, this RALLY HOKKAIDO, where I've secured the championship, became a battle with the road. Though, if I was to be totally honest, rally is a sport and I wanted to be able to go up against all of my rivals. Just because I've secured the title doesn't mean it's over. It goes without saying that I will be going all out in the remaining 2 rounds so I hope everyone continues to cheer us on. Next year the regulations have changed and the Mazda RX-8 will be competing in the JN3 class, so I'm currently deliberating what car I will be racing in next season. The high-powered RX-8 might be a key to defeating the competition. I would like to try driving in a rear-wheel drive on tarmac, and really, the ideal is using the Demio for gravel and the RX-8 for tarmac. There is also the strategy of competing only on one type of road surface and aiming for the championship that way. I've also considered competing in the new model SKYACTIV-D Demio and it seems a motorsports based model has been released, which is intriguing. Anyway, whatever I end up going with, I guarantee you it will be a Mazda!"

MZRacing would like to send out a big congratulations to Okada on attaining his first championship title. We hope for his continued success in the final two rounds and think it would be great to see him compete next year as the defending champion in the Demio or another Mazda.