2019/09/12
Mazda "Jinba Ittai" Team Takes 4th Place in Tsukuba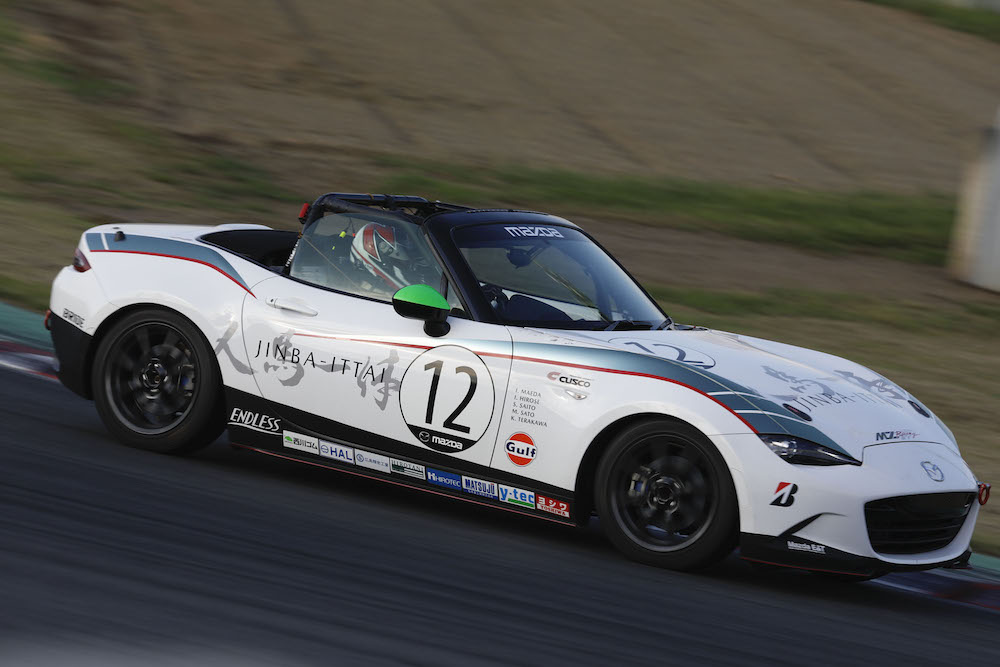 On September 7th (Sat), the 30th Media Roadster 4 Hours Endurance Race was held at Tsukuba Circuit, and the Mazda Jinba Ittai (unity of rider and horse) team of Ikuo Maeda, Masahiro Sato, Ichiro Hirose, Shigeki Saito, and Kazuhiro Terakawa started the race from 13th place to finish the race with their highest ever finish of 4th.
Tsukuba Circuit on this day felt like a hot summer day despite being in the second week of September. Before 2pm, the highest temperature recorded was 35.2°C, with a road surface temperature of 55.2°C. Toyota Motor Corporation President, Akio Toyoda, who competed in this race for the first time, was a hot topic, and he received numerous questions from reporters alongside Mazda's President, Akira Marumoto. President Toyoda said, "I can't drive that skillfully, but I want to feel the unity of driver and car and be a driver," which prompted laughs from those in attendance.
Mazda design chief, Maeda took the wheel for the start of the race, which began as Mazda vice president, Kiyoshi Fujiwara waved the flag. He ticked off fast laps right from the start and climbed to 8th place after 15 minutes and then 5th place after 25 minutes. He then handed the wheel over to development driver, Sato. At that time, the strong teams, made up of professional drivers, sat in the pits to carry out their handicap, during which Sato emerged as the race leader. With this the team earned the first 1-hour award. Maeda said, after taking off his helmet, "It was really hot and exhausting. I started to lose focus in the final corner of my last few laps." Next, Mr. Hirose, Senior Managing Executive Officer in charge of Powertrain Development and Integrated Control System Development, started preparing for the course. "We're in a good position, so I'll do my best. However, my stint has limited fuel left, so I want to keep running at a steady pace," he said. Mr. Hirose, who took the wheel from Sato, put in a solid run and held onto first place. Saito, who was the team leader of the automobile club when he was a university student, maintained the top position at a steady pace. "I was able to run with better fuel economy than planned, so Terakawa may feel a little more at ease." The final runner, Terakawa (development driver), left the pits in the top spot but was overtaken by the #813 J-wave car, which gave chase at a high pace, and this dropped him to second. He was then also overtaken by the #104 Toyotimes (driven by President Toyoda and his son and his team mates) and the #100 LOVE CARS and ultimately finished in 4th place. Furthermore, the coalition team consisting of Masashi Nakayama (roadster's chief designer) and support company representatives took fifth place.
"It's a shame because we were running at the top for more than 3 hours and then dropped to 4th place in the last 30 minutes," said chief driver, Maeda. "I knew that the last 30 minutes were where the race would be decided. This result means we will be handed 60 seconds of handicap time next year, but I want to still aim for the win."
"It's a wonderful result," said team principal, and Mazda MX-5 program chief, Nobuhiro Yamamoto. Our goal was 6th place and one 1-hour prize, but to get 4th place and two 1-hour prizes is a fantastic surprise. Thanks to everyone who worked as a team. As a team principal I couldn't be happier. I would like to set a new goal for next year, but the pressure will increase a lot, so I will continue to refine our strategy in numerous aspects. Thank you very much to the media who participated."
Text and Photos by MZRacing