Mazda 2 SKYACTIV-D Garnering Attention in Thailand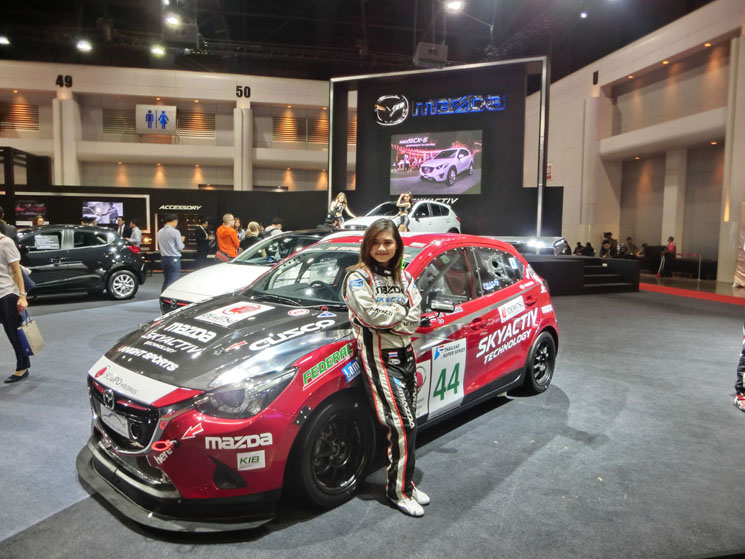 The Bangkok International Auto Salon is a sister show to the Tokyo Auto Salon and is moving into its fourth year since its inaugural show in 2013. It has had a very successful track record, with last year's event attracting displays from 200 companies, over 1000 participating vehicles and over 60,000 visitors. Mazda's distributor, Mazda Sales Thailand also set up a stand at the event. This year's centerpiece was the CX-5 KENSTYLE (prototype) showcased on the main stage. Current selling Mazda models were also displayed alongside two race cars. 19-year old female driver, Tachapan Vijittranon (nicknamed "Ploy"), is registered to drive the number (#) 44 Mazda 2 5-door hatchback, while veteran Australian driver, Michael Freeman's name is posted on the #55 Mazda 2 sedan. These two machines are mounted with 1.5 liter SKYACTIV-D engines (manufactured in Thailand) and both will be competing in the Super Compact Class of this year's Thailand Super Series. Since her early childhood, Ploy Tachapan has been cultivating her driving skills and instincts in racing karts and only just graduated from high school this year.
Mazda Sales Thailand, along with Innovation Motorsport, sent Ploy to take party in the Mazda Women in Motorsport project's training camp held at the Mazda Mine Proving Ground in Yamaguchi Prefecture over June 11th to 12th. Despite this being her first time to Japan, her first time behind the wheel of an FR vehicle (the MX-5) and first time to drive under wet conditions, she displayed remarkable talent in a very short amount of time and greatly impressed the project leaders.
Rounds 1 and 2 of the Thailand Super Series (TSS) were held over May 21st to 22nd at the Chang International Circuit, Buriram. The #55 and #44 placed 3rd and 4th respectively in the opening round, then 4th and 5th in round 2. The next rounds are scheduled to be held over July 9th (Sat) to 10th (Sun). MZRacing will be keeping our eyes on the performance of this team and will be posting reports on their future successes. Stay tuned.
[Related links]
>>>
Mazda 2 SKYACTIV-D Garnering Attention in Thailand
>>>
Mazda 2 SKY-Ds Have Strong Showing at TSC Chang Int'l. Circuit
Photo by Mazda Sales Thailand