Three Mazda Le Mans cars on special display at the Automobile Council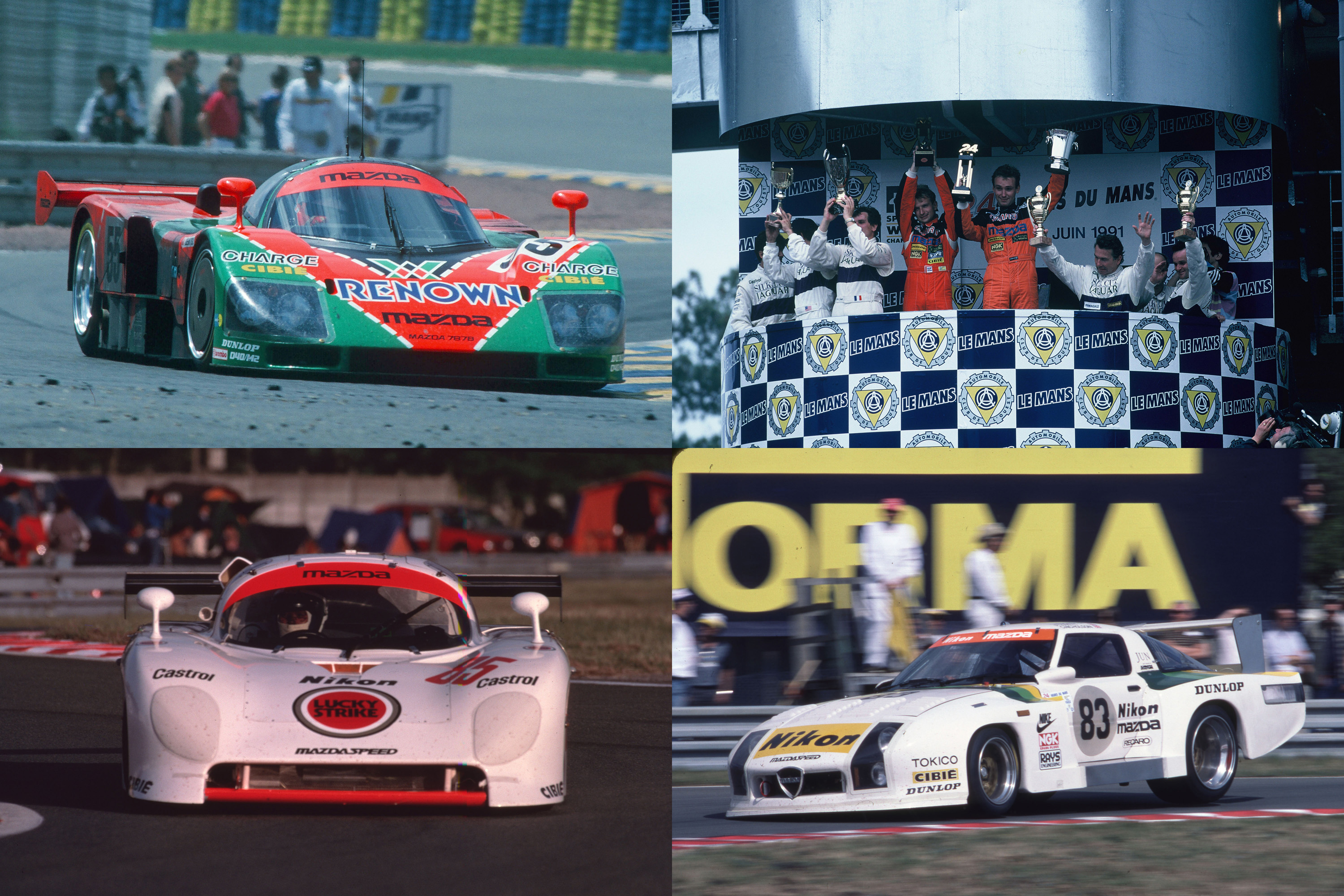 Three Mazda Le Mans cars, the Mazda 787B, Mazda 737C and Mazda RX-7 254, will be on display in the organisers' special exhibition area at the AUTOMOBILE COUNCIL 2021, to be held at Makuhari Messe from Friday 9 to Sunday 11 April.
This year marks the 30th anniversary of the 1991 Le Mans 24 Hour Race victory by a Mazda 787B. To mark the occasion, a Mazda 737C and Mazda RX-7 254, both developed by Mazdaspeed, have been restored by their current owners. Together with the Mazda 787B Le Mans winning car, which is preserved at the Mazda Museum, the organisers of the Automobile Council, a festival of automotive culture, have invited the two cars for a special exhibition. Former Mazda driver Yojiro Terada will also appear on a pay-per-view channel provided by the organisers during the exhibition.
For more information about the event, please visit the official Automobile Council website.
https://automobile-council.com
Mazda 787B (1991 Le Mans winner)
This Group C car was powered by the R26B four-rotor rotary engine, which produced 700 hp. In 1970, a privateer Chevron B16 powered by a Mazda factory-spec 10A rotary engine became the first Japanese car to compete at Le Mans. In 1970, a privateer Chevron B16 powered by a Mazda factory-spec 10A rotary engine took on Le Mans for the first time, and in 1974, Mazdaspeed (then known as Mazda Auto Tokyo Motorsports Division) took over the challenge and continued to run rotary-powered cars at Le Mans.
Mazda 737C (Completed Le Mans in 1985) Owned by a Mr. Ito (Hiroshima City)
The successor to the Mazda 717C, which was Mazda's first true race car and finished 1-2 in the Group C Junior category at Le Mans in 1983, by 1985 Mazda had entered a total of eight Group C Junior/C2 cars at Le Mans, all of which finished the race. This particular car, number 85, was driven by Yoshimi Katayama, Yojiro Terada and Koji Suyuno. The car overcame engine oil leaks and alternator problems to finish in 6th place in class. From the following year, the team took on the challenge of Le Mans with an IMSA GTP machine powered by a three-rotor engine.
Mazda RX-7 254 (1982 Le Mans Finisher, same model) Owned by a Mr. Ito (Gotemba City)
This IMSA GTX machine is a Silhouette Formula version of the original SA22C Savanna RX-7, developed by Mazdaspeed as the culmination of the Le Mans project with the RX-7 that began in 1979. The body was designed by Takuya Yura of Mooncraft. The car was powered by a Mazda factory spec 13B two-rotor engine that produced 300 horsepower. At Le Mans, Mazda's first car, No. 82, driven by Yojiro Terada, Koji Sono and Alain Moffat, completed the race. The following year, Mazdaspeed took the next step by developing a Group C junior car.
MZRacing will have a sales booth at the Automobile Council 2021, selling Le Mans rotary related goods. We hope to see you there.
Text and Photos by MZRacing