Roaring Success for the 25th Anniversary Roadster Parade through the streets of Le Mans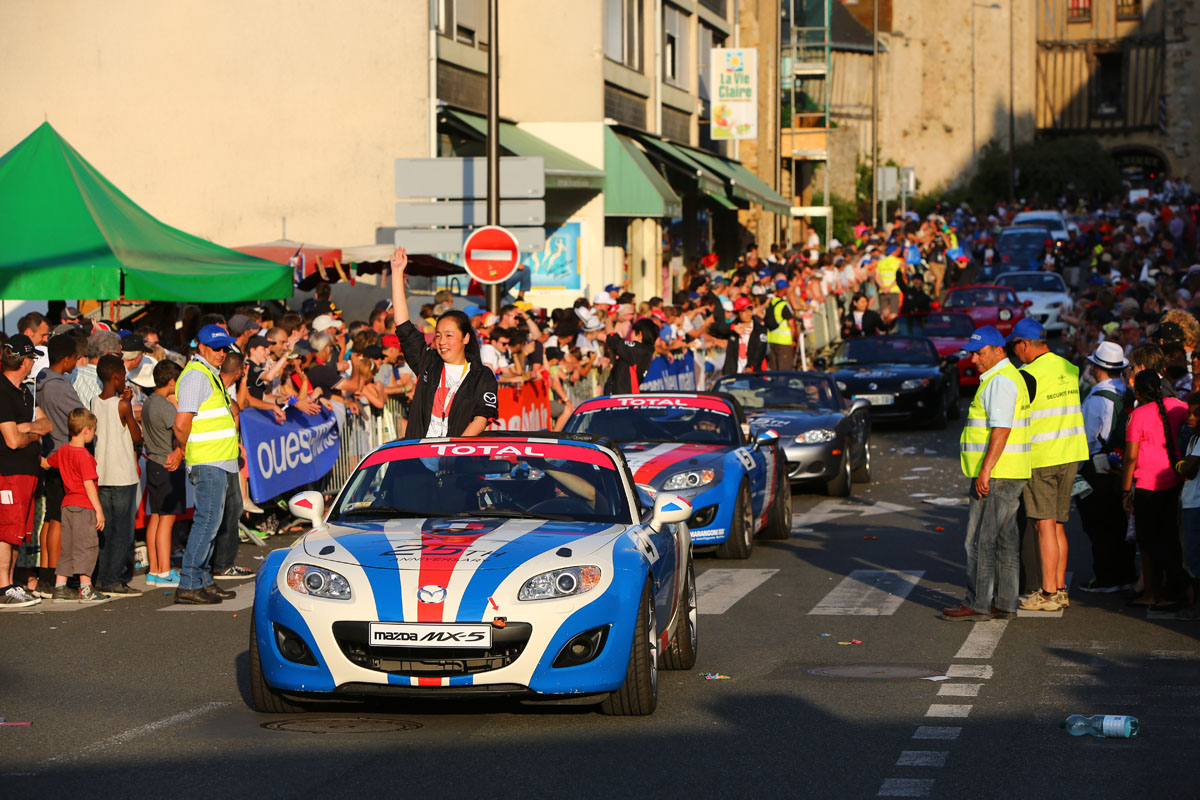 For the parade through the center of Le Mans held on the 13th (Friday), Mazda France provided two MX-5 racecars. In addition, members of France's MX-5 Owner's Club gathered with NA, NB, NC1 and NC2 MX-5s while the UK's JOTA Sports brought a special edition NC3 MX-5 to bring the total number of cars to 10. Riding in the front passenger seats of these MX-5s, as they departed for the driver's parade, were the junior and senior high school students currently participating in the Support Our Kids program. Following behind the column of driver's who will participate in the 24 hour race, they arrived at the starting point, the special stage at Place des Jacobins, where the 25th anniversary of the MX-5 and Support Our Kids was introduced to the crowd. Following this, the party continued to proceed through the city wrapped in the loud cheers of those that came out to watch. The course of the parade was just under 2 kilometers and began at Jacobins, which is overlooked by Cathédrale St-Julien du Mans, a place famed for its stained glass windows, and then proceeded through the center of the city, the Place de la République. The cavalcade then went up Wilbur Wright road, a road speckled with historic sites such as Brick Road and the Loire River, and then back up to Jacobins. As the MX-5s slowly proceeded, numerous onlookers cheerfully yelled out, "Konnichiwa!" to which the kids responded with enthusiastic high fives in appreciation for their support.
Later one of the kids said, "Being able to participate in such a parade in an open car like this is like a dream. This is my first time to come to France so I was really nervous. But being able to feel the support of so many people made me so happy."
The Support Our Kids group is made up of junior and senior high school students mostly from Miyagi prefecture, as well as Iwate and Fukushima prefectures. The children are on a two-week stay in Le Mans, France which began on the 5th of June and is aimed at providing them with the opportunity for language acquisition, cultural exchange and friendship cultivation with local young people. This program, which has been developed to support the independence of children affected by the Great East Japan Earthquake, is supported by Mazda and this France tour was brought about through the efforts of ACO board member and former Mazda driver, Yojiro Terada.
Photo by MZRacing
▼ Mazda backs "Support Our Kids" at Le Mans
https://mzracing.jp/en/news/332