2018/09/18
RX-7 40th Anniversary at FUJI SPEEDWAY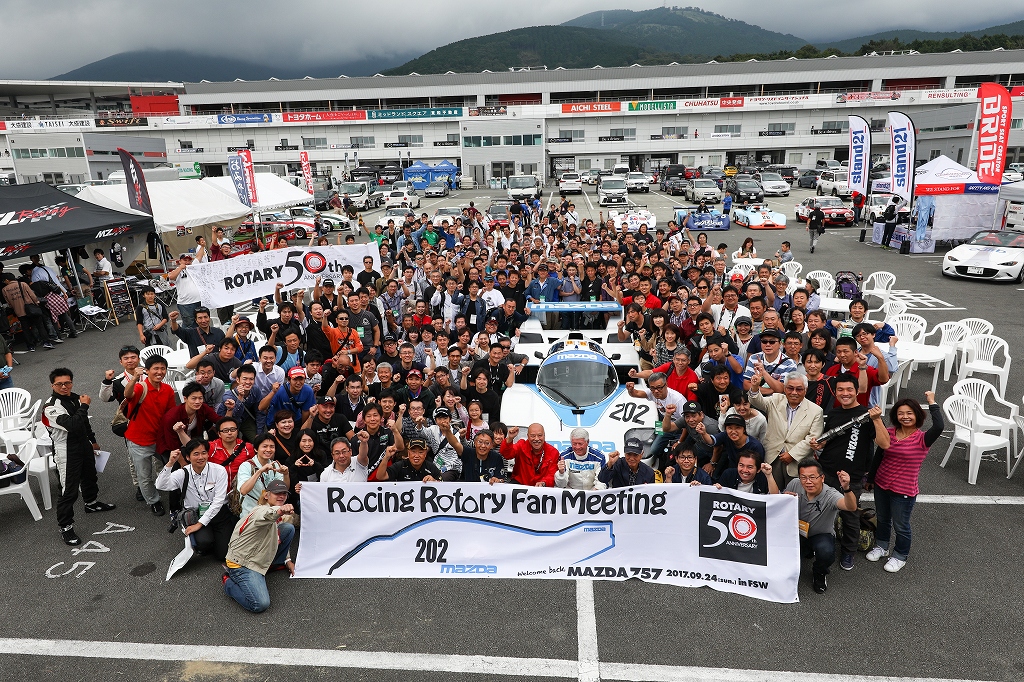 On September 24th, 2017, the "Racing Rotary Fan Meeting" was held in commemoration of the 50th anniversary of the market launch of the rotary engine. A Mazda 757 was invited from Europe, numerous domestic racing rotary legend machines were gathered, and numerous RE fans came out to take part.
Now, in 2018 the "RX-7 40th Anniversary at FUJI SPEEDWAY" will be held to commemorate the 40th anniversary since the birth of the RX-7.
Event Summary
Date:               September 24th, 2018
Venue:            Fuji Speedway – A paddock and racing course
                      694 Nakahinata Oyama-Cho Sunto-Gun Shizuoka-Ken
                      410-1307 JAPAN
Event content (planned)
  ◇ Course content
· Demo runs from rotary legend machines, the #55 Mazda 787B and #201 Mazda 767B, along with cars built by rotary tuners, etc. from 16:30
· RX-7 40th Anniversary at FUJI SPEEDWAY Parade run from 17:00
Parade run of vehicles equipped with rotary engines (centered around successive RX-7s) & memorial photograph
◇ Pit / paddock & stage contents
· Memorial panel & exhibition for the late Kenichi Yamamoto. Within pit 34
· Legend rotary machines exhibition, including Mazda 787B, 767B, first generation RX-7 group B spec rally car. Pit 32 to 34.
· Exclusive RX-7 development talk show by Ryuji Kobayakawa, Takao Kijima, etc. at a special stage established at A paddock. From 11:40
· Rotary tuning talk show by Daijiro Inada, Ryuji Kobayakawa, Takao Kijima etc. presented by OPTION magazine. A paddock special stage 12:10 ~
· Kunio Matsuura Racing Rotary talk. Pit 32
Kunio Matsuura, who was engaged in the development of all successive racing rotary engines, will discuss the history of the racing rotary engine, from the 10A to the R26B,
 · Actual machine engine exhibition of the R26B and multi rotary engine talk show at pit 32
Presentation from former Mazdaspeed rotary engine development staff regarding the multi-racing rotary specialized for the R26B
· Photograph sessions where rotary owners can take a photograph of their beloved car with the #55 Mazda 787B. 30 people will be selected in a raffle from 11:30 at the special stage, followed by a rock-paper-scissors tournament
From 12:00 a 2-shot photo session with the grand stand in the background will be taken from the pit work area near pit 37
· About 20 RE shop & demo car exhibitions will be established in front of A Paddock, pit building B
● Concurrent event
2018 GLOBAL MX-5 CUP JAPAN FINAL