2017/04/11
Mazda RT24-P Takes Overall 3rd At Long Beach, Team's Best Ever Finish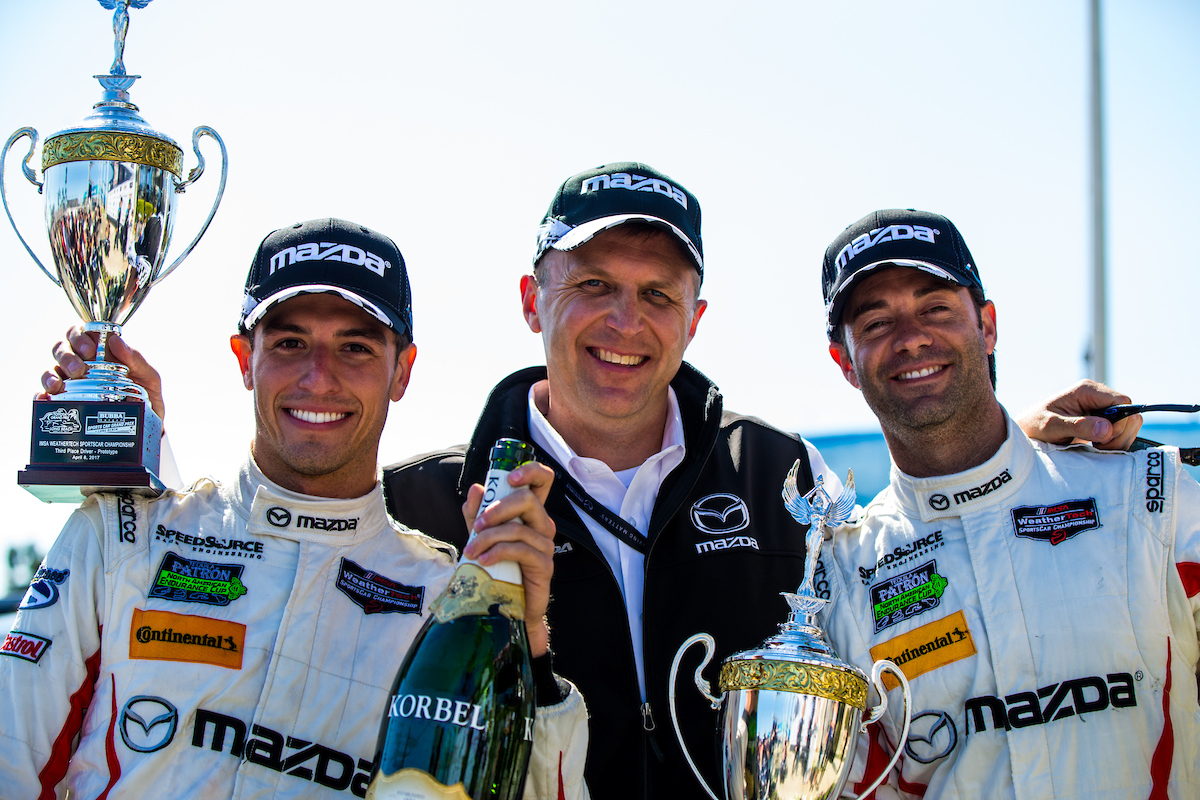 Round 3 of the IMSA WeatherTech SportsCar Championship was held at California's Long Beach street course, located approximately 30 miles from Mazda USA Headquarters. Here the #55 Mazda RT24-P driven by Jonathan Bomarito and Tristan Nunez finished overall 3rd, taking both drivers to the podium. Though the team took a class 3rd in last year's race in Detroit, this overall 3rd is the highest they have finished to date and the first podium finish for the new Mazda RT24-P. The Mazda USA designers, who played a key role in this car's development, were surely overjoyed at this result.
The two Mazda RT24-Ps got off to a flying start and were immediately rubbing noses with the top group. The #55 (Nunez) shot out of its 3rd place grid position and came out on top of a battle with the #5 Cadillac at turn one to jump up into 2nd place. On the other hand the #70 leapt from its 7th place qualification with Long behind the wheel and climbed up 3 spots. After 40 minutes had passed in the race the two Mazda R24-Ps were running in 2nd and 3rd place. However, not long after they found there path blocked by a stalled Ford GT at turn 11. This hairpin is well knows to be one of the tightest of the season and the sideways Ford was essentially blocking all of it. Then, when the #55 attempted to make its way passed, the stalled car suddenly moved forward cutting it off. Furthermore, when the #70 tried to take another path around it, it unexpectedly lurched backward, which brought the other Mazda to a halt. This caused the #70 to lose more than a few positions.
Within this sprint race the strategy of the Mazda teams was to sprint only once. Driving the #55, Nunez rapidly handed the reins over to Bomarito, who returned to the course at 4th in the prototype class, but unfortunately it got caught behind a number of GT cars that were running with a different fuel capacity. After climbing back up to 3rd, it became preoccupaied with weaving through the backmarkers, which meant it never really had a chance to catch the Nissan DPi running in 2nd. On the other hand, the #70 saw Long pass the wheel to Miller, but some air jack trouble resulted in the right rear tire not being attached properly and the time required to correct the issue saw them fall back a lap in the short Long Beach course.
Mazda USA Motorsports Director, John Donnan stated, "It was a decent Mazda day here in Long Beach. Both cars showed solid pace throughout the race….and if you are going to stand somewhere at the end of the race, you certainly want it to be on the podium. I want to thank every one of the team members and all of our partners for their efforts and support. It has been a thrash getting up to speed and getting the 2017 program off the ground. Now, getting a taste of what it feels like to have the leaders in our sights is nice, but we are far from satisfied. The top step of the podium is where the Mazda brand and our partners like Castrol, ModSpace and Motegi belong."
[Comment from #55 driver, Tristen Nunez]
About going three-wide with two Cadillacs at the start: "We got a great start, which put me side-by-side with them heading towards Turn 1. I didn't give an inch, so we made our way into second place. Then, we held it until the pit stop. I was very very pleased with the performance. At Long Beach, you're always going to have close calls, especially with so many cars on a short street circuit. It's a concrete canyon but, overall it was pretty clean despite all of the yellow flags that came out. It was pretty smooth sailing."
[Comment from #55 driver Jonathan Bomarito]
About fighting to pass the slower GT cars: "The traffic was wild! We talked about that scenario with Zach LaGrone, our engineer. You try to plan for it before the race, but you can't plan everything. You have to be flexible with the environment as you race. There were a lot of yellow flags, so you really had to stay clean. It's risk versus reward. You don't want to lose to the cars in front of you, but you can't take a big chance. Some took chances today and you saw their cars in the wall. It was a good day for the team and Mazda. And, a first podium for the new Mazda RT24-P! Tristan did great in qualifying and had a great first stint. I'm happy with our performance for the day."
Photos by Mazda USA