The RX-VISION GT3 comes to Gran Turismo SPORT!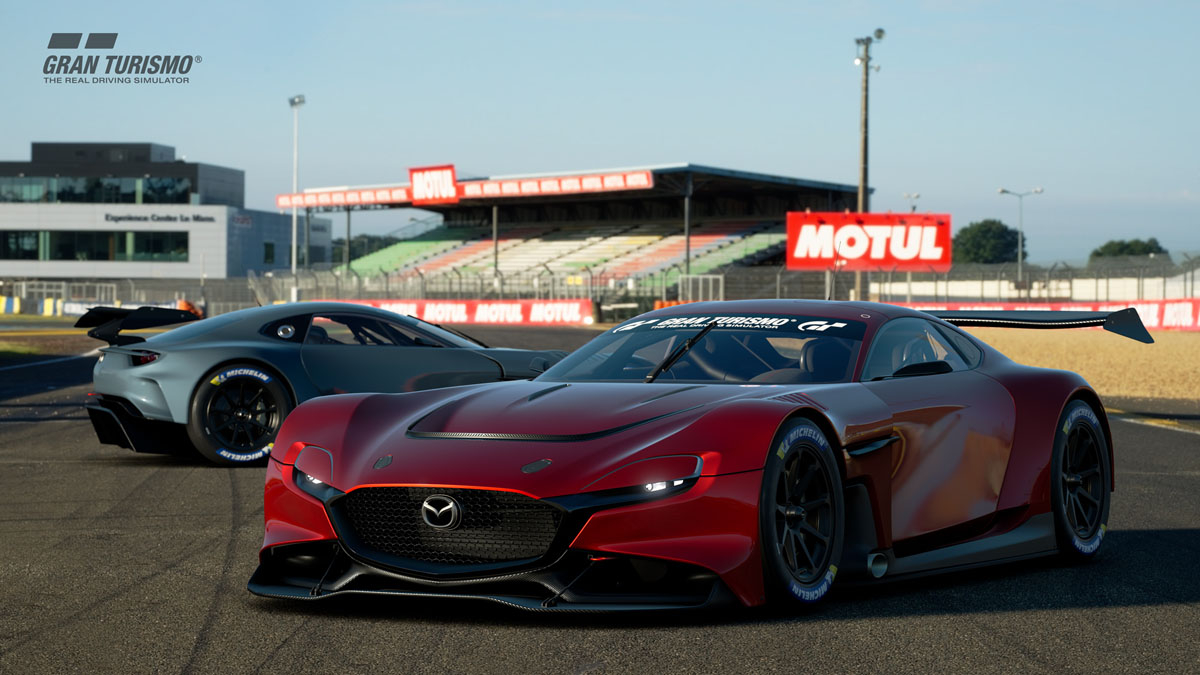 The virtual race car "MAZDA RX-VISION GT3 CONCEPT" is now available for PlayStation4® Gran Turismo SPORT and will be available for download after 3pm on May 22.
The RX-VISION GT3 CONCEPT is based on the MAZDA RX-VISION concept car, that was unveiled at the 2015 Tokyo Motor Show, and has been modified to comply with FIA GT3 vehicle regulations. It was created by Mazda's designers in collaboration with Gran Turismo developer Polyphony Digital. According to the released specs, the car is powered by a SKYACTIV-R naturally aspirated four-rotor rotary engine that produces a maximum output of 570PS, has a vehicle weight of 1,250kg and a front and rear weight distribution of 48:52. It has a front engine and rear drive layout with transaxle, double wishbone front and multi-link rear suspension. The RX-VISION silhouette has been retained, and the wide tread front nose / short deck form, front spoiler, rear wing and other aerodynamic devices give the car a low, aggressive appearance.
With the RX-VISION GT3 CONCEPT appearing in the Gran Turismo SPORT (GTS), Mazda has become an official partner of the FIA Gran Turismo Championship, a digital motorsports championship certified by the Fédération Internationale de l'Automobile (FIA). By gaining the seeding rights to participate in the 2020 World Tour, which will be held in locations around the globe, Gran Turismo SPORT players using the RX-VISION GT3 CONCEPT or the existing Atenza Gr. 3 will have the chance to qualify for the World Finals (Monaco). The RX-VISION GT3 CONCEPT will also be able to participate in the "Gran Turismo SPORT" section of the Inter-Prefectural e-Sports Championship to be held at the Kagoshima National Athletic Meet this year. If you're confident in your skills and are 18 years old or older, why not take on the challenge of going up against the best in the world.
Mazda has also launched a new website dedicated to digital motorsports. To celebrate Mazda's 100th anniversary, Mazda will hold a Time Attack Challenge with the RX-VISION GT3 CONCEPT and a Livery Contest (a design contest using GTS's exterior design editing function). For more information, including terms and conditions of participation, please visit the Mazda Digital Motorsports website.
Mazda Digital Motorsports website
Gran Turismo SPORT website
Text by MZRacing Photos by Mazda and Polyphony Digital