"Mazda Women in Motorsport 2015" Starts Recruiting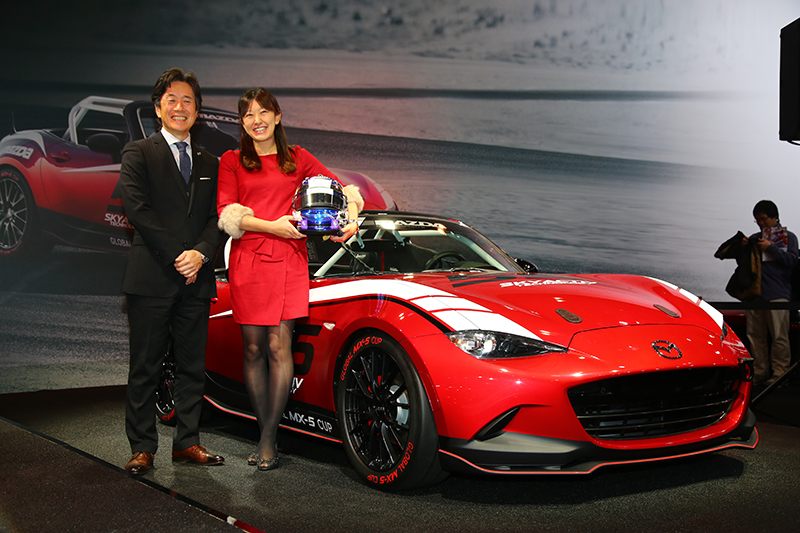 This project, was established by Mazda, which took to heart the FIA (Fédération Internationale de l'Automobile) and JAF's (Japan Automobile Federation) desire to increase the "participation of women in motorsports" and, in cooperation with Keiko Ihara, FIA Women in Motorsports Committee's Asia representative, is setting out to promote further involvement of women in the world of car racing. Mazda will be providing vehicles and locations for training and will support the race participation of exceptionally talented individuals.
The conditions for application require that the individual be a woman of 18 years or older (regardless of nationality) who holds an ordinary driver's license (without restrictions) and possesses a strong interest in motorsports. Application is possible even for those without any motorsports experience or a motorsports license. Not only for drivers, it is also possible to apply for mechanic, engineer, or management roles, however these positions will require practical training. Activities are set to begin in Japan from April 2015, with training and race participation planned to continue through to Autumn in order to nurture the talent of participants. Women who have a passion for motorsports and Mazda vehicles are strongly encouraged to apply. The application period ends at 11:59pm on March 15th and the results will be announced on March 18th following document screening. After interviews have been conducted in Tokyo, those selected will be announced on March 31st.
Keiko Ihara commented, "Women in Motorsport is a project that will contribute to the future of motorsport in general and with the cooperation of related organizations and automakers, we will further promote the participation of women in this field. To be able to receive the support of a prestigious company like Mazda is incredibly encouraging but also a little nerve-racking. The first car I drove on a circuit was the Mazda Roadster and it was the fundamentals that I learned through driving that vehicle which allowed me to make it to some of the highest peaks of racing. My next goal is to further expand the motorsports fields that women are active in and continuously discover new talent. With the assistance of Mazda, which is already involved in a range of activities that bring the joy of driving to so many people, I want to implement a comprehensive and rewarding program."
– Application Guidelines and Application Form:
http://www.keikoihara.com/wim.html
– Management Office: Twinkle Corporation
http://www.twinkle-co.co.jp/
MZRacing will be covering this project every step of the way and will continually deliver up to date information.
Photo by MZRacing