Rotary Fans Revel at Kyushu Rotary Festival 2016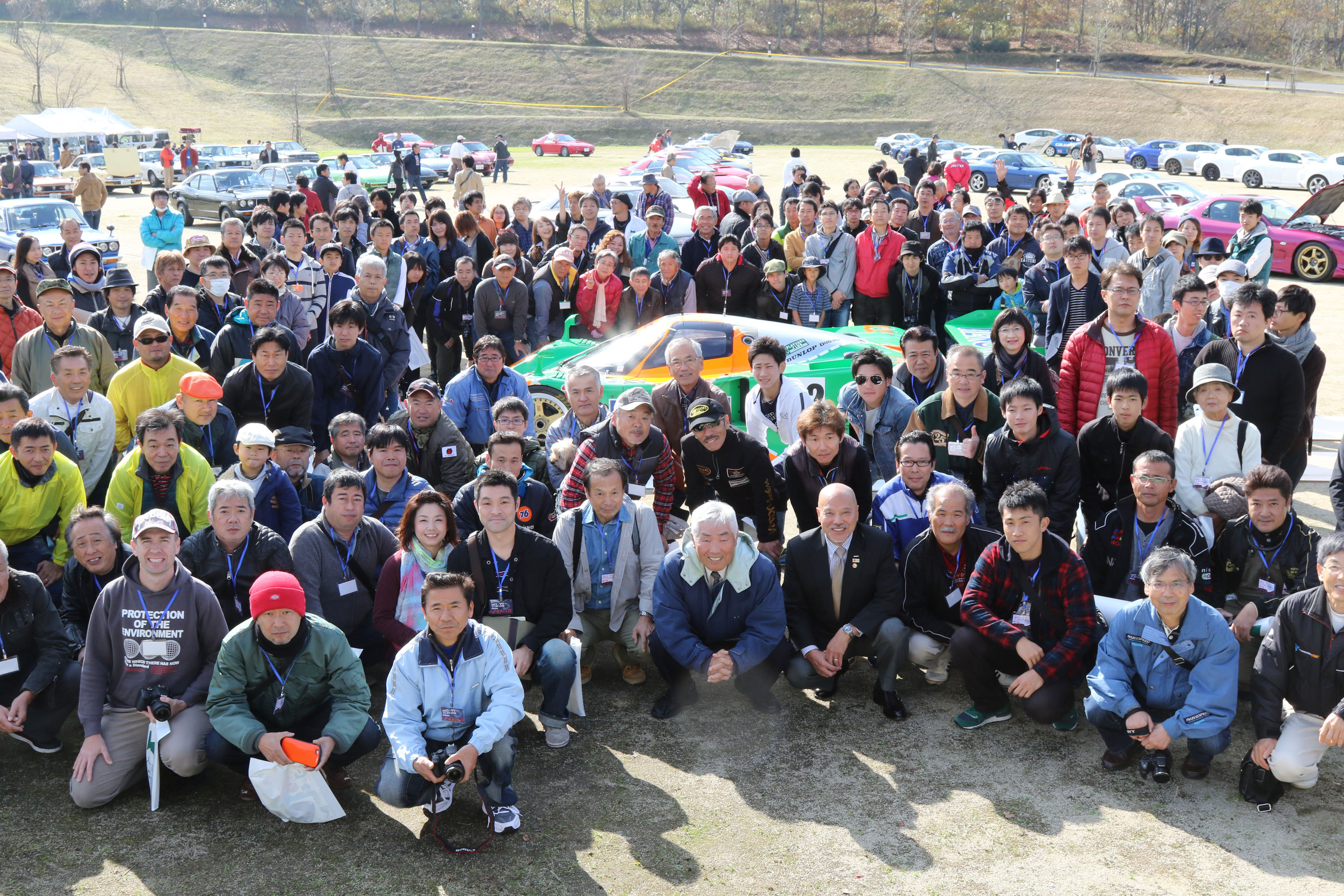 The "Kyushu Rotary Festival 2016" was held on November 23rd (public holiday) at Soyokaze park located near a roadside station in Yamato-cho, Kumamoto prefecture, where a number of rotary machine owners gathered to partake in talk sessions with former Mazda contract driver, Yojiro Terada, former Mazda engineer, Kunio Matsuura, and others.
This Kyushu Rotary Festival 2016 was planned by Yukinori Sakamoto who runs a local dairy farm in Yamato cho. The inspiration for this festival began when Mr. Sakamoto, who is a devoted rotary fan, watched the documentary TV drama, "Le Mans: Passion and Tears" based on Mazda's 1991 24 Hours of Le Mans victory, and he decided that he wanted to one day meet Matsuura who poured his heart into developing the racing rotary engine. After numerous attempts, he was finally able to meet Matsuura after he retired from Mazda. At that meeting they discussed holding an event in Kyushu to celebrate the 49th year since the birth of the rotary engine and host a gathering for rotary car owners. Matsuura was won over by the enthusiasm of Sakamoto and talked to two of his former Racing RE Development engineer colleagues and convinced them to also come out for the gathering. Terada was also enthusiastic about Sakamoto's idea and promised to make an appearance at the event. After throwing out a call to rotary engine owners from all around Kyushu, approximately 60 RE machines gathered at Soyokaze Park. Thanks to the efforts of South Kyushu Mazda, the R26B engine mounted Mazda 787 JSPC spec was also brought out. This allowed Matsuura and Terada to explain about their racing history while utilizing an actual race car from those days.
The day before the event, November 22nd, Matsuura gave a lecture on the development of the racing rotary engine at the Yamato Municipal Library. About 20 RE fans gathered for this lecture and couples could be seen who had come from as far as Ibaraki Prefecture. Matsuura took the role of narrator and spoke of the history of the racing RE, including many interesting episodes that occurred during the development of the engine. He explained the evolution of the RE, the unification of the Mazda development team and Mazda Speed, in order to complete in the 24 Hours of Le Mans, and the rich days of racing for two years from 1990 that culminated in their ultimate victory in 1991. His two former colleagues, RE chief designer, Funamoto and head of testing, Kawano, stated, "His story was studded with many episodes that even we didn't know about, so it was a fascinating lecture."
The 23rd was blessed with good weather and from early morning numerous RE cars began gathering at Soyokaze Park. A number of nostalgic models turned out such as each generation of RX-7, with the newest model RX-8 at the head, Cosmo Sports, Familia Rotary Coupes, Capella Rotary Coupes, Savanna RX-3s, Luces, and Cosmos. Sakamoto himself brought out a Luce Rotary Coupe (commonly known as the RX-87), that was released in 1969, and a 20B 3-rotor engine mounted Eunos Cosmo. Volunteers from around Yamato took the role of security and guidance, while the Yamato-cho Eateries Union opened up numerous stalls to further enliven the event. When the Mazda 787B, that was brought out from Mazda Mine Proving Ground, was unloaded from its trailer, a large audience surrounded it and listened intently to a commentary about the machine given by Terada and Matsuura. After this Funamoto and Kawano gave a talk show about 30 years of racing episodes that occurred between the 60s and 90s and discussed a number of fascinating anecdotes. All of the rotary fans present could not get enough of these stories. Finally, a lottery was drawn in which the winner would have their car driven by Terada while they sat in the passenger seat and this marked the end of the event.
Event organizer, Sakamoto stated, "Today was an incredibly gratifying day, with so many RE owners coming out from all over Kyushu to interact with Terada and Matsuura. I would love to hold another event like this." Regarding his future dreams he said with a smile, "It would be amazing if the 787B could perform a demo run to mark the opening of the Kyushu crossing motorway, that is being extended to Yamato."
Photo by MZRacing