2017/01/10
Solid Showing From Mazda USA Team at Official Daytona Tests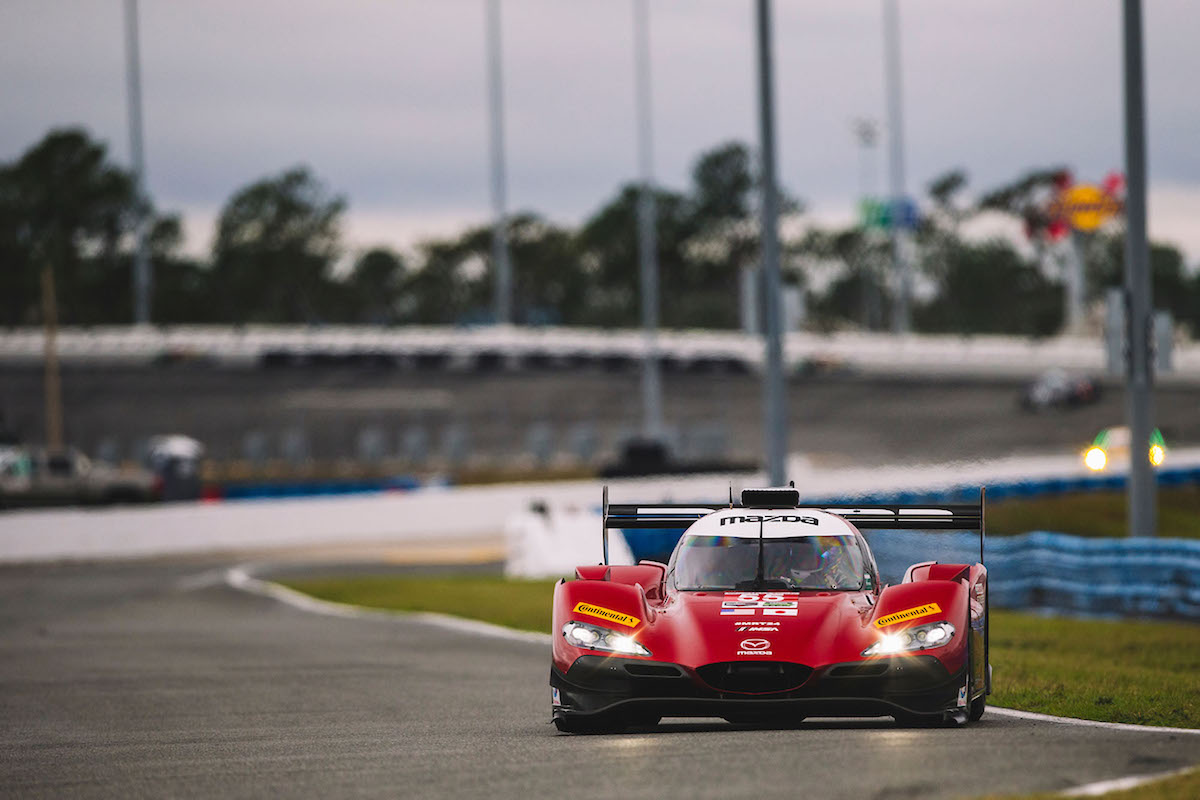 The official tests for the 24 Hours of Daytona, the "Roar Before the Rolex 24" were held over January 6th to 8th at Daytona Speedway, Florida, where the official team of Mazda USA ran their two "Mazda RT24-P" prototype machines. The two cars performed exceptionally well, frequently sitting at the top of the time charts. A total of 55 machines gathered for the three days of official test sessions in preparation for the opening round of the IMSA WeatherTech SportsCar Championship, the 24 Hours of Daytona. The 24-hour race will be held over January 28th to 29th and, starting from the Mazda RT24-P, all participating prototype machines will be completely new vehicles. The Mazda RT24-P will be competing under Daytona Prototype International (Dpi) technical regulations.
The test week was kicked off with an unveiling of the new coloring for the "Mazda RT24-Ps." The #55 is painted in Mazda's now infamous soul red theme color, while the ModSpace / Castrol EDGE decal sporting #70 is decked out in machine grey. The two Mazda prototype cars, that were revealed at last year's Los Angeles Auto Show, were designed along Mazda's "KODO – Soul of Motion" philosophy and have been garnering a lot of attention for its beauty of design and many wanted to see if it could match it with performance.
There are 12 prototypes competing within the 55-car field and the #55 Mazda recorded the overall 2nd fastest time. That being said, the time difference between it and the top machine was a mere 0.02 seconds. On Daytona Speedway's 3.56 mile (5.69km) track this is the equivalent of about 1 yard (91cm) and compromises less than 1/4 of a car length.
The driver who recorded this time was Jonathan Bomarito, who alongside regular teammate Tristan Nunez, is being joined by 4th Mazda Scholarship winner and active IndyCar driver, Spencer Pigot. The #55 was also able to mark off the fastest speed during the tests. Recording the 197.1mph (315km/h) was definitely due in no small part to technical partner, Multimatic, chassis constructor, Riley and the aerodynamic performance development carried out by Mazda's design team.
The #70 was 10th fastest out of the 12 prototypes. Taking the wheel of the #70 for these tests was Joel Miller, Tom long, IndyCar star, James Hinchcliffe and Ben Devlin.
The main goal of the Mazda team for these tests was to ascertain whether the two new cars had any weak points that needed to be addressed. While several minor mechanical issues were found in each machine they were dealt with without a hitch. Unhindered by these minor hiccups, the two Mazda RT24-Ps ran a total of 900 miles (approx. 1,440km) and progressed with preparations for the 24-hour race.
Photo by Mazda USA