Mazda RX-VISION and LM55 Vision Gran Turismo to Appear at Tokyo Auto Salon 2016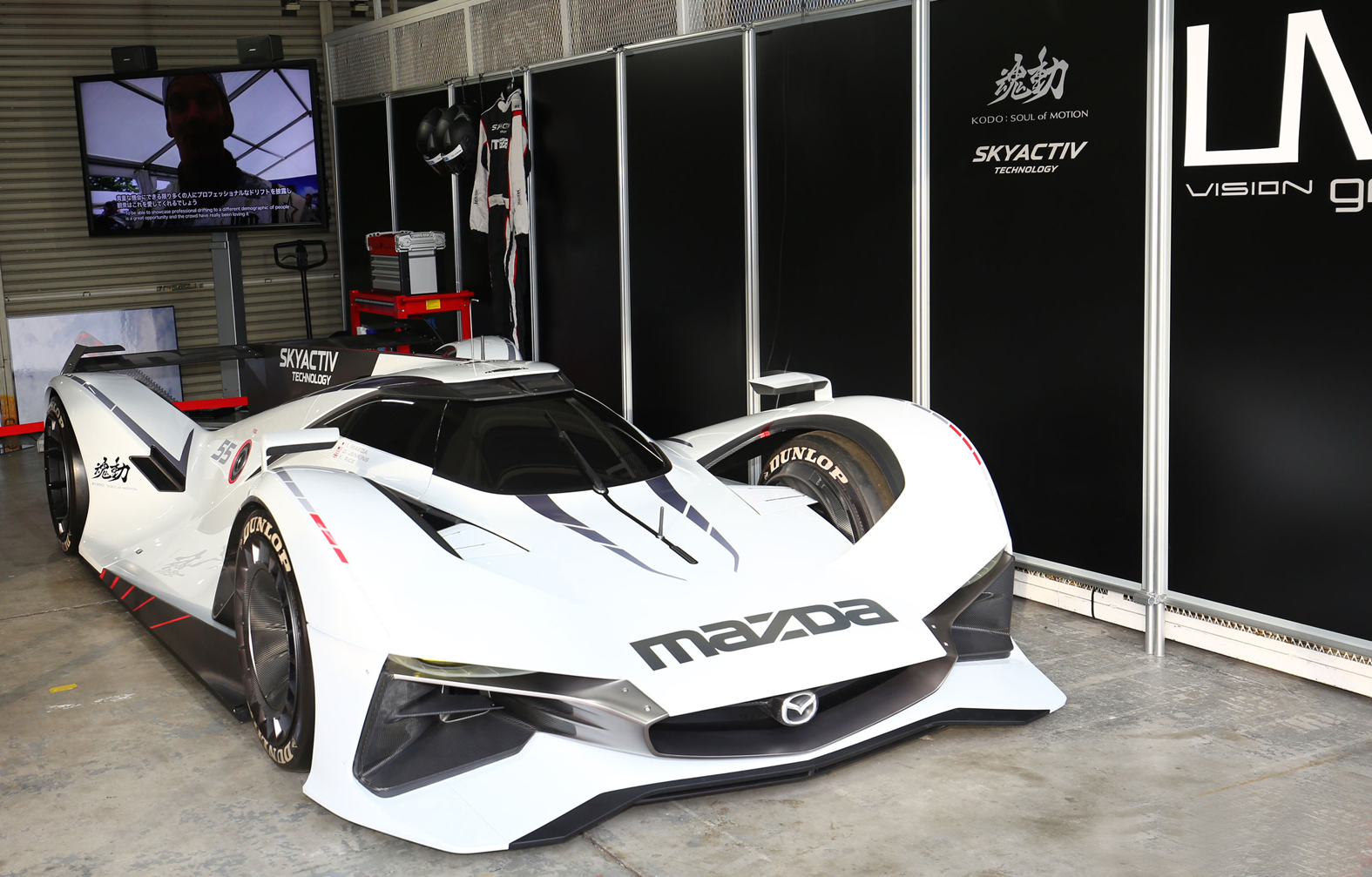 This will be the second exhibition of the RX-VISION, which will be mounted with the SKYACTIV-R engine, since its world premiere at the 44th Tokyo Motor Show held at the end of October 2015. The Mazda LM55 Vision Gran Turismo is a virtual sportscar exclusively created for PlayStation 3's "Gran Turismo 6" and the full scale model of this vehicle was first displayed at the "Goodwood Festival of Speed" held in the UK in June 2015. Following on from the "MAZDA FAN FESTA 2015 in OKAYAMA" that was held at Okayama International Circuit on December 6th, this will be its 3rd public showing.
Along with these there will also be a customized Mazda Roadster NR-A Racing Spec (Party Race spec) and a customized Mazda Demio 15MB Racing Spec (rally spec) on display. Both of these vehicles are equipped with essential motorsports parts such as a roll cage and so on. In addition there will also be a Mazda CX-3, a Mazda Roadster and Mazda Atenza on display that will be sporting aerodynamic parts exclusively created for commercial models.
There will also be a corner set up to introduce the "Goodwood Festival of Speed," allow fans to get a taste of car culture from around the globe while acquainting visitors with participatory motorsports and so on that Mazda holds and supports worldwide. On top of this there will also be a talk-show held with "Mr. Le Mans," Yojiro Terada in which he will discuss "his 50 years as an active racer and where he will go from here." There will also be a presentation put on by Mazda designers, and visitors will be given the chance to experience driving the "Mazda LM55 Vision Gran Turismo" in Gran Turismo 6.
The Mazda exhibition theme is "deepening the relationship between 'be a driver people' people and their cars through the 'joy of driving.' When we look at the exhibition vehicles we notice that all the customized model entries have "racing" in their names, suggesting that Mazda will create a display that fully exemplifies this theme and conveys the fun of motorsports at the Auto Salon venue. All the Mazda fans will surely be really looking forward to the Tokyo Auto Salon to be held at the start of next year.
Tokyo Auto Salon 2016 scheduled exhibition vehicles and exhibits]
Concept Cars
Mazda RX-VISION
Mazda LM55 Vision Gran Turismo
Reference Exhibit
Mazda Roadster (Global MX-5 Cup spec)
Customized Model
Mazda Roadster NR-A Racing Spec. (Party Race spec)
Customized Model – Reference Exhibit
Mazda Demio 15MB Racing Spec. (rally spec)
Mazda Roadster RS Racing Concept 2016
Mazda CX-3 Racing Concept 2016
Mazda Atenza Racing Concept 2016
Virtual Driving Experience
PlayStation®3 (Gran Turismo 6)
Mazda official website's Tokyo Auto Salon exhibition information page
www.mazda.co.jp/autosalon2016/
Photo by Mazda, MZRacing