Mazda Fan Tohoku Meeting 2015 in SUGO Set to be Held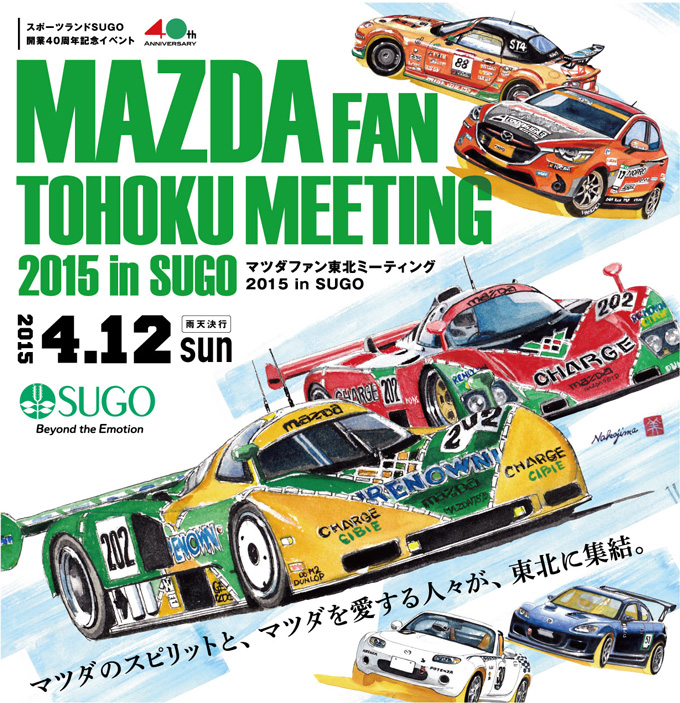 In addition, the season opener for the Roadster Party Race II, the Tohoku rounds of the Mazda Fan Circuit Trial and Mazda Fan Endurance ("Matsu-Tai") will be held alongside this event. With the Mazda Owner's Club Meeting also set to be held, it will be possible for fans to witness a large variety of Mazda machines as they take to SUGO's track during the All Mazda Parade Run.
In the paddock, participants will be able to experience trial test rides in the latest Mazda vehicles, such as the CX-3 and the Demio. Furthermore, trial test rides with pro-drivers are set to be held on a first-come, first-served basis.
MZRacing will be setting up a booth selling various items in A-Paddock. Beginning with products such as the MZRacing original scuff plates, LED lamps and clothing, there will also be a large range of other items such as goods imported from Mazda USA and Mazda Australia, along with rotary fan goods, various model cars in original Mazda packaging, and so on. In addition, we will be holding an "MZRacing Presents" special talk show, which will feature active and legendary racecar drivers as guests.
We will provide more information as soon as the featured legend machines and drivers are finalized.
Please refer to the event's official web site for more information.
http://tohoku-meeting.mazda-fan.com
(Japanese)
Photo by B-sports