2017 Mazda Motorsports Kick Off at Tokyo Auto Salon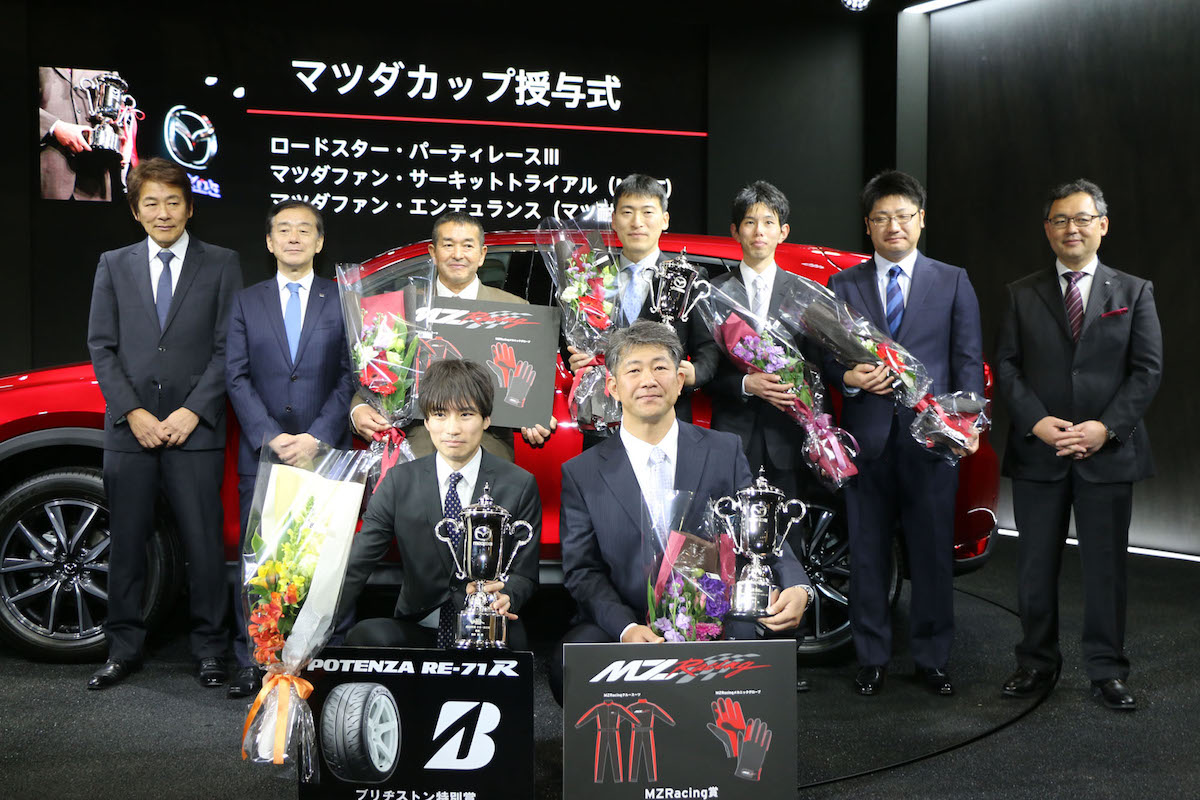 The Tokyo Auto Salon was held at Makuhari Messe, Chiba Prefecture over January 13th to 15th where Mazda 2017 domestic motorsports plans were announced and drivers who participated in race series supported by Mazda last year took to the stage.
At the Mazda stand a number of cars were on display including the newly released CX-5, the Roadster RF, a customized Demio and CX-3, along with a Global MX-5 Cup Car. Alongside these, a Roadster painted in classic red, a shade revived for a limited time only, was revealed. This car was on display at the Auto Salon's press day, the 13th, drawing a great deal of interest from the media and was bathed in camera flashes. During the press conference, executive officer of Global Sales Coordination; In charge of Brand Enhancement, Global Marketing and Customer Service, Yasuhiro Aoyama announced this year's motorsports activities. For the most part the company intends to carry on from last year's focus on supporting grass roots racing, such as the Mazda Fan Circuit Trial, Mazda Fan Endurance, Roadster Party Race III, in order to encourage customers to enjoy motorsports through driving Mazda vehicles. Along with this it was announced that the Mazda Women in Motorsport program would be continuing into its third year and carry on cultivating the talents of female drivers that were brought up through the program in the previous two years. As for the Global MX-5 Cup Japan series, that will begin from this year, as early as January over ten motorsports veterans expressed their interest in competing and it is expected that many more cars will be taking part in the opening round to be held in April. The competing cars will be on display at the Osaka Auto Messe being held at INTEX Osaka over February 10th to 12th (http://www.automesse.jp/)
These announcements were followed by Mazda's Motorsports Awards Ceremony where the most successful drivers of 2016 were awarded on stage. The proud expressions of these top drivers who had performed so well throughout the year was a site to behold. This year a new award was established, the MZRacing award, which presented the winning teams and drivers from the Mazda Fan Circuit Trial and Mazda Fan Endurance with brand new crew suits and working gloves. We hope that they will prove useful for these successful teams in the future and hope that they continue to enjoy motorsports with Mazda.
Tsuyoshi Umeda, who took the title in the Roadster Party Race III's East Japan ND series and grabbed victory at the Roadster Party Race national shootout race held on the 3rd of December at Okayama International Circuit, stated, "Two years ago I missed out on the championship through one silly mistake, and that stuck with me for a long time. There were more than a few nights where my disappointment kept me awake at night. I've really been able to dispel with these regrets after taking the title this time. Beginning with team owner, [Yojiro] Terada, I would like to thank all those that supported us from the bottom of my heart."
It is unmistakable that this year will also see a number of dramas unfold on the circuit. MZRacing will continue following these grassroots categories, along with the exciting racing from Mazda Team USA, all Mazda vehicles competing in other series such as the Super Taikyu, All Japan Rally Championship, and so on and bring them to you through our website, SNS, YouTube, etc and continue communicating the thrill of Mazda vehicles. Stay tuned, the year is just getting started.
Photo by MZRacing and B-Sports