2018/01/16
Mazda Racers Shine at the Tokyo Auto Salon 2018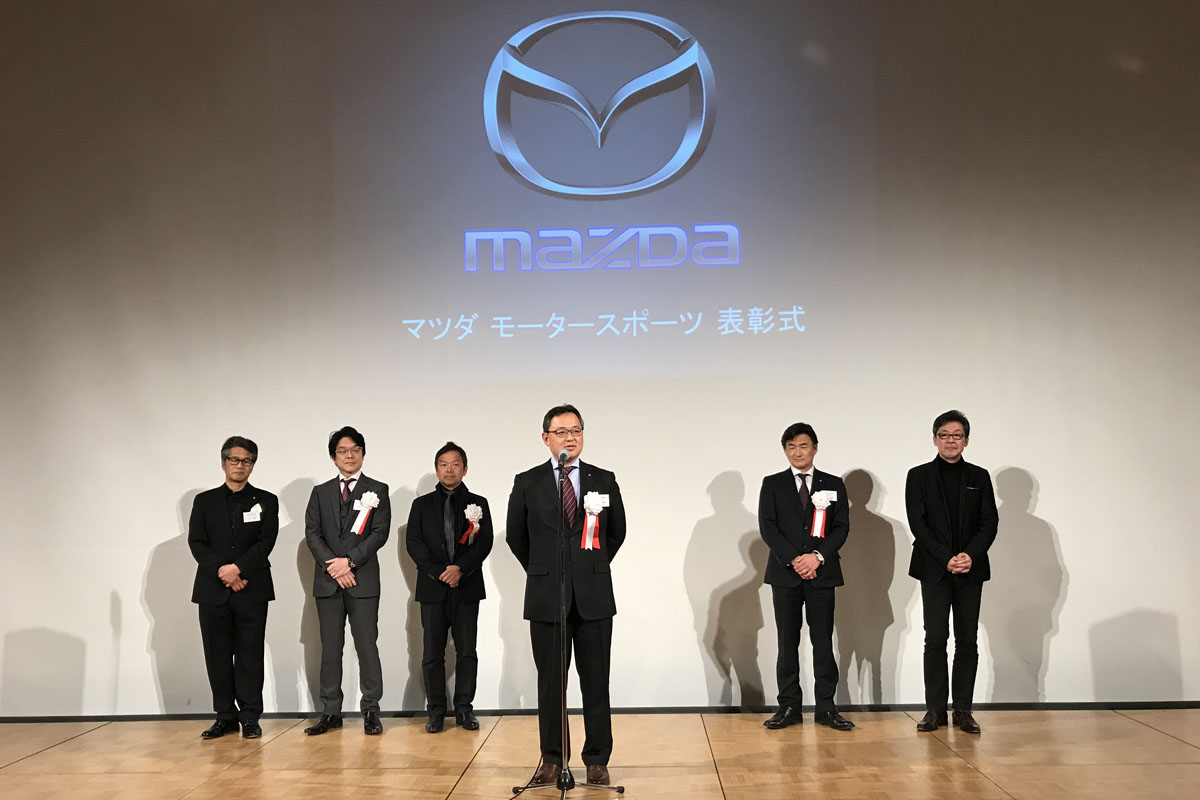 The Tokyo Auto Salon 2018 was held at Makuhari Messe from 12th to 14th January, where a number of Mazda racers active in the 2017 domestic race scene received commendations at the Mazda stand. There are high hopes that we will continue to see them at race tracks around the world.
On the first day, the 2017 Mazda Cup award ceremony was held at the Mazda stand, with GLOBAL MX-5 CUP JAPAN winners, Roadster Party series victors, Mazda Fan Endurance (Maz-Tai) winning teams, and Mazda Fan Circuit Trial (MFCT) winners receiving awards. Presenting the Mazda Cup, Mazda Corporation Managing Executive Officer, Yasuhiro Aoyama stated, "Mazda hopes that the lives of race participants and challengers will become enriched in various ways through motor sports and for that reason we focus on the promotion of motorsports categories in which customers can participate. Today we are singing the praises of everyone who fought hard last year and we would also like to celebrate with all the fans who have gathered here today. In the GLOBAL MX-5 CUP, which began last year, there were numerous close battles that continued right up until the final round. Along with the GLOBAL MX-5 CUP, in 2018 Mazda will continue to support participatory motorsports that everyone can enjoy, such as the Roadster Party Race, Maz-Tai, Circuit Trial and we can't wait to see how everyone performs this season." On this day, the first GLOBAL MX-5 CUP JAPAN champion, Tetsuya Yamano, Roadster Party Race ND series national champion, Kazundo Tsuji, NC national champion, Seiji Irie, Maz-Tai Japan Tour series champion, "Naito Jido Oyako Roadster" team's Nobuyuki Todo, and MFCT champion, Michiko Kojima were greeted on the stage. In particular, female driver, Kojima, who grabbed her first championship after overcoming 6 races that encompassed a mammoth 318 participating vehicles, garnered a great deal of attention. She stated, "Although I was injured in a crash two years ago caused by my own carelessness, with support and encouragement from various people, I was able to return to the MFCT, and am honored to have been able to take the championship. I am truly ecstatic. Thank you so much." These words were greeted with boisterous rounds of applause. Along with this, two teams made announcements regarding their driver lineups for the 2018 GLOBAL MX-5 CUP JAPAN. 2017 champion team CABANA Racing announced that they would be appointing young gun Yui Tsutsumi, while HM Racers (Hiroshima Mazda), related that they would compete with two cars driven by Koichiro Yoshida and Kota Sasaki.
On the same night, the Super Taikyu Organization (STO) held their annual awards ceremony where ST-5 class champions, Team Murakami Motors's Hiroyuki Murakami, Takeshi Wakiya, and Masato Kato, along with class 2nd Toshihiko Nogami (team owner) of team NOPRO, Tomo Seki, and Kaoru Ijiri got up onto the stage to receive awards. The Murakami Motors Team championship victory was the first Mazda Motorsports title in the history of the S-Tai where cars powered by Mazda reciprocating engines have competed for many years. Team representative, Murakami happily stated, "Amateurs like us were able to take the championship because the team all worked together and believed in themselves. Of course, we also received invaluable encouragement and support from our store customers and fans, and taking every free moment to carry out repeated practice also helped. We will continue to race the Roadster in the future." Incidentally, the hotel adjacent to the Auto Salon venue, was where the Mazda Motorsports Awards Ceremony was held, and here series winners, including top teams awarded at the Auto Salon venue, gathered and praised each other's tough competition throughout the previous season. At this party awards ceremony, more than 200 participants including circuit officials, organizers, sponsors and partner companies attended. The Mazda "Jinba-Ittai" Team that consisted of Mazda executives and participated in every round of the S-Tai Japan Tour placed 4th in the series. One of the winning executive officers, Hidetoshi Kudo, said to everyone with an uplifting voice, "Thank you everyone! In order to share the joy of driving with you, as much as possible we will continue to participate in the S-Tai. Let's meet again at the circuit!"
Back at the Tokyo Auto Salon, Amamiya Racing's new D-1 Grand Prix FD RX-7 was revealed and attracted a great deal of attention. On top of this, LOVE DRIVE RACING, who will compete with an ND Roadster in this year's Super Taikyu Series, announced a program through which they will collaborate with Nihon Automobile College (NATS) and train mechanics and engineers through race activities. In 2018 MZRacing will continue to cover the above categories, along with the All Japan Rally, national championships such as the Interproto series, the American IMSA series, Mazda Overseas Distributor Motor Sports Activities and so on and relay the success of Mazda Racers from all over the world. Happy New Year to all our readers and stay tuned!
【Related Video】
GLOBAL MX-5 CUP JAPAN 2017 Awards Ceremony TAS Opening Video
Text and Photos by MZRacing