"Rest in Peace Katayama-san"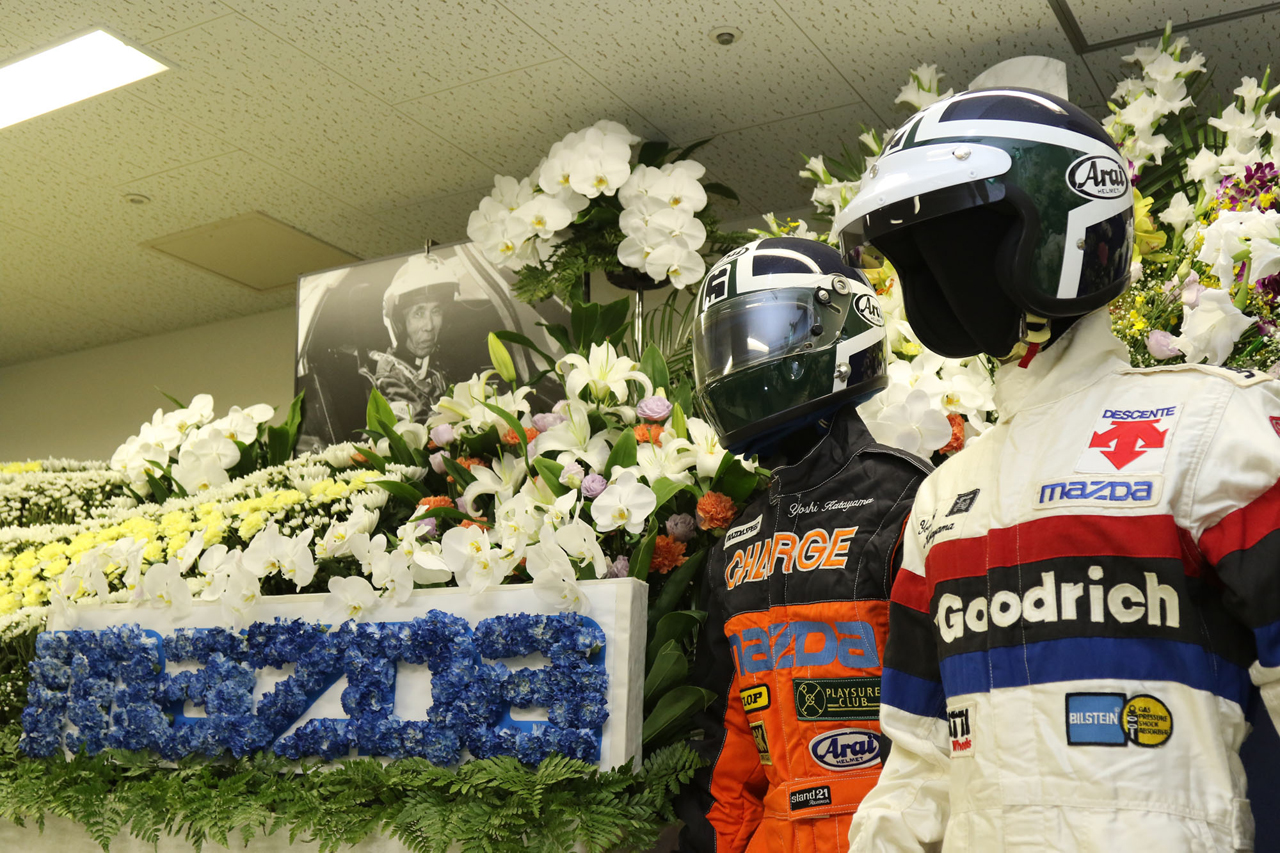 Upon the request of Katayama Racing representative and eldest son of the deceased, Katsumi Katayama, Kobe Mazda president, Satoru Hashimoto graciously provided a corner at the Kobe Mazda Fan Festa 2016 for the ceremony. The ceremony began at 1:30pm on the 4th, where veteran motorsports officials and drivers that had shared in Katayama's trials and tribulations, such as Yojiro Terada, Masanori Sekiya, Tetsuji Shiratori were in attendance. They were also joined by Kazuyoshi Hoshino who belonged to the Katayama led Kinomi Racing during his motorcycle days. To begin with Hoshino related, "I had always looked up to Katayama and he brought me into Kinomi Racing. Although we went on to become rivals in the four-wheeled arena, I will never forget the two times that he spoke to me and said, 'You've become pretty fast haven't you, Hoshino.' I'm still continuing to race, but when I move on I hope to be allowed once again into Katayama Racing." Yojiro Terada followed, "The tenacity of Katayama when it came to racing was something special. I want to continue on in the spirit of Katayama and once again make Mazda a force to be reckoned with in motorsports." Kobe Mazda president, Hashimoto, spoke of how this ceremony came to be and praised the achievements of Katayama who has a deep affinity with Kobe city.
A large number of floral tributes were delivered to the venue. Amongst the many big motorsports names that could be seen were Moto Kitano, Riki Okubo, Motoharu Kurosawa, Masahiro Hasemi, and Aguri Suzuki. Within the many messages one could see an especially moving passage from Motoharu Kurosawa, "Yoshimi-kun, I can still vividly remember our younger days. I'll especially never forget the battle between the Skyline GT-R and the Savannah RX-3. I'm still driving the GT-R at Fuji Speedway and I'll be waiting to see you there again."
Mazda Chassis Experimental Research Department's Harue Iwami, who served as Mazda Motorsports Team Principal for European endeavors such as the 1970 24-Hours of Spa and subsequent domestic touring car races of the era, related a story from when Kayama had just been contracted to Mazda (then Toyo Industries). It appears that the former Suzuki contract rider was mistaken for a gangster by security guards when he showed up at the company arms crossed, wearing an informal kimono.
Finally, event organizer, Katsumi Katayama gave some closing words. Amongst them he described his father's reaction after driving the Mazda 787B during the Mazda Fan Meeting held at Okayama International Circuit in December of 2011. "It was his first time driving the 787B in quite some time and he was only able to depress the heavy accelerator pedal about half way. The steering was also quite heavy in the corners, which scared him." It seems the aging Katayama shed frustrated tears lamenting his weakened body and angry to have let others see him becoming frail. This story truly reflected the character of Katayama, who always pushed race cars to their limits.
Before and after the ceremony, large numbers of Katayama fans came to the venue to place floral tributes to the late driver. Outside the venue photo panels were exhibited that chronicled his career and many young fans who were previously unaware of his legacy could be seen keenly pouring over each one. Included amongst the photos were images of the late Toshinori Takechi, who was a partner driver to Katayama and died suddenly not so long ago. We would like to send out our sincere condolences to these great figures and encourage all to look back on their achievements. Rest in peace.
[Related video clips]
>>>
Katayama gets back on track : 2011 Okayama
Photo by MZRacing