Mazda Top Gun, Masahiro Sato Grabs First IPS Victory!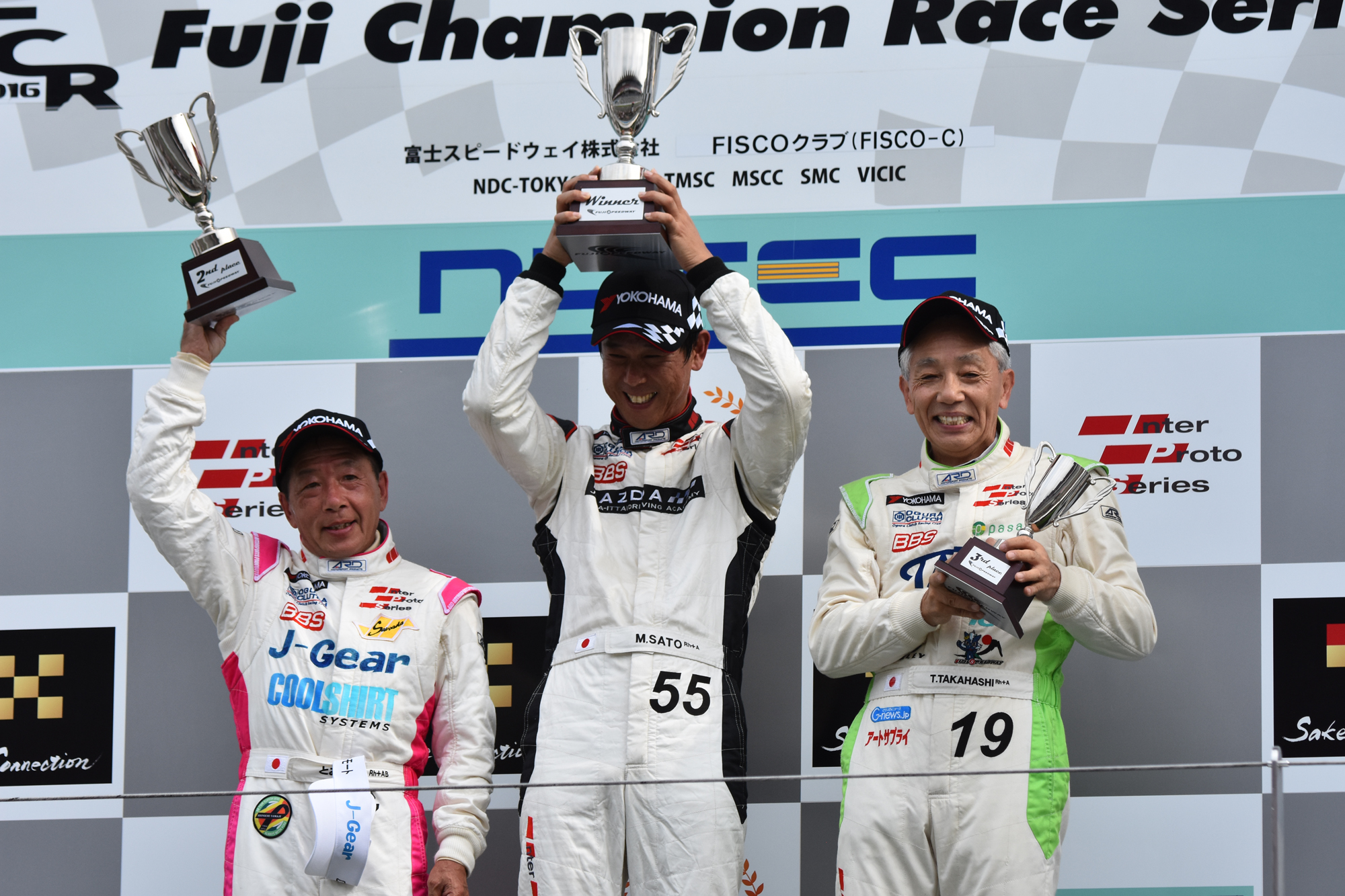 In the IPS each private car entry is required to have one professional and one amateur driver take the wheel. There is a round held for each driver so with this weekend being a round 5-6 double header, there were a total of 4 races. With a limited number of opportunities to take advantage of, every team was ardently working throughout the weekend to develop the skill of their amateur drivers.
As previously reported, as part of its personnel development, Mazda has entered its #55 "Jinba Ittai (unity of rider and horse) Driving Academy" machine into the IPS. As with previous rounds, Mazda's top gun in-house test driver, Masahiro Sato took the wheel in the Gentleman's Class, in which amateur drivers compete, and Hiroshima resident, Yasutaka Hinoi drove in the Professional Class.
Qualifying for both the amateur and pro classes were held in the morning on the 17th. The forecast for the weekend portended fickle conditions but on this day the weather remained dry. Sato marked down a 1 minute 49.870 seconds to secure overall 6th. The amateur class is further split into the Expert and Gentleman's class and he was sitting at 2nd in the Gentleman's class. Hinoi recorded a 1 minute, 48.465 seconds to be 8th fastest in the Pro Class. It seems that he struggled a little with the matching of the new spec tires that were introduced for this round.
The first race to be held was round 5 of the Gentleman's Class. This was the only race to be held on the same day as qualifying and it began about on schedule at 1:38pm. Sato went on to protect his starting position and steadily tick off laps. However, Gentleman class pole sitter, #16 was penalised for a false start and handed a drive through penalty. The #16 then went into the pits after completing 6 laps and retired. With this Sato moved into the lead. However, in this race Sato was doing battle with Expert Class drivers. He battled it out with #3 FLYING RAT, who took the lead for about 3 laps, and #8 Yudai Uchida, who dropped far down the order after going off course in lap 8. In the end he allowed these formidable opponents to get passed but the fact that he didn't give up his position without a fight speaks to how much he has developed as a racer.
Sato ultimately took overall 4th and Gentleman Class 1st in the 15 lap race. In this, his first year of competition, he successfully managed to make it to the centre of the podium. He commented, "This time around I had pro driver, Kenta Yamashita, who participated in this race, have a ride in the car and I altered the settings following his advice. I managed to improve my lap times from 1 minute 54, to 52 and then to 50 today." According to the race regulations the next race grid would align with this day's results.
Unfortunately, the 18th was met with rain from the morning. Occasionally the wind would pick up and fog would hang over the circuit making it difficult conditions. Round 6 of the Gentleman Class race was delayed by 15 minutes to 9:45am and began with 5 laps behind the safety car (SC). After 6 laps the race finally began. However, in lap 8 the Expert Class's #8 crashed at Coca Cola corner and the SC returned to the course. Unfortunately, the race continued on behind the SC for the final 12 laps (25 minutes) and that's how the chequered flag was raised.
Sato finished in his grid position of overall 4th and again class 1st. With two cars falling out of the expert class due to accidents, he was lifted to overall 2nd before the SC was dispatched and he was secured in this position for the rest of the race. This meant that following on from round 5 he had effectively achieved consecutive victories in the Gentleman's Class. A modest Sato stated, "I was just lucky today. Still, even in just 1 lap there were two points were I really lost my footing. In the final round in December I want to accomplish what I couldn't this weekend and that is take victory having driven faster than #16 Hisakazu Watanabe. I need to work harder from now on."
Round 5 of the Pro Class was set to start from 1:10pm but with the unstable weather conditions it was delayed for 30 minutes. As before the SC led for 4 laps before the real battle began. With their machine having incurred some damage during the amateur class races, #55 Hinoi started from 5th but was passed by #19 Kouhei Hirate and #7 Sho Tsuboi and ultimately finished in 7th.
Round 6 also progressed into a difficult race, with a red flag cessation, resulting in very few opportunities to overtake. Hinoi related, "All I can say is that I'm sorry for my poor performance. However, Sato has improved a lot this weekend and came away with some fantastic results, so I think that's the most important thing."
The IPS is held over 4 tournaments at Fuji Speedway. The final rounds 7 and 8 will be held, apart from the FCR series schedule, on December 3rd to 4th.
[Related links]
>>>
Mazda Top Gun Competes in Proto Series
>>>
Mazda's Masahiro Sato Grabs 3rd In Inter Proto Series
>>>
Mazda Top Gun, Masahiro Sato Grabs First IPS Victory!
>>>
Inter Proto Series official website www.interproto.jp/
Photo by T. Ishida & IPS