2017/03/14
10 Cars Participate in GLOBAL MX-5 Cup Japan Official Test Day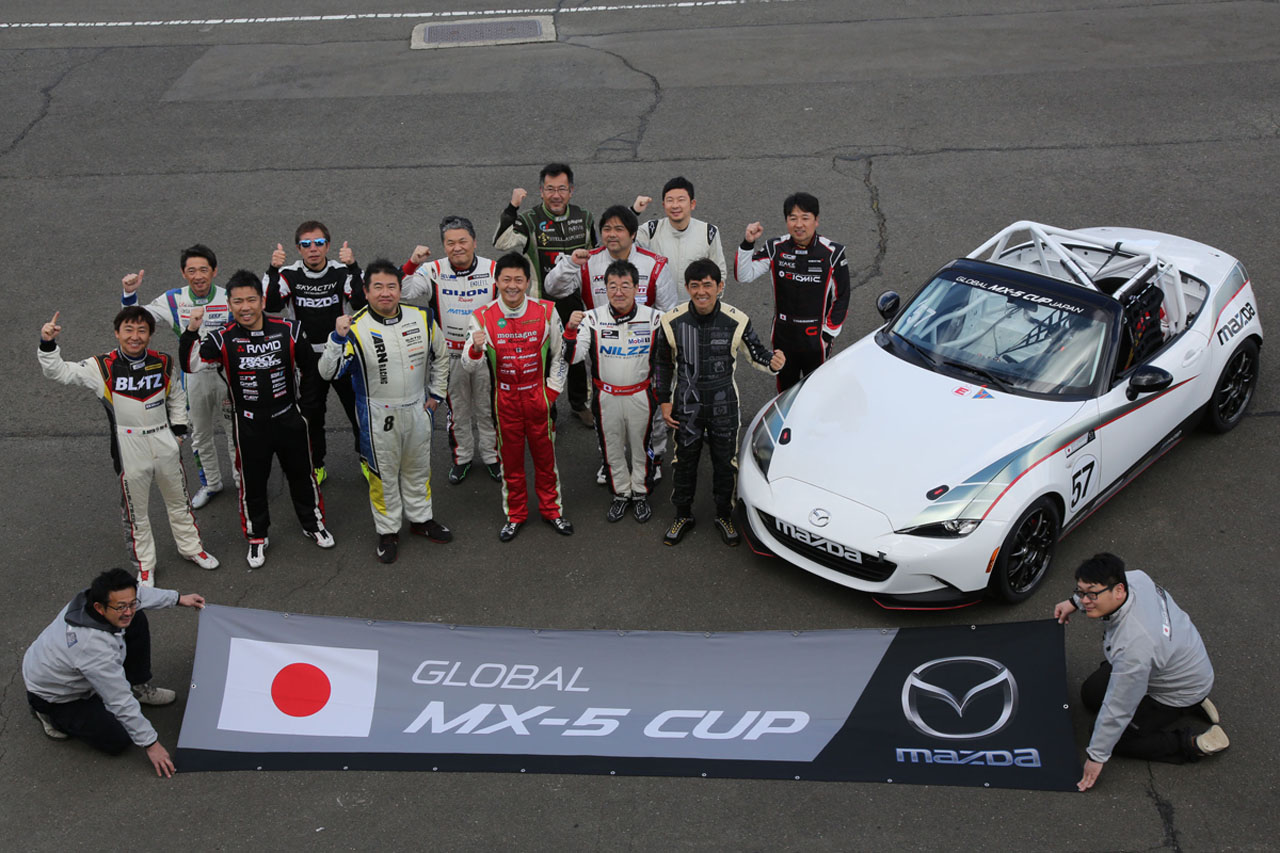 Official tests for the GLOBAL MX-5 Cup Japan were carried out on March 11th (Sat) at Sportsland SUGO, Miyagi Prefecture where ten MX-5 Cup cars took part and utilized the 2 hour driving frame to carry out as many laps as possible. Each participant progressed with preparations towards the fast approaching opening round.
The weather on testing day at SUGO's international race course was fine and the road surface dry but the air temperature was a chilly 2-3°C. Each team was working in the pits from early in the morning and had only a short timeframe to make preparations. Some snow still remained on the run-off area of the course from the night before but as the sun rose it naturally began to melt. With BF Goodrich supplying the tires, parent company Michelin also sent out a support unit to assist with the Japanese series. The garages were also fully decked out. Within the ten teams that took part there was Murakami Motors' Hiroyuki Murakami, who is also competing in the Super Taikyu in an ND Roadster, All Japan Gymkhana champion Tetsuya Yamano who substituted for his older brother, CABANA Racing's Naoya Yamano, KIWI International's Daisuke Imamura and Nils Racing's DAISUKE and Ichirohiko Kandori. Two machines from Fujii Shokai Co., Ltd., were driven by Takumi Takada and Akira Yoshimoto, while team KOTA RACING, led by SUPER GT driver, Kota Sasaki will compete with two cars (driven by Sasaki himself and "Wappaya"). As for media participants, Team Be a Racing Driver is scheduled to compete in the opening round, while Best Car Magazine team's Takayuki Oi along with Tips Magazine's editor-in-chief, Hiroshi Sato and Pro Driver's Takaya Kobayashi will be driving promotional MX-5 Cup cars.
All the drivers met for the first time at the briefing held prior to the test sessions and here everyone introduced themselves and pledged to engage in a sporting and fair competition throughout the year. Amongst some of the comments there were those that said ambitious things like, "Of course my goal is to be the best in the world" and "Let's have a fun and tough fought season." Others stated, "Let's show our rivals in the global shootout the high level of Japanese drivers." Then others, "I'm not going to lie, I fully intend to become champion and head to Mazda Raceway Laguna Seca." There were also teams that stated, "We want to create a place where we can built up the skills of our young drivers." Just looking at the rich variety of individuals it seems certain that this series will be an extremely compelling one right from its first season. Nominated by the promoter to be an advisor, "Tarzan" Yamada (Eiji Yamada) stated, "The car is very well made and the specs make it exceedingly fun to drive. Depending on the course it will probably me necessary to drive while skilfully keeping in check the machine's peaky characteristics. If you have anything you would like to discuss such as suspension settings or how it should be driven in particular circumstances please don't hesitate to ask. To be honest I would love to have been able to participate in this series as a driver."
In the 1-hour morning and afternoon sessions each driver carried out a number of laps to familiarize themselves with the machine's setup. There were many teams that drove 30 laps in both sessions and many seemed to put a lot of focus on becoming accustomed to the left hand drive spec MX-5 Cup Car. Kota Sasaki, who recorded the top time within the two hours of sessions, stated, "Yamato and Oi were driving pretty seriously so I drove with all I've got and I'm pretty happy I was able to maintain my position as the fastest of the day. I really want to enjoy this series but I have to balance it out with other competitions I drive in and so I might only be able to compete in 1 or 2 races. Other than that, I want to focus on training younger drivers and utilize these two cars of ours to cultivate the skill of our Gentleman class drivers. We as a team come together and work hard to become the champion in every series we compete in."
Takumi Takada, who came out from Tokushima, said in a slightly humble manner, "I've been competing in the Porsche Carrera Cup and managed to take the title in the West Vita class last year. I Hope I can enjoy racing and not get in anyone's way this year."
Takayuki Oi related, "The media group will compete with two cars in each race and choose one person from 10 pairs to compete in the global shootout. I'm going to do all that I can to secure that seat."
The long awaited opening round will be held in the second week of April. Each team will use the experience and data they accumulated on this test day to fully prepare for the upcoming race and put in an exciting fight. Stay tuned!
Text and Photos : MZRacing