2018/03/06
This Year's Mazda Team's Prep for the SUPER TAIKYU SERIES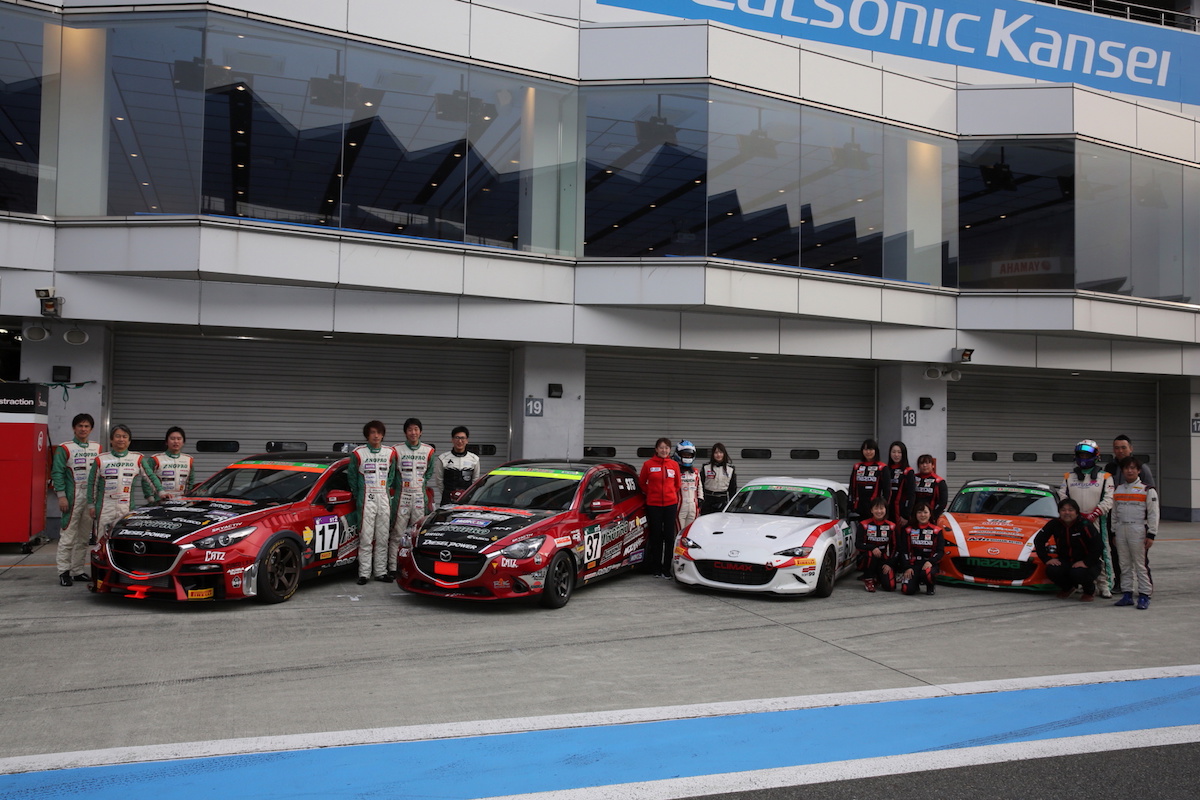 Joint tests for this year's Super Taikyu (S-Tai) series were held on March 3rd (Sat) at Fuji Speedway where more than thirty S-Tai machines took part. In the Mazda car corner were last year's ST-5 class series champion, Murakami Motors, Team NOPRO, which will compete in the S-Tai with a Demio (Mazda 2) and Axela (Mazda 3) Diesel, along with all female driver team LOVE DRIVE RACING.
Some large changes have been made for this year's Super Taikyu series, including all teams being required to use designated Pirelli tires and the 3rd round at Fuji being held as a 24-hour race. For this reason, extensive running times were secured during the joint tests for drivers and teams to become accustomed to the characteristics of the Pirelli tires. With sports driving sessions added between each practice run frame, the amount of time possible to run on the course was further increased. In addition to this, in preparation for the 24 hour race to be held in June, additional lighting equipment was installed around the course and a night session of 2-hours was held from 7:00pm.
Murakami Motors' Hiroyuki Murakami, stated, "Some have brought up the fact that the characteristics of the Pirelli tires are quite different from the Yokohama tires that we have used up until now and, while they have a high durability, they take a fair amount of time to warm up. For that reason, in the current season, where the road surface temperature is still fairly low, it's quite a disadvantage for the FR Roadster. FF cars that pull from the front wheels during acceleration have been marking down better times so far. Last year our team was fortunate enough to be able to take the championship but I realise that it won't be that easy this year. I would really like to test again under warm conditions as soon as possible." Team Nopro's representative, Toshihko Nogami, related, "There are many long-distance races this year, which our team excels at, so I'm very much looking forward to this season. In particular, I want to make full use of the excellent fuel economy of our car in the 24-hour race at Fuji and we will definitely be aiming for a high placed finish. The Axela (Mazda 3) Sports XD, that ran in the ST-3 class until last year, will be incorporated into the ST-2 class, which include the 2-liter turbo AWD Lacer and Impreza. It will be interesting to see how the Axela, which saw an increase in pace last year, will perform in this class this year. We are definitely aiming for a podium finish at the 24 Hours of Fuji. LOVE DRIVE RACING driver, Anna Inotsume went on to say, "I had my first experience of a circuit night session. It is definitely more difficult to see and I struggled a little at first, but I gradually got used to it and was finally able to drive without issue. I am really looking forward to the 24 Hours of Fuji in June. I really hope a lot of people come out to Fuji Speedway to cheer us on."
The Odula 15MB Demio (Mazda 2) will compete in the ST-5 class and the TC CORSE NC Roadster (MX-5) will compete in the ST-4 class at the series opening round at Suzuka (March 31st – April 1st). Also, the TC CORSE is currently in the midst of developing a new machine that will make its S-TAI race debut this summer.
MZRacing will be covering the Mazda teams competing in the S-TAI and will also be carrying out pit tours where fans can interact with the cars and drivers. Hope to see you at the circuit!
Photos and Text : MZRacing