World Premiere of RX-VISION Heralds the Future of Rotary Sports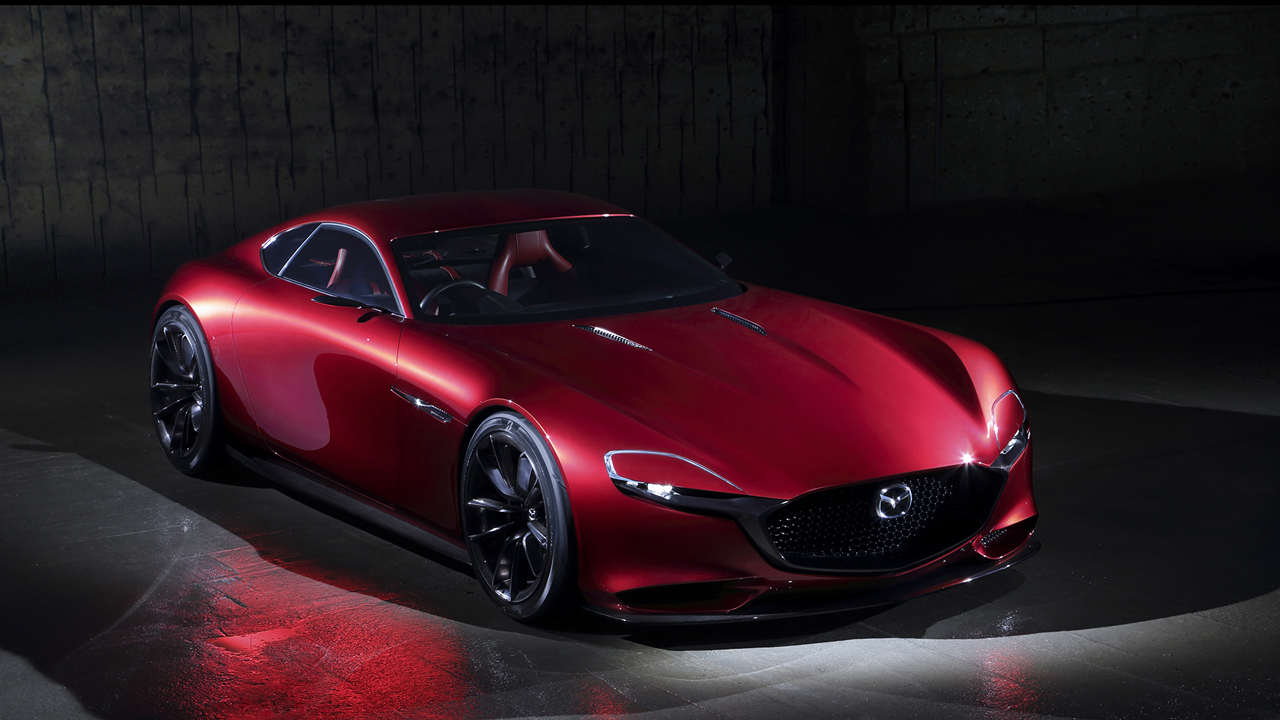 It was announced that the RX-VISION rotary sports car concept is a redesigned flagship model that encapsulates Mazda's "be a driver" spirit and, at its heart, will be a next generation rotary engine, the SKYACTIV-R.

The company has yet to give any specific information regarding the SKYACTIV-R engine, such as the number of rotors, displacement, whether it will use a hybrid system or forced induction, etc. In other words, what everyone really wants to know, the engine specs, remains unknown. For the time being it remains a visionary next generation concept car.

The specifications that we do know are as follows:
[Seats] 2
[Total length × overall width × total height] 4,389mm × 1,925mm × 1,160mm
[Wheelbase] 2,700mm
[Engine] SKYACTIV-R
[Drive system] FR
[Tires] front: 245 / 40R20 / rear: 285 / 35R20
[Rims] front: 9.5J / rear: 11J

Although with a total length of 4,300mm it could be said that its dimensions resemble those of past generation RX-7s, elements such as its long nose and sash-less door give it a unique look that some feel is reminiscent of the Cosmo AP (1975- 1981) and Eunos Cosmo (1990-1996), that took their name from the Cosmo Sport (1967-1972).

While the design of the RX-VISION brings it in line with this next generation of machines, it retains styling that solidifies its identity as an authentic sports car that epitomizes Mazda's motorsports history. The long front nose gives the strong impression of an genuine sports machine, while design motifs such as the short overhang, front door offset tires, its high-edged but slightly center-concave roof, short rear deck, and 4 rounded rear combination lamps, all bring to mind elements of the Cosmo Sport and the previous generation RX-7/RX-8.

Furthermore, aspects such as the continuous line from the door glass to the quarter window give a sense of movement and encapsulate Mazda's current "Kodo: Soul of Motion" design philosophy.

Unique features, that were also faintly visible in teaser images, were the FD3S RX-7-esque quad tail lamps and, looking at the front, the headlamps that resemble intensely pierced eyes. Also, rather than being equipped with excessive aerodynamics, the designers have opted more for a graceful form that captivates one with its simplicity.

At the world premiere members of the press could be heard yelling out exclamations like, "Superb!" "When will you release it?" "I want one now!" Even these journalists, who have the opportunity to test drive supercars from around the world, had their breath taken away by the RX-VISION's styling. If you have the chance, you should definitely come down to the Tokyo Motor Show to check it out with your own eyes.

The Tokyo Motor Show is being held at Tokyo Big Sight and will be open to the public between October 30th (Fri) and November 8th (Sun). The Mazda booth is located in the West Hall.

Our crew was able to conduct an interview with Ikuo Maeda, General Manager, Design Div., and we will be publishing that in the near future. Stay tuned!