2020/01/26
IMSA and ACO agree to establish "LMDh" common technical regs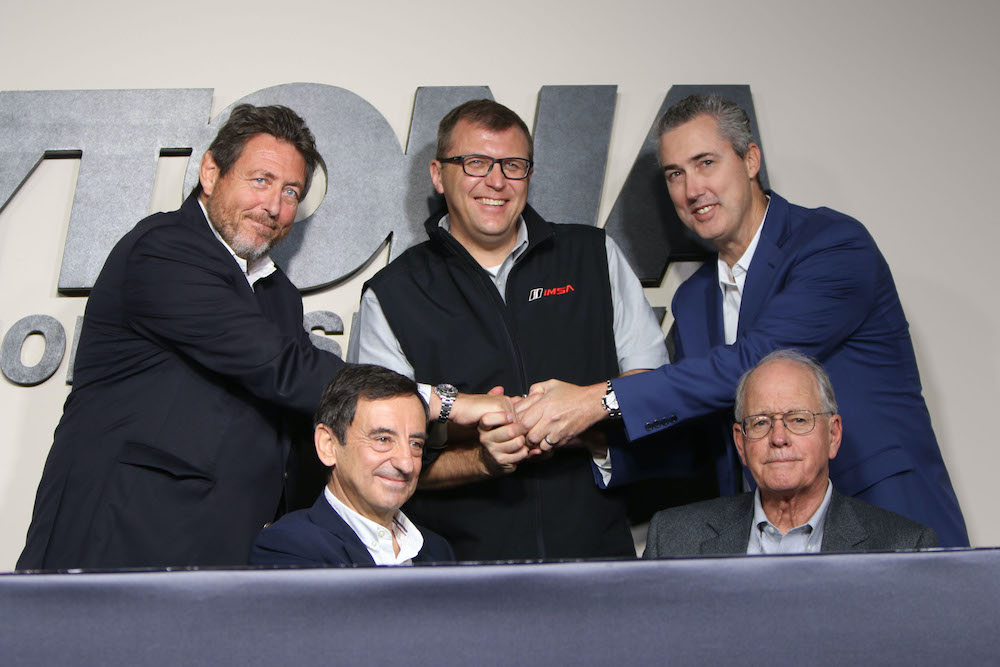 The conference was attended by approximately 200 people, including teams participating in the 24 Hours of Daytona, manufacturers, chassis constructors, ACO and IMSA executives, and the media. The new LMDh vehicles announced will be used at both the FIA World Endurance Championship (WEC) and the IMSA WeatherTech Sports Car Championship. In other words, in addition to the currently planned Le Mans hypercar, a new prototype car that can reduce development costs and show the characteristics of each manufacturer can run at the 24-hour of Le Mans, the pinnacle of endurance races. The common platform was described at the conference and meets the expectations of many manufacturers worldwide. Manufacturers will be able to compete with the same vehicle in major races such as the 24 Hours of Le Mans, the 24 Hours of Daytona, Super Sebring, Spa Francorchamps, The Petit Le Mans (Road Atlanta) and Silverstone.
The ACO and IMSA have jointly created the basis for this new LMDh provision, but details will need to be finalised in the future. It was added that they will take effect in the FIA WC Series from September 2021 and in the IMSA WeatherTech Championship from January 2022. The LMDh is based on the ACO's hypercar regulations and IMSA's DPi 2.0 regulations, and the following elements are shared.
– They will be based on new common chassis manufactured by Dallara, Ligier, Multimatic and Oleka, the four manufacturers that manufacture the current LMP2 vehicles. This chassis will be used for the new LMP2. – The exterior silhouette and design are flexible and are based on the brand or style of the engine manufacturer mounted on the vehicle. – The vehicles will use a KERS-type common hybrid mechanism for the rear axle. – Details of the new technical regulations will be announced at Super Sebring in March this year.
"The platform represents the convergence achieved by both organizations which is a great success story for endurance racing," said ACO President Pierre Fillon. "A manufacturer will soon be able to compete in the top category of two championships, the FIA WEC and the WeatherTech Championship. We can't emphasise enough, as it's exceptional, how many opportunities this long-term sporting and marketing vision will open up."
Jim France IMSA Chairman said, "When my father, Bill France Sr., brought the first Daytona Continental sports car race here to Daytona International Speedway back in 1962, he wanted to bring together sports car drivers, teams and manufacturers from around the world. With the ACO, IMSA and manufacturers aligned, today's announcement proudly takes my father's vision to the next level."
"I think today's announcement is a historic agreement and marks a big step in endurance sports car racing around the world," said Nelson Cosgrove, director of Mazda USA Motorsports, who was listening to the conference. "I will be consulting with Mazda USA regarding what measures we will take in the future and explore what direction we are aiming for. I think our current goal is to get to the end of tomorrow's Rolex 24-hours of Daytona and get a solid result as planned. After qualifying yesterday, the two Mazda RT24-Ps have had their engines replaced with fresh ones, and we skipped the night practice. For this reason, today's morning practice session was devoted to checking each part for any abnormalities and practicing refueling and driver changes. Our preparation is now complete. The team will rest well today and prepare for the race tomorrow."
Text and Photos by MZRacubg from Daytona Beach, USA